HP Pl02Xl battery for Pavilion 11 X360 Pavilion X360 11-N010dx, X360 310 G1 PL02XL 751681-421
₹2,999.00 – ₹3,799.00 GST Included (-37%)
Compatible with part numbers :7177376-001, 751681-231, 751681-421,(21CP6/60/80), 751681-421, 751875-001, HSTNN-DB6B, HSTNN-LB6B, PL02XL,TPN-C115
Highly compatible with HP 11 X360 Pavilion X360 11-N series, X360 310 G1, Pavilion X360 11-N130NC and all 11 x360 11-N series laptop.
Note: we have 2 option to purchase. kindly check and order accordingly
6 months worry free replacement warranty (30 days no question ask refund policy)
Call our product expert at +91-261-3150304 for purchase and warranty related information.
Power your Laptop with Kingston SSD @ just Rs 1399/-
Customers who bought this item also bought
Note : 7.4V and 7.6V are compatible, they are in common use.
Our replacement HP PL02XL battery is the product of highest quality, which has obtained international certification ( CE, UL, ROHS, ISO9001/9002 ). Without any memory effect, the battery works as powerful as an extra power supply when traveling or being away from home/office. With long life, this replacement battery for HP PL02XL laptop can be charged/discharged for more than 500-750 cycles (has been rigorously tested). Every piece of replacement HP PL02XL battery pack is under the united protection of the PCP board, PCM board and intellectual power measurement circuit: automatically adjusting the charging time to achieve the maximum amount of charge, with over-charge protection, over-discharge protection, over current protection and short circuit protection.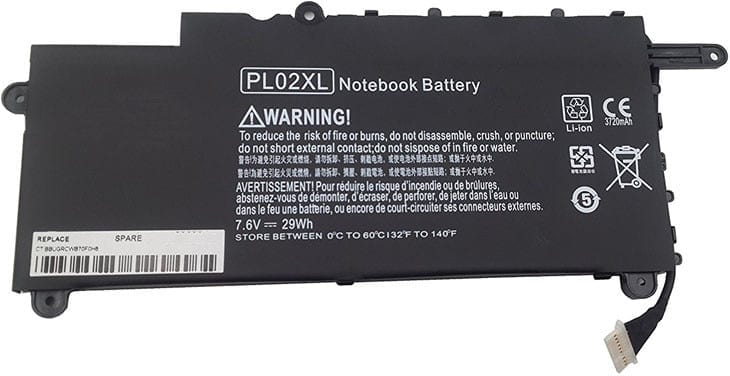 We offer superb pre-sales and after-sales service, providing a full one year warranty and a 30-day money back guarantee for this replacement HP PL02XL battery, 100% OEM compatible with the original HP PL02XL battery. Our batteries for HP PL02XL laptop have also undergone rigorous tests to ensure stability and safety before being dispatched from the battery manufactory. Usually, this high capacity (29Wh, 2 cells) replacement HP PL02XL battery offers the same or even longer usage period as/than that of the original HP PL02XL battery.
Compatible Part Numbers : hp pl02xl battery, hp pl02xl notebook battery, hp x360 battery price, hp x360 battery replacement
7177376-001
751681-231
751681-421(21CP6/60/80)
751681-421
751875-001
HSTNN-DB6B
HSTNN-LB6B
TPN-C115
Fit Models
Pavilion 11 X360
Pavilion X360 11-N010DX
Pavilion X360 11-N010EA
Pavilion X360 11-N010LA
Pavilion X360 11-N014TU
Pavilion X360 11-N020NA
Pavilion X360 11-N020NX
Pavilion X360 11-N026BR
Pavilion X360 11-N028TU
Pavilion X360 11-N030TU
Pavilion X360 11-N032TU
Pavilion X360 11-N038CA
Pavilion X360 11-N040CA
Pavilion X360 11-N041CA
Pavilion X360 11-N050ND
Pavilion X360 11-N051SR
Pavilion X360 11-N055ND
Pavilion X360 11-N060UR
Pavilion X360 11-N061UR
Pavilion X360 11-N070EG
Pavilion X360 11-N071EG
Pavilion X360 11-N077NG
Pavilion X360 11-N078NG
Pavilion X360 11-N080NA
Pavilion X360 11-N083SA
Pavilion X360 11-N099NF
Pavilion X360 11-N100NX
Pavilion X360 11-N102TU
Pavilion X360 11-N108TU
Pavilion X360 11-N109TU
Pavilion X360 11-N110NC
Pavilion X360 11-N112TU
Pavilion X360 11-N116TU
Pavilion X360 11-N130NC
Pavilion X360 310 G1
X360 310 G1
Additional information
| | |
| --- | --- |
| Weight | 0.4 kg |
| Dimensions | 20 × 10 × 5 cm |
| Brand | |
Q & A
There are no questions yet