MU06 Battery For HP 630 635, 636, 631 HP CQ42, CQ 62, CQ 57, CQ 43, HP G4, HP G6
From: ₹2,999.00 18% GST Included (-50%)
🛒
275
sold in last 30 days
Highly compatible with MU06, MU06047, MU06047-CL, MU06055, MU06055-CL, MU06055XL, MU06062, MU0655, MU06XL, MU09, MU09100-CL,MU09XL, NBP6A174, NBP6A174B1, NBP6A175, NBP6A175B1,
WD548AA#ABA, WD548AA#ABB, WD548AA#AC3, WD548AA, WD549AA#ABA, WD549AA#ABB, WD549AA
4000 mah capacity – 6 cells battery
12 months replacement warranty by Lap Gadgets
Voltage: 10.8v / Wattage:44wh
Box contains 1 pc battery & manual
Call our product expert at +91-261-3514669 for more information.
Khyaliram from Jaipur, Pankaj Ajit from Karwar & 264 others
bought this item recently.
Frequently Bought Together
₹

1,999.00

18% GST Included

₹

1,999.00

18% GST Included
---
Note : 1. 10.8V and 11.1V are compatible, they are in common use.
2. These replacement MU06 batteries are not compatible with HP Pavilion DV3-1000, DV3-2000 series and HP Pavilion DV6-1000, DV6-2000, DV6-7000, DV7-7000 Series laptops.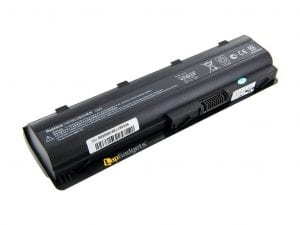 Our replacement HP MU06 battery is the product of highest quality, which has obtained international certification ( CE, UL, ROHS, ISO9001/9002 ). Without any memory effect, the battery works as powerful as an extra power supply when traveling or being away from home/office. With long life, this replacement battery for HP MU06 laptop can be charged/discharged for more than 500-750 cycles (has been rigorously tested). Every piece of replacement HP MU06 battery pack is under the united protection of the PCP board, PCM board and intellectual power measurement circuit: automatically adjusting the charging time to achieve the maximum amount of charge, with over-charge protection, over-discharge protection, over current protection and short circuit protection.
Compatible Part Numbers
586006-121
586006-122
586006-123
586006-141
586006-142
586006-151
586006-152
586006-221
586006-222
586006-223
586006-241
586006-242
586006-243
586006-251
586006-252
586006-253
586006-2A1
586006-321
586006-322
586006-323
586006-361
586006-362
586006-363
586006-421
586006-422
586006-423
586006-541
586006-542
586006-543
586006-741
586006-761
586006-852
586006-853
586007-001
586007-121
586007-122
586007-141
586007-142
586007-143
586007-151
586007-152
586007-153
586007-161
586007-1A1
586007-1A2
586007-1A3
586007-221
586007-222
586007-241
586007-242
586007-243
586007-251
586007-252
586007-253
586007-2A1
586007-2A2
586007-2A3
586007-322
586007-352
586007-353
586007-421
586007-422
586007-541
586007-542
586007-543
586007-741
586007-851
586007-852
586007-853
586007-854
586028-121
586028-122
586028-123
586028-141
586028-142
586028-151
586028-152
586028-222
586028-242
586028-321
586028-322
586028-323
586028-341
586028-342
586028-351
586028-352
586028-421
586028-422
586028-423
586028-541
586028-542
588178-121
588178-122
588178-123
588178-141
588178-142
588178-421
588178-422
588178-423
588178-541
588178-542
592260-122
592260-142
592260-152
592260-242
592260-252
592260-422
592260-541
592260-542
593015-122
593015-142
593015-542
593550-001
593553-001
593554-001
593555-001
593561-001
593562-001
633216-141
633216-151
633216-421
633216-541
636631-001
640320-001
H0F74AA
HSTNN-178C
HSTNN-179C
HSTNN-181C
HSTNN-CB0W
HSTNN-CB0X
HSTNN-CBOW
HSTNN-CBOX
HSTNN-DB0W
HSTNN-DB0X
HSTNN-E06C
HSTNN-E07C
HSTNN-E08C
HSTNN-E09C
HSTNN-F01C
HSTNN-F02C
HSTNN-F03C
HSTNN-I78C
HSTNN-I79C
HSTNN-I81C
HSTNN-I83C
HSTNN-I84C
HSTNN-IB0N
HSTNN-IB0W
HSTNN-IB0X
HSTNN-IB0Y
HSTNN-IB1E
HSTNN-IB1F
HSTNN-IB1G
HSTNN-IBOW
HSTNN-LB0W
HSTNN-LB0X
HSTNN-LB0Y
HSTNN-LB10
HSTNN-LBOY
HSTNN-OB0X
HSTNN-OB0Y
HSTNN-Q47C
HSTNN-Q48
HSTNN-Q48C
HSTNN-Q49C
HSTNN-Q50C
HSTNN-Q51C
HSTNN-Q60C
HSTNN-Q61C
HSTNN-Q62C
HSTNN-Q63C
HSTNN-Q64C
HSTNN-Q66C
HSTNN-Q68C
HSTNN-Q69C
HSTNN-Q72C
HSTNN-Q73C
HSTNN-UB0W
HSTNN-UB0X
HSTNN-UB1E
HSTNN-UB1G
HSTNN-XB0W
HSTNN-XB0X
HSTNN-XB0Y
HSTNN-XB1E
HSTNN-XXXX
HSTNN-YB0W
HSTNN-YB0X
MU06
MU06047
MU06047-CL
MU06055
MU06055-CL
MU06055XL
MU06062
MU0655
MU06XL
MU09
MU09100-CL
MU09XL
NBP6A174
NBP6A174B1
NBP6A175
NBP6A175B1
WD548AA#ABA
WD548AA#ABB
WD548AA#AC3
WD548AA
WD549AA#ABA
WD549AA#ABB
WD549AA
Fit Models
HP COMPAQ 1000 Series
HP COMPAQ 2000 Series
HP COMPAQ 430
HP COMPAQ 431
HP COMPAQ 435
HP COMPAQ 450
HP COMPAQ 455
HP COMPAQ 436
HP COMPAQ 630
HP COMPAQ 631
HP COMPAQ 635
HP COMPAQ 650
HP COMPAQ 655
Envy 17 Series
Envy 17-1000 Series
Envy 17-1200 Series
Envy 17-2000 Series
Envy 17-2100 Series
Envy 17-2200 Series
Envy 17-3000 Series
Envy 17-3200 Series
Envy 17T Series
G42 Series
G42-100 Series
G42-200 Series
G42-300 Series
G42-400 Series
G42T Series
G56 Series
G56-100 Series
G56-200 Series
G62 Series
G62-100 Series
G62-200 Series
G62-300 Series
G62-400 Series
G62-500 Series
G62-A00 Series
G62-B00 Series
G62T Series
G72 Series
G72-100 Series
G72-200 Series
G72-A00 Series
G72-B00 Series
G72-C00 Series
G72T Series
Pavilion DM4 Series
Pavilion DM4-1000 Series
Pavilion DM4-2000 Series
Pavilion DM4-3000 Series
Pavilion DM4T Series
Pavilion DV3-4000 Series
Pavilion DV3-4100 Series
Pavilion DV3-4200 Series
Pavilion DV3-4300 Series
Pavilion DV4-4000 Series
Pavilion DV4-4100 Series
Pavilion DV4-4200 Series
Pavilion DV4T-4000 Series
Pavilion DV5-2000 Series
Pavilion DV5-3000 Series
Pavilion DV5T-2000 Series
Pavilion DV6-3000 Series
Pavilion DV6-3100 Series
Pavilion DV6-3200 Series
Pavilion DV6-4000 Series
Pavilion DV6-6000 Series
Pavilion DV6-6100 Series
Pavilion DV6-6B00 Series
Pavilion DV6-6C00 Series
Pavilion DV6T-3000 Series
Pavilion DV6T-4000 Series
Pavilion DV6T-6000 Series
Pavilion DV6Z-3000 Series
Pavilion DV6Z-4000 Series
Pavilion DV6Z-6000 Series
Pavilion DV7-4000 Series
Pavilion DV7-4100 Series
Pavilion DV7-4200 Series
Pavilion DV7-4300 Series
Pavilion DV7-5000 Series
Pavilion DV7-6000 Series
Pavilion DV7-6100 Series
Pavilion DV7-6B00 Series
Pavilion DV7-6C00 Series
Pavilion DV7T-4000 Series
Pavilion DV7T-5000 Series
Pavilion DV7T-6000 Series
Pavilion G32 Series
Pavilion G4 Series
Pavilion G4-1000 Series
Pavilion G4-2000 Series
Pavilion G4T Series
Pavilion G56 Series
Pavilion G6 Series
Pavilion G6-1000 Series
Pavilion G6-1A00 Series
Pavilion G6-1B00 Series
Pavilion G6-1C00 Series
Pavilion G6-1D00 Series
Pavilion G6-2000 Series
Pavilion G62 Series
Pavilion G6T Series
Pavilion G6X Series
Pavilion G6Z Series
Pavilion G7 Series
Pavilion G7-1000 Series
Pavilion G7-2000 Series
Pavilion G72 Series
Pavilion G7T Series
Presario CQ32 Series
Presario CQ42 Series
Presario CQ43 Series
Presario CQ52 Series
Presario CQ56 Series
Presario CQ57 Series
Presario CQ62 Series
Presario CQ62-A00 Series
Presario CQ62Z Series
Presario CQ630 Series
Presario CQ72 Series
Additional information
| | |
| --- | --- |
| Weight | 0.5 kg |
| Dimensions | 30 × 10 × 5 cm |
| Available Variant | |
| No of Cells | |
| Warranty | |
| Voltage | |