Crucial P2 M.2 3D NAND NVMe PCIe 250GB SSD Up to 2400MB/s – CT250P2SSD8
₹3,999.00 GST Included (-40%)
🎁 Get 12% Off : use code "12XNAVRATRI"
Limited Time Offer ends in 04 hrs 58 mins 7 secs. For prepaid orders & selected products only.
🚚 Same Day Shipping
Same Day Delivery available in Pune, Bengaluru, Mumbai, Surat & Ahmedabad . Want it today, October 6? Order within 00 hrs 58 mins 7 secs. (know more)
🛡️ 30 days Buyer Protection
You are fully protected by our 30 days Money Back Guarantee. If you don't like our products over the next 30 days, then we will gladly refund your money. (know more)
NVMe PCIe interface, marking the next step in storage innovation

Capacity: Up to 2TB with sequential reads or writes up to 2400MB/s/1900MB/s

Includes SSD management software for performance optimization, data security, and firmware updates

5-year limited warranty by Crucial or up to the max endurance rating of 150 TBW

for product enquiry please contact us at 0261-3510304
👨‍👨‍👦‍👦-
Mohit from NORTH DELHI
bought this item recently.
Buy with confidence you get 10 days free returns and 30 days moneyback guarantee in our products
know more
Easy Returns
Buying on lapgadgets.in is very simple and safe, you are protected by Razorpay - India's leading payment gateway
Secured Transaction
We are much confident in our products hence we take atmost care and responsibility to satisfy you.
know more
Our Promise
Our customer support experts are available for your new purchase query or any technical query of any product
Excellent Support
Consult our experts, avoid the risk of laptop failure and other damage du to wrong part purchase.
know more
Expert's Advice
Crucial P2 M.2 3D NAND NVMe PCIe 250GB SSD Up to 2400MB/s
Do More. Wait Less.
Experience the NVMe difference. The Crucial P2 unlocks the performance of your computer, delivering shorter load times and faster data transfers*.
Lasting Reliability
Backed by thousands of validation hours, dozens of qualification tests, and a heritage of award-winning SSDs, the Crucial P2 has been thoroughly tried, tested, and proven.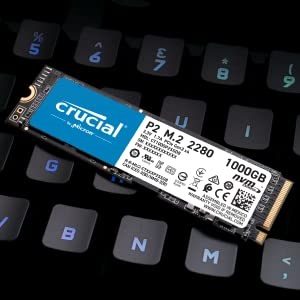 Peace of Mind
The Crucial P2 includes SSD management software for performance optimization, data security, and firmware updates.
Q & A
There are no questions yet