AL14A32 for Aspire E1-571 E5-571 E5-411 E5-421 E5-511 E5-521 V3-472 V3-572 E14 E15 Touch Extensa 2509 2510 Travelmate P246 TMP246 Series
Save
₹

1,500.00
Roll over image to zoom in
Click to open expanded view
₹1,699.00 – ₹3,499.00 GST Included (-43%)
🎁 OFFER : Get 10% Off (for prepaid orders only)
use code REPUBLIC10X Offer ends in 12 hrs 35 mins 14 secs.
🚴‍♂️ Same Day Delivery: (for prepaid orders & selected cities only)
Want it today, February 7? Order within 06 hrs 55 mins 14 secs. Select same day from Delivery option (Order placed on Sunday will be delivered on Monday)
Brand:- Lap Gadgets Compatible for Acer Aspire AL14A32
Capacity:-4000mAh/4700mAh, 44Wh / 52 ,Voltage:- 11.1V
Cells:- 6 Cells, Color :- Black
Cell Type :- Li-Ion
Warranty :- 1 year Replacement warranty by Lap Gadgets
🚀
2
sold in last 72 hours
👨‍👨‍👦‍👦-
RAJWINDER SINGH BRAR from Bikaner, DEEPAK KUMAR SONI from Surguja & 3 others
bought this item recently.
Frequently Bought Together
Customers who bought this item also bought
₹

1,049.00 –

₹

1,099.00 GST Included
Acer Aspire AL14A32 compatible battery for Acer aspire AE14 Touch E15 Touch E5-421 E5-421G E1-571 E5-411 E5-471 E5-471G E5-511 E5-531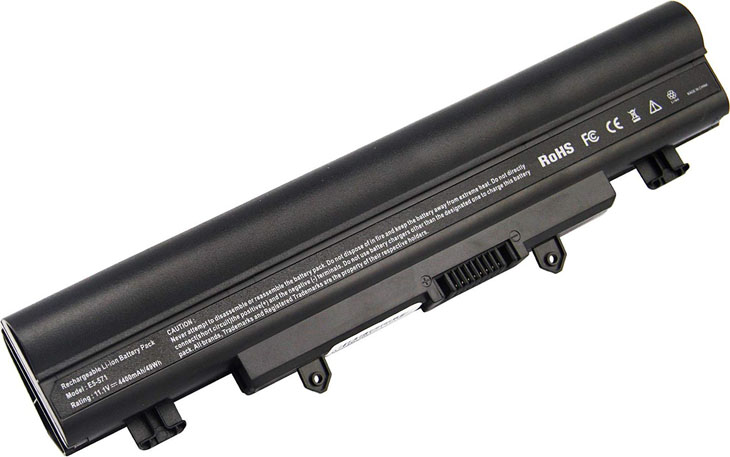 The Perfect Companion for Your Acer Aspire & Travelmrate series laptops
This brand new 6 cells (4000mAh,11.1V) Acer Aspire AL14A32 notebook battery is made with high-grade Li-ion cells from Samsung or Panasonic to ensure maximum performance, high quality and long lifetime, this Acer Aspire AL14A32 battery lets you work seamlessly when you are on the move for business trips or vacations. All our Acer Aspire AL14A32 battery have been tested and proven to match and/or exceed original battery performance and are 100% compatible with Original Manufacturer Specifications.
Every piece of our replacement battery for Acer Aspire AL14A32 has been tested and validated on Acer systems to ensure the safety for your Acer laptop. This battery for Acer AL14A32 comes with 1-Year limited warranty.
Thank you for shopping the high quality replacement Acer Aspire AL14A32 battery at lapgadgets.in. We have a strict testing process to ensure that your ordered products (like this battery for Acer Aspire AL14A32 notebook) are functionally correct before they are packed and sent to you. And before placing an order please make sure that your old original Acer Aspire AL14A32 battery's shape is same to our batteries' images as given.
Compatibility
quality-branded parts undergo rigorous testing by qualified engineers to ensure compatibility and reliability in your Acer system.
Our sustaining qualification process allows for testing and certification of the newest technology on your Acer system.
Technical Support
Our experienced technical support staff is available to answer any questions regarding your genuine Acer -branded parts upgrade.
Parts purchased from other sources will not be supported by our support experts
Warranty
6 Months replacement warranty-branded parts mean that you will not need to worry about voiding your system's hardware warranty.
Premium Quality Acer laptop battery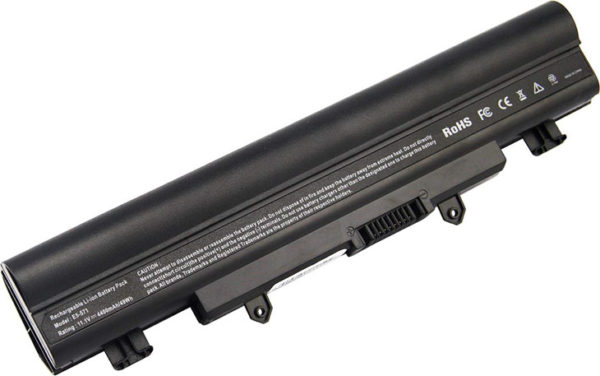 Guides for a Healthy Acer Laptop Battery
Compatible Laptop models:
Aspire E14 Touch
Aspire E14
Aspire E15 Touch
Aspire E15
Aspire E5-411
Aspire E5-411-C07K
Aspire E5-411-C2HW
Aspire E5-411-C3SR
Aspire E5-411-C5F2
Aspire E5-411-C5P1
Aspire E5-411-C6YC
Aspire E5-411-C7H0
Aspire E5-411-C7HR
Aspire E5-411-C9Y2
Aspire E5-411-P137
Aspire E5-411-P32N
Aspire E5-421
Aspire E5-421-234G
Aspire E5-421-61CJ
Aspire E5-421G
Aspire E5-421G-88JF
Aspire E5-421-P32N
Aspire E5-471
Aspire E5-471-30ZK
Aspire E5-471-316V
Aspire E5-471-31DC
Aspire E5-471-31TD
Aspire E5-471-322L
Aspire E5-471-33SH
Aspire E5-471-347R
Aspire E5-471-356P
Aspire E5-471-37FZ
Aspire E5-471-37G5
Aspire E5-471-383Y
Aspire E5-471-38BF
Aspire E5-471-3976
Aspire E5-471-39RT
Aspire E5-471-521H
Aspire E5-471-52TW
Aspire E5-471-52VZ
Aspire E5-471-59RT
Aspire E5-471G
Aspire E5-471G-50R4
Aspire E5-471G-527B
Aspire E5-471G-52G2
Aspire E5-471G-53XG
Aspire E5-471G-53XX
Aspire E5-471G-540E
Aspire E5-471G-5496
Aspire E5-471G-54DA
Aspire E5-471G-54DV
Aspire E5-471G-55T4
Aspire E5-471G-57MG
Aspire E5-471G-58HR
Aspire E5-471G-59VN
Aspire E5-471G-70CF
Aspire E5-471P
Aspire E5-471P-36DK
Aspire E5-471P-55NH
Aspire E5-471P-56RF
Aspire E5-471PG
Aspire E5-511
Aspire E5-511-4149
Aspire E5-511-41EL
Aspire E5-511-C0DV
Aspire E5
Aspire E5-511P-P8BA
Aspire E5-521
Aspire E5-521-205Y
Aspire E5-521-20AP
Aspire E5-521-20WB
Aspire E5-521-215D
Aspire E5-521-219J
Aspire E5-521-21SB
Aspire E5-521-21Y0
Aspire E5-521-22PD
Aspire E5-521-22VY
Aspire E5-521-23KH
Aspire E5-521-24PQ
Aspire E5-521-254P
Aspire E5-521-25P9
Aspire E5-521-263A
Aspire E5-521-264R
Aspire E5-521-266E
Aspire E5-521-26EM
Aspire E5-521-26LT
Aspire E5-521-26TB
Aspire E5-521-27C3
Aspire E5-521-27FN
Aspire E5-521-28D4
Aspire E5-521-295H
Aspire E5-521-31MZ
Aspire E5-521-39B4
Aspire E5-521-40ZU
Aspire E5-521-4270
Aspire E5-521-432T
Aspire E5-521-435W
Aspire E5-521-44NP
Aspire E5-521-45BU
Aspire E5-521-45HZ
Aspire E5-521-45UL
Aspire E5-521-4673
Aspire E5-521-46P1
Aspire E5-521-476Z
Aspire E5-521-480N
Aspire E5-521-48KN
Aspire E5-521-49DQ
Aspire E5-521-49QU
Aspire E5-521-60R2
Aspire E5-521-60Y6
Aspire E5-521-610P
Aspire E5-521-639U
Aspire E5-521-63AL
Aspire E5-521-63FB
Aspire E5-521-63U8
Aspire E5-521-63VQ
Aspire E5-521-64BT
Aspire E5-521-6582
Aspire E5-521-65B8
Aspire E5-521-65BL
Aspire E5-521-65DE
Aspire E5-521-66QF
Aspire E5-521-66SN
Aspire E5-521-67BL
Aspire E5-521-67TQ
Aspire E5-521-67Y7
Aspire E5-521-68NT
Aspire E5-521-69XK
Aspire E5-521-816B
Aspire E5-521-8175
Aspire E5-521-818G
Aspire E5-521-83CV
Aspire E5-521-844N
Aspire E5-521-84TV
Aspire E5-521-84UV
Aspire E5-521-85CV
Aspire E5-52-511-C0PC
Aspire E5-511-C0UJ
Aspire E5-511-C1GC
Aspire E5-511-C1K2
Aspire E5-511-C1VU
Aspire E5-511-C21D
Aspire E5-511-C33D
Aspire E5-511-C33M
Aspire E5-511-C4AH
Aspire E5-511-C56Z
Aspire E5-511-C5PY
Aspire E5-511-C5YH
Aspire E5-511-C619
Aspire E5-511-C63D
Aspire E5-511-C6J9
Aspire E5-511-C6NM
Aspire E5-511-C73Q
Aspire E5-511-C77Q
Aspire E5-511-C7PL
Aspire E5-511-C7SJY
Aspire E5-511-C8MU
Aspire E5-511-C8QG
Aspire E5-511-C8ZA
Aspire E5-511-C9AJ
Aspire E5-511-C9SY
Aspire E5-511-C9T8
Aspire E5-511-CP53Y
Aspire E5-511G
Aspire E5-511P
Aspire E5-511-P01P
Aspire E5-511-P05T
Aspire E5-511-P0GC
Aspire E5-511-P0UT
Aspire E5-511-P1RJ
Aspire E5-511-P214
Aspire E5-511-P25J
Aspire E5-511-P2AV
Aspire E5-511-P2D6
Aspire E5-511-P2EH
Aspire E5-511-P2GN
Aspire E5-511-P2SA
Aspire E5-511-P2V9
Aspire E5-511-P34L
Aspire E5-511-P3P1
Aspire E5-511-P3VN
Aspire E5-511-P3YF
Aspire E5-511-P4E6
Aspire E5-511-P4LN
Aspire E5-511-P4P8
Aspire E5-511-P4Y7
Aspire E5-511-P51E
Aspire E5-511-P58T
Aspire E5-511-P59S
Aspire E5-511-P5JQ
Aspire E5-511-P5RU
Aspire E5-511-P6CS
Aspire E5-511-P6VU
Aspire E5-511-P7AC
Aspire E5-511-P7QB
Aspire E5-511-P7RO
Aspire E5-511-P86R
Aspire E5-511-P8C8
Aspire E5-511-P9B8
Aspire E5-511-P9S5
Aspire E5-511P-C5PY
Aspire E5-511P-C9BM
Aspire E5-511-PD5U
Aspire E5-511P-P1QH
Aspire E5-511P-P4X4
Aspire E5-511P-P60L
Aspire E5-511P-P7VB
1-85EX
Aspire E5-521-85G6
Aspire E5-521-85VN
Aspire E5-521-86J0
Aspire E5-521-8948
Aspire E5-521-89GN
Aspire E5-521-89VX
Aspire E5-521G
Aspire E5-521G-40RD
Aspire E5-521G-41FL
Aspire E5-521G-41MH
Aspire E5-521G-425Y
Aspire E5-521G-44TG
Aspire E5-521G-45E1
Aspire E5-521G-45VC
Aspire E5-521G-47DX
Aspire E5-521G-47TB
Aspire E5-521G-4805
Aspire E5-521G-481Y
Aspire E5-521G-494M
Aspire E5-521G-60BX
Aspire E5-521G-60Y6
Aspire E5-521G-61U7
Aspire E5-521G-61UC
Aspire E5-521G-629M
Aspire E5-521G-62RS
Aspire E5-521G-632L
Aspire E5-521G-636X
Aspire E5-521G-64EM
Aspire E5-521G-64PD
Aspire E5-521G-65JA
Aspire E5-521G-65Q0
Aspire E5-521G-65Q4
Aspire E5-521G-65X4
Aspire E5-521G-66UQ
Aspire E5-521G-68BJ
Aspire E5-521G-68N8
Aspire E5-521G-69X9
Aspire E5-521G-8022
Aspire E5-521G-804D
Aspire E5-521G-81MG
Aspire E5-521G-8269
Aspire E5-521G-83M9
Aspire E5-521G-841X
Aspire E5-521G-861W
Aspire E5-521G-8626
Aspire E5-521G-86414G1TMAII
Aspire E5-521G-866N
Aspire E5-521G-87EH
Aspire E5-521G-87S2
Aspire E5-521G-88R9
Aspire E5-521G-88VM
Aspire E5-531
Aspire E5-531-C01E
Aspire E5-531-C5A5
Aspire E5-531-C7Y7
Aspire E5-531G
Aspire E5-531P
Aspire E5-531-P4SQ
Aspire E5-531-P5RC
Aspire E5-531-P6JK
Aspire E5-531-P7VE
Aspire E5-531P-P3Z4
Aspire E5-551
Aspire E5-551-80KG
Aspire E5-551-81D2
Aspire E5-551-81YH
Aspire E5-551-83Y5
Aspire E5-551-84AS
Aspire E5-551-84BM
Aspire E5-551-856A
Aspire E5-551-86K9
Aspire E5-551-86R8
Aspire E5-551-88Q2
Aspire E5-551-89KG
Aspire E5-551-89Q1
Aspire E5-551-89TN
Aspire E5-551G
Aspire E5-551G-64454G50MAKK
Aspire E5-551G-812L
Aspire E5-551G-81T9
Aspire E5-551G-83ED
Aspire E5-551G-84P9
Aspire E5-551G-869Z
Aspire E5-551G-888S
Aspire E5-551G-88BW
Aspire E5-551G-88DW
Aspire E5-551G-F11E
Aspire E5-551G-F1EW
Aspire E5-551G-F25F
Aspire E5-551G-F371
Aspire E5-551G-F4A9
Aspire E5-551G-F4U1
Aspire E5-551G-F57K
Aspire E5-551G-F63G
Aspire E5-551G-F7QN
Aspire E5-551G-T0JN
Aspire E5-551G-T0KC
Aspire E5-551G-T0YN
Aspire E5-551G-T1BP
Aspire E5-551G-T2LT
Aspire E5-551G-T430
Aspire E5-551G-T54A
Aspire E5-551G-T629
Aspire E5-551G-T6C7
Aspire E5-551G-T79U
Aspire E5-551G-T7AZ
Aspire E5-551G-T82H
Aspire E5-551G-T87N
Aspire E5-551G-T88P
Aspire E5-551G-T8JG
Aspire E5-551G-T8K8
Aspire E5-551G-X729
Aspire E5-551-T1MK
Aspire E5-551-T1PJ
Aspire E5-551-T1Z2
Aspire E5-551-T2HE
Aspire E5-551-T374
Aspire E5-551-T580
Aspire E5-551-T5E7
Aspire E5-551-T5SN
Aspire E5-551-T5SV
Aspire E5-551-T5TS
Aspire E5-551-T6AB
Aspire E5-551-T7TP
Aspire E5-551-T7V0
Aspire E5-551-T8JG
Aspire E5-551-T8X3
Aspire E5-551-T902
Aspire E5-551-X9FP
Aspire E5-571
Aspire E5-571-304M
Aspire E5-571-30F1
Aspire E5-571-30VE
Aspire E5-571-31HS
Aspire E5-571-3205
Aspire E5-571-323F
Aspire E5-571-32H0
Aspire E5-571-332K
Aspire E5-571-33BV
Aspire E5-571-33FU
Aspire E5-571-33UR
Aspire E5-571-33VT
Aspire E5-571-34AK
Aspire E5-571-34YZ
Aspire E5-571-35LV
Aspire E5-571-35WU
Aspire E5-571-3630
Aspire E5-571-36WN
Aspire E5-571-377H
Aspire E5-571-37SY
Aspire E5-571-38KJ
Aspire E5-571-38QU
Aspire E5-571-38Z3
Aspire E5-571-391E
Aspire E5-571-39JD
Aspire E5-571-39X3
Aspire E5-571-39ZW
Aspire E5-571-509R
Aspire E5-571-5273
Aspire E5-571-52F9
Aspire E5-571-52H3
Aspire E5-571-53DH
Aspire E5-571-53HX
Aspire E5-571-53S1
Aspire E5-571-5428
Aspire E5-571-54FL
Aspire E5-571-54GC
Aspire E5-571-54R4
Aspire E5-571-5552
Aspire E5-571-55BZ
Aspire E5-571-55WK
Aspire E5-571-563B
Aspire E5-571-5666
Aspire E5-571-56CZ
Aspire E5-571-56UQ
Aspire E5-571-56WG
Aspire E5-571-57BR
Aspire E5-571-586K
Aspire E5-571-588M
Aspire E5-571-58CG
Aspire E5-571-58E6
Aspire E5-571-58FP
Aspire E5-571-5940
Aspire E5-571-59FG
Aspire E5-571-71ME
Aspire E5-571-74AP
Aspire E5-571-74F7
Aspire E5-571-7776
Aspire E5-571-9924
Aspire E5-571G
Aspire E5-571G-31WP
Aspire E5-571G-38VF
Aspire E5-571G-515G
Aspire E5-571G-52BN
Aspire E5-571G-536E
Aspire E5-571G-53MY
Aspire E5-571G-556M
Aspire E5-571G-56AJ
Aspire E5-571G-58SB
Aspire E5-571P
Aspire E5-571P-30QR
Aspire E5-571P-31LT
Aspire E5-571P-32LS
Aspire E5-571P-3414
Aspire E5-571P-34TL
Aspire E5-571P-363N
Aspire E5-571P-36LU
Aspire E5-571P-36PV
Aspire E5-571P-3789
Aspire E5-571P-51GN
Aspire E5-571P-52QK
Aspire E5-571P-5390
Aspire E5-571P-55TL
Aspire E5-571P-568M
Aspire E5-571P-57E0
Aspire E5-571P-59QA
Aspire E5-571P-71MV
Aspire E5-571P-7256
Aspire E5-571P-93SN
Aspire E5-571PG
Aspire E5-571PG-31YA
Aspire E5-571PG-50D3
Aspire E5-572
Aspire E5-572G
Aspire E5-572G-34TN
Aspire E5-572G-38HC
Aspire E5-572G-38NM
Aspire E5-572G-50FB
Aspire E5-572G-528R
Aspire E5-572G-52DX
Aspire E5-572G-536W
Aspire E5-572G-550P
Aspire E5-572G-57DW
Aspire E5-572G-58KY
Aspire E5-572G-591H
Aspire E5-572G-593Y
Aspire E5-572G-59XT
Aspire E5-572G-72M5
Aspire E5-572G-75MW
Aspire E5-572G-78HY
Aspire V3-472
Aspire V3-472-57M0
Aspire V3-472G
Aspire V3-472G-59XN
Aspire V3-472P
Aspire V3-472P-324J
Aspire V3-472P-35FZ
Aspire V3-472P-51JB
Aspire V3-472PG
Aspire V3-572
Aspire V3-572-304T
Aspire V3-572-31SA
Aspire V3-572-50T7
Aspire V3-572-51TR
Aspire V3-572-5217
Aspire V3-572-52U4
Aspire V3-572-53RA
Aspire V3-572-543S
Aspire V3-572-54Y7
Aspire V3-572-571G
Aspire V3-572-734Y
Aspire V3-572-746F
Aspire V3-572-75D2
Aspire V3-572-76Z7
Aspire V3-572-78R3
Aspire V3-572-78S3
Aspire V3-572-78VK
Aspire V3-572G
Aspire V3-572G-32QM
Aspire V3-572G-33PN
Aspire V3-572G-33V1
Aspire V3-572G-350H
Aspire V3-572G-36GP
Aspire V3-572G-3737
Aspire V3-572G-38XP
Aspire V3-572G-3931
Aspire V3-572G-39TM
Aspire V3-572G-50E4
Aspire V3-572G-519N
Aspire V3-572G-51DR
Aspire V3-572G-52FH
Aspire V3-572G-52LS
Aspire V3-572G-53PG
Aspire V3-572G-543S
Aspire V3-572G-5463
Aspire V3-572G-54L9
Aspire V3-572G-54S6
Aspire V3-572G-55FT
Aspire V3-572G-56ND
Aspire V3-572G-57CV
Aspire V3-572G-57ZS
Aspire V3-572G-587W
Aspire V3-572G-5881
Aspire V3-572G-58M4
Aspire V3-572G-59G1
Aspire V3-572G-59QA
Aspire V3-572G-66KB
Aspire V3-572G-700T
Aspire V3-572G-706P
Aspire V3-572G-70JG
Aspire V3-572G-70TA
Aspire V3-572G-7105
Aspire V3-572G-73Q8
Aspire V3-572G-749Q
Aspire V3-572G-75D1
Aspire V3-572G-7609
Aspire V3-572G-761B
Aspire V3-572G-76EM
Aspire V3-572G-76UP
Aspire V3-572G-77H5
Aspire V3-572G-77TU
Aspire V3-572G-7802
Aspire V3-572G-787K
Aspire V3-572G-79F2
Aspire V3-572G-P25B
Aspire V3-572P
Aspire V3-572P-31PY
Aspire V3-572P-326T
Aspire V3-572P-342G
Aspire V3-572P-36H1
Aspire V3-572P-50D8
Aspire V3-572P-511Q
Aspire V3-572P-51BA
Aspire V3-572P-540V
Aspire V3-572P-54CF
Aspire V3-572P-594C
Aspire V3-572P-623P
Aspire V3-572P-78MT
Aspire V3-572PG
Aspire V3-572PG-50S1
Aspire V3-572PG-50X5
Aspire V3-572PG-5153
Aspire V3-572PG-546C
Aspire V3-572PG-56CY
Aspire V3-572PG-604M
Aspire V3-572PG-767J
Aspire V3-572PG-7915
Aspire V3-572PG-93RL
Extensa 2509
Extensa 2510
Extensa 2510G
Extensa EX2509
Extensa EX2510
Extensa EX2510G
TravelMate P246
TravelMate P246-M
TravelMate P246-MG
TravelMate P246M-M
TravelMate P246M-MG
TravelMate P256
TravelMate P256-M
TravelMate P256-MG
TravelMate P276
TravelMate P276-M
TravelMate P276-MG
TravelMate TMP246
TravelMate TMP246-M
TravelMate TMP246-MG
TravelMate TMP256
TravelMate TMP256-M
TravelMate TMP256-MG
TravelMate TMP276
TravelMate TMP276-M
TravelMate TMP276-MG
Additional information
| | |
| --- | --- |
| Weight | 0.5 kg |
| Dimensions | 31 × 10 × 6 cm |
| Brand | |
| Capacity | |
| Cells | |
| Warranty | |
Q & A
There are no questions yet