Dell 266J9 Battery for Dell Inspiron 5490 Ins 15PR-1545W 1548BR 1645W 1648BR 1742BR 1742W 1748BR G3 3500 3590 G5 5500 5505 Series 0415CG C9VNH 0PN1VN 0M4GWP MV07R 11.4V 51Wh

Dell batteries keep you connected always to carry out your important work on your laptop. No matter wherever you are.
Our replacement batteries are best in market in terms of quality, reliability and price. You are being asssured for every paise you spent on our batteries.
Fresh batteries – 0-Cycle – all our batteries are unused, fresh directly from factory.
Premium Cells – We use quailty cells with atmost capacity.
Rigorous Testing – All our batteries are tested to ensure it gives optimal performance to you.
Note
New battery packs must be charge fully before use. It should be fully charged and discharged for couple of cycles to get optimum performance.
Type – Lithium-Polymer battery
Cells –  3 cells 
Capacity – 4255 mAh 51Wh
12 months warrranty by Dell India
We are confident in our product hence we give you 10 days free returns & 30 days self return window to either get replacement or return (know more)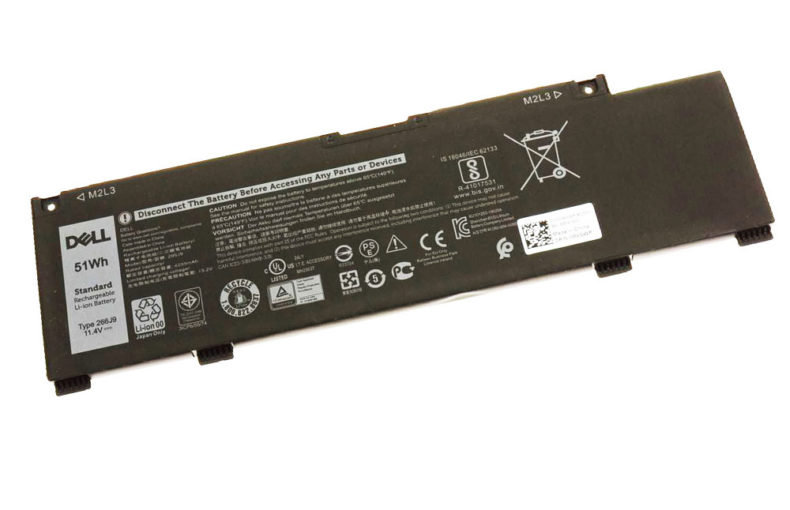 Dell 266j9 battery for inspiron 5490
High Quality Dell 266J9 Battery
This Dell 266J9 Battery replacement has built-in A+ grade cells and high-quality TI intelligent control chip, which not only performs better, charges faster but lasts longer. In addition, the outer shell of the Dell 266J9 Battery is made according to the original battery shape design scheme, using high temperature and wear-resistant ABS +PC alloy environmentally friendly materials, which can be 100% compatible with your laptop and fit closely.
Do not be deceived by the false capacity advertisements from bad merchants, of which battery capacity will often drop off significantly after using a few months. Made with the highest quality "A" grade cells, our Dell 266J9 Battery has passed various strict quality tests to ensure that it meets OEM specifications, which can provide more than 600 charging cycles to maintain the same capacity for a long time.
Using a poor battery with unstable performance may do harm to the notebook and your safety. Our Dell 266J9 Battery has passed CE, UL, ROHS, and other international authority certifications, which provides a variety of protection functions, effectively preventing common risks such as short circuits, overheating, and overvoltage. In order to protect your laptop and your safety, please rest assured to purchase our high-quality batteries!
Why buy from Lap Gadgets ?
N2NLL
0415CG
G3 15 3500
G3 15 3590
G3 15 3590-0447
G3 15 3590-1132F
G3 15 3590-1PF22
G3 15 3590-250K3
G3 15 3590-3D3GJ
G3 15 3590-9WHM2
G3 15 3590-G02NK
G3 15 3590-G1DFD
G3 15 3590-JNV2R
G3 15 3590-JPH54
G3 15 3590-NK094
G3 15 3590-PMK03
G3 3590
G3 3590-R1545BL
G3 3590-R1862BL
G5 15 5500 09E2
G5 15 5500-FMD52
G5 15 5500-G7617
G5 15 5500-ND60C
G5 15 5500-R8K5D
G5 15 5500-RVHTJ
G5 15 SE 5505 P89F
G5 5505
G5 5505-R1862S
G5 SE
INS 14-5490-D1305S
INS 14-5490-D1505L
INS 14-5490-D1505S
INS 14-5490-D1525L
INS 14-5490-D1525S
INS 14-5490-D1605L
INS 14-5490-D1605S
INS 14-5490-D1625L
INS 14-5490-D1625S
INS 14-5490-D1825S
INS 14-5490-D2625S
INS 15PR-1545BL
INS 15PR-1545W
INS 15PR-1548BR
INS 15PR-1645W
INS 15PR-1648BR
INS 15PR-1742BR
INS 15PR-1742W
INS 15PR-1745W
INS 15PR-1748BR
INS 15PR-1762BL
INS 15PR-1762BR
INS 15PR-1765BL
INS 15PR-1765W
INS 15PR-1768BR
INS 15PR-1845BL
INS 15PR-1845W
INS 15PR-1865W
INS 15PR-1868BR
INS15PR-1545BL
INS15PR-1548BR
INS15PR-1648BR
INS15PR-1742W
INS15PR-1745W
INS15PR-1748BR
INS15PR-1762BR
INS15PR-1765W
INS15PR-1845BL
INS15PR-1845W
Inspiron 14 5490
Inspiron 14 5490-6C55V
Inspiron 14 5490-71GFK
Inspiron 14 5490-740M5
Inspiron 14 5490-8446
Inspiron 14 5490-H23JG
Inspiron 14 5490-M2RXW
Inspiron G3 3590
Some tips to increase the life of Dell 266J9 Battery
Please carefully read the instructions before using the battery.
Before using the new replacement Dell 266J9 Battery for the first time, make sure that the battery is full charge for the first time usage and then get it discharge up to 5% and then recharge it for the same pattern for couple of times.
You'd better use a dedicated AC adapter when charging the new Dell 266J9 Battery.
You'd better turn off your Dell laptop when the Dell 266J9 Battery is charging; do not pull out the power plug or use your computer when charging for the first time.
If you don't use laptop for a long time, please remove the Dell 266J9 Battery, and place it in a ventilated and dry place.
Excessively high or low temperature environment should be avoided when using the replacement Dell 266J9 Battery, as the too low or too high temperature will affect the battery life.