Many times my customer call me to ask for the correct battery compatible with their laptop.
Though selecting the right battery is not that tough but there are certain laptop models which are similar and you may end up buying a wrong model of the battery which then consumes lot of time and energy to get it replace and some time loss of money too.
Like in Hp there are many models in which people get confuse in selecting correct battery and they end up buying wrong battery, e.g HP Dv6 and HP Dv6000 both are different models though battery size is same almost similar just the connector position is different.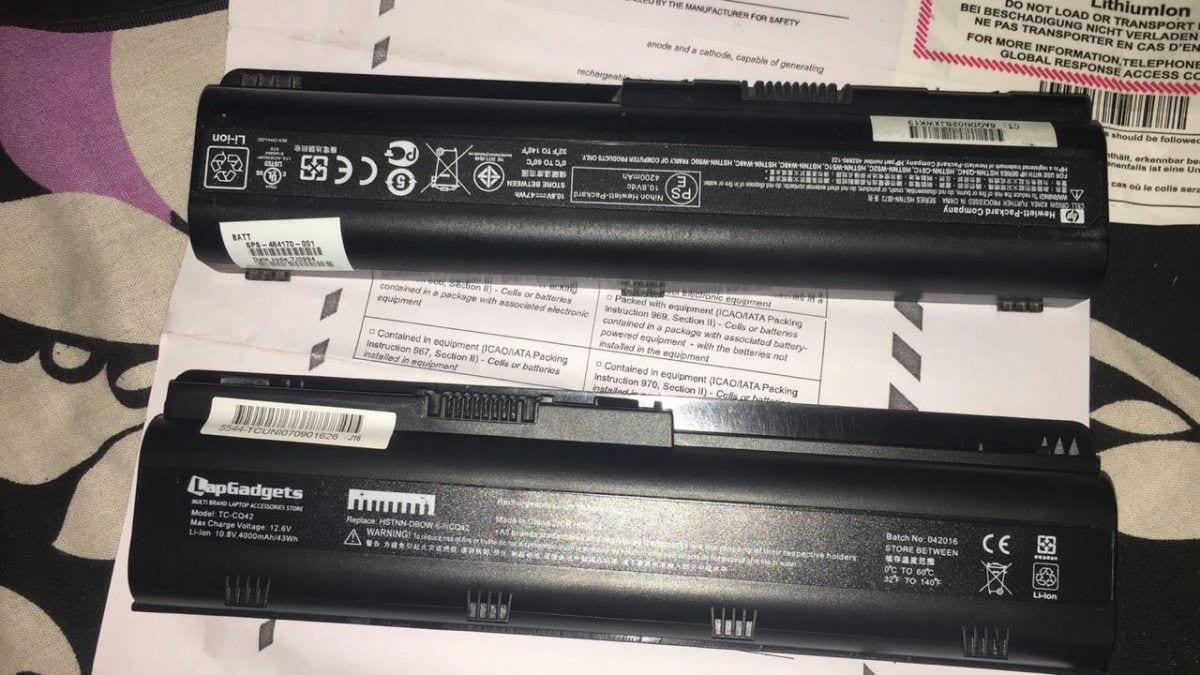 The above image is shared by one of our customer who bought a wrong battery, you can see the size is same but the connector location is different. In such cases, buyers loose time, energy and money but not in our case as we provide free exchange with correct battery
Hp Dv6 has many different variant like HP Dv6-1000 Dv6-2000 Dv6-3000 and Dv6-7000. all these have different batteries
 Dv4 DV5 DV6-1000 DV6-2000 CQ40 CQ45 CQ60 CQ61 CQ71 G50 battery
The connector of this battery is on the left side which is opposite side of DV6-3000 series battery
This battery is Mu06 which has connector on the right side. This battery is compatible with with MU06, MU06047, MU06047-CL, MU06055, MU06055-CL, MU06055XL, MU06062, MU0655, MU06XL, MU09, MU09100-CL,MU09XL, NBP6A174, NBP6A174B1, NBP6A175, NBP6A175B1, WD548AA#ABA, WD548AA#ABB, WD548AA#AC3, WD548AA, WD549AA#ABA, WD549AA#ABB, WD549AA
Compatible with these models:
Envy 17-2000 Series
Envy 17-2100 Series
Envy 17-2200 Series
Envy 17-3000 Series
Envy 17-3200 Series
Envy 17T Series
G42 Series
G42-100 Series
G42-200 Series
G42-300 Series
G42-400 Series
G42T Series
G56 Series
G56-100 Series
G56-200 Series
G62 Series
G62-100 Series
G62-200 Series
G62-300 Series
G62-400 Series
G62-500 Series
G62-A00 Series
G62-B00 Series
G62T Series
G72 Series
G72-100 Series
G72-200 Series
G72-A00 Series
G72-B00 Series
G72-C00 Series
G72T Series
Pavilion DM4 Series
Pavilion DM4-1000 Series
Pavilion DM4-2000 Series
Pavilion DM4-3000 Series
Pavilion DM4T Series
Pavilion DV3-4000 Series
Pavilion DV3-4100 Series
Pavilion DV3-4200 Series
Pavilion DV3-4300 Series
Pavilion DV4-4000 Series
Pavilion DV4-4100 Series
Pavilion DV4-4200 Series
Pavilion DV4T-4000 Series
Pavilion DV5-2000 Series
Pavilion DV5-3000 Series
Pavilion DV5T-2000 Series
Pavilion DV6-3000 Series
Pavilion DV6-3100 Series
Pavilion DV6-3200 Series
Pavilion DV6-4000 Series
Pavilion DV6-6000 Series
Pavilion DV6-6100 Series
Pavilion DV6-6B00 Series
Pavilion DV6-6C00 Series
Pavilion DV6T-3000 Series
Pavilion DV6T-4000 Series
Pavilion DV6T-6000 Series
Pavilion DV6Z-3000 Series
Pavilion DV6Z-4000 Series
Pavilion DV6Z-6000 Series
Pavilion DV7-4000 Series
Pavilion DV7-4100 Series
Pavilion DV7-4200 Series
Pavilion DV7-4300 Series
Pavilion DV7-5000 Series
Pavilion DV7-6000 Series
Pavilion DV7-6100 Series
Pavilion DV7-6B00 Series
Pavilion DV7-6C00 Series
Pavilion DV7T-4000 Series
Pavilion DV7T-5000 Series
Pavilion DV7T-6000 Series
Pavilion G32 Series
Pavilion G4 Series
Pavilion G4-1000 Series
Pavilion G4-2000 Series
Pavilion G4T Series
Pavilion G56 Series
Pavilion G6 Series
Pavilion G6-1000 Series
Pavilion G6-1A00 Series
Pavilion G6-1B00 Series
Pavilion G6-1C00 Series
Pavilion G6-1D00 Series
Pavilion G6-2000 Series
Pavilion G62 Series
Pavilion G6T Series
Pavilion G6X Series
Pavilion G6Z Series
Pavilion G7 Series
Pavilion G7-1000 Series
Pavilion G7-2000 Series
Pavilion G72 Series
Pavilion G7T Series
Presario CQ32 Series
Presario CQ42 Series
Presario CQ43 Series
Presario CQ52 Series
Presario CQ56 Series
Presario CQ57 Series
Presario CQ62 Series
Presario CQ62-A00 Series
Presario CQ62Z Series
Presario CQ630 Series
Presario CQ72 Series