Lap Gadgets New Apple MacBook Air Battery for A1466 A1369 A1496 A1405 battery 6200mAh
For your Macbook Air 2013 - 2017
12 months warranty by Lap Gadgets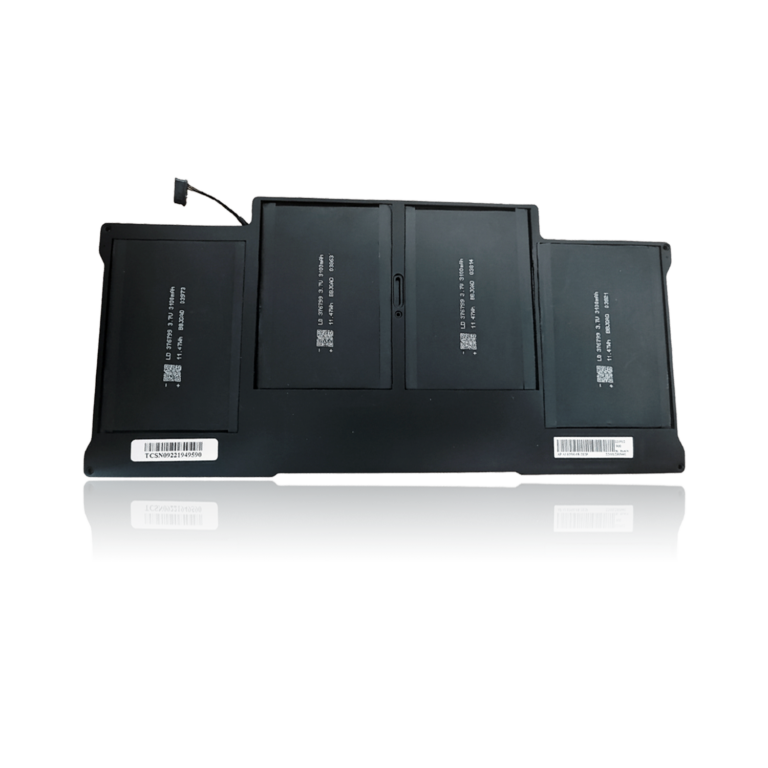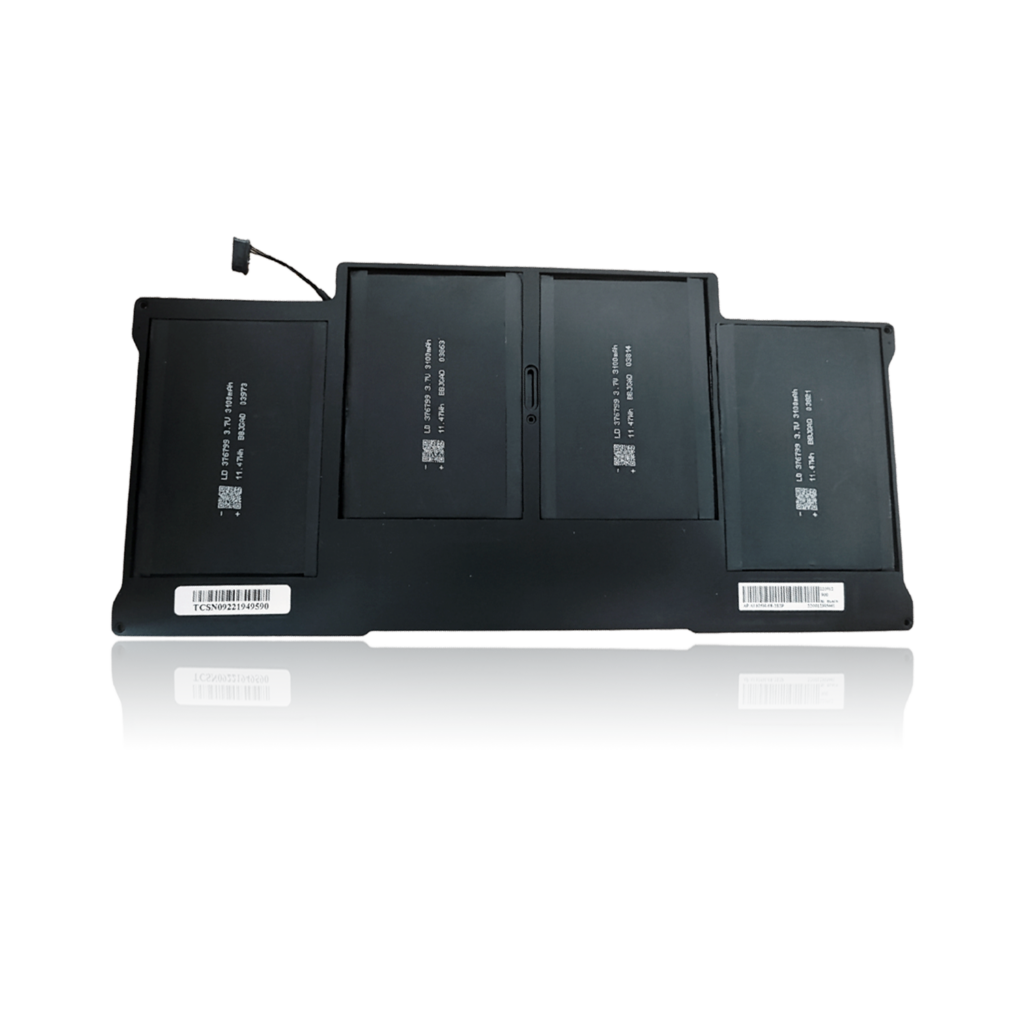 Lap Gadgets understands the importance of staying connected, especially when it comes to carrying out important work on your Macbook. That's why we offer batteries for Apple Macbook Air that are guaranteed to keep you connected, no matter where you are. Our Macbook batteries are simply the best in the industry in terms of quality, reliability, and price. We take great pride in the fact that you can rely on every single paise you spend on our batteries.
We stand behind the quality of our batteries, which is why we put all of our products through rigorous testing to ensure optimal performance. You can rest assured that when you purchase a battery from Lap Gadgets, you are getting a product that has been thoroughly tested and is sure to meet or exceed your expectations. With Lap Gadgets, staying connected has never been easier or more affordable.
Note
Please ensure that your power socket at home or office does not have earthing leakage.
Battery Model – A1405
Type – Li-ion Battery
Voltage – 7.6v
Capacity – 46wh / 6200 mAh
Condition – 100% Brand New
Packaging – 1 pcs battery + pair of screw driver
12 months by Lap Gadgets. (No warranty for burned or damaged pins / cables)
We are confident in our product hence we give you 10 days free returns & 30 days self return window to either get replacement or return (know more)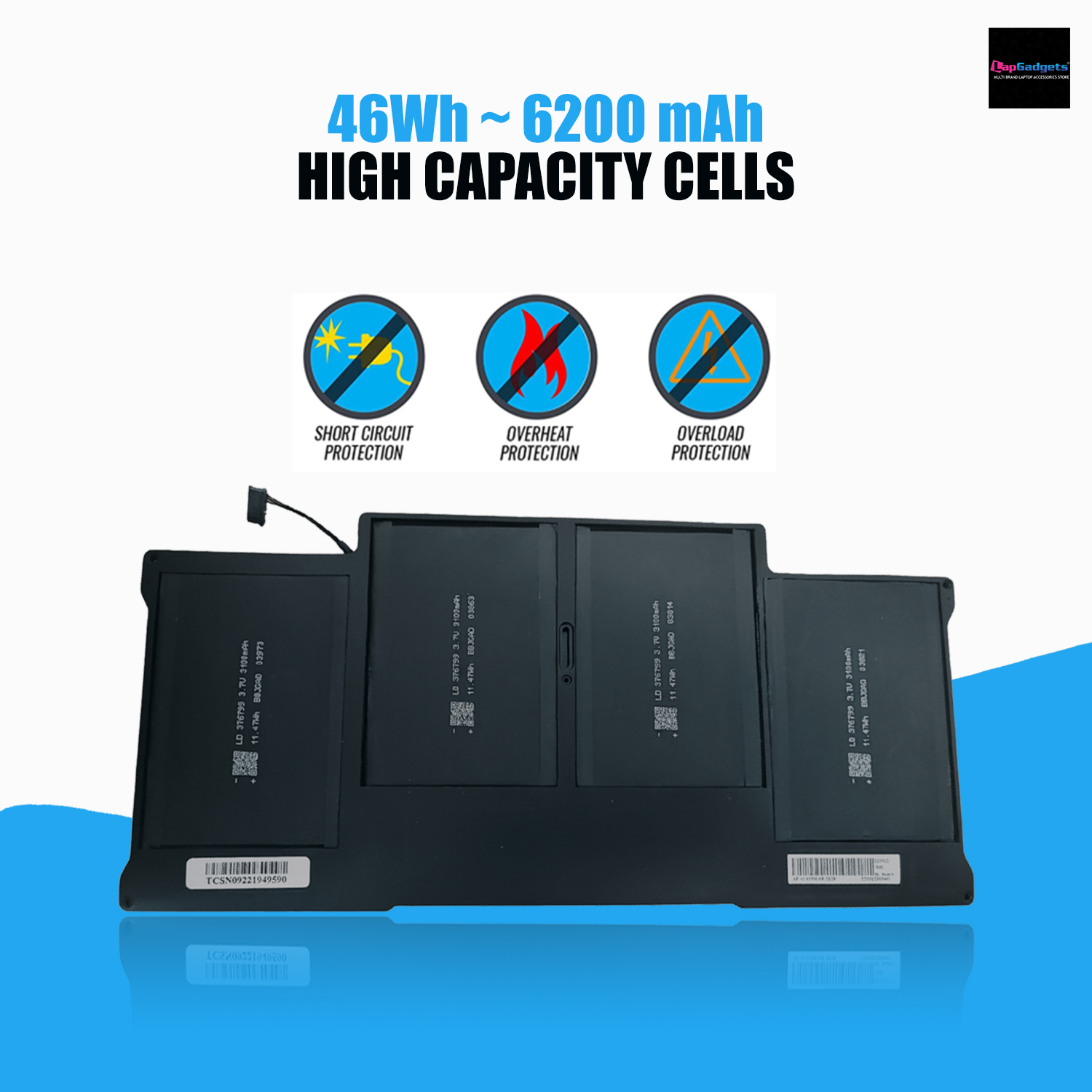 The MacBook Air battery is an amazing product that has been designed with compactness in mind. It is the perfect fit for your laptop as it fits easily and comfortably. With the highest quality cells installed, you can expect optimum backup that will last you through your daily work without any interruptions.
Additionally, with Lap Gadgets warranty support, you do not have to worry about searching for after-sale support when you need it. With this kind of support, you can focus your attention on your work and not on the peripherals that come with your laptop. Lap Gadgets ensures that you have the best possible support and the most knowledgeable assistance should you need it. So, get yourself a MacBook Air battery with Lap Gadgets warranty support today and experience the difference for yourself.
Replacement for Part Number:
Apple A1496, A1405, A1377, 020-7379-A, 020-8143-A, 661-5731, 661-6055
A1369 (Late 2010) MC503LL/A (1.86 GHz Core 2 Duo), MC504LL/A BTO (2.13 GHz Core 2 Duo), MC504LL/A (1.86 GHz Core 2 Duo)
A1369 – (Mid 2011) MC965LL/A (1.7 GHz Core 2 Duo),MC966LL/A (1.7 GHz Core 2 Duo),BTO/CTO (1.8 GHz Core i7)
A1466 – (Mid 2012) MD231LL/A (1.8 GHz Core i5),MD232LL/A (2.0 GHz Core i5),BTO/CTO (2.0 GHz Core i7)
A1466 – (Mid 2013) MD760LL/A (1.3 GHz Core i5),MD761LL/A (1.3 GHz Core i5)
A1466 – (Early 2015) MJVE2LL/A (MJVG2LL/A (1.6 GHz Core i5)1.6 GHz Core i5),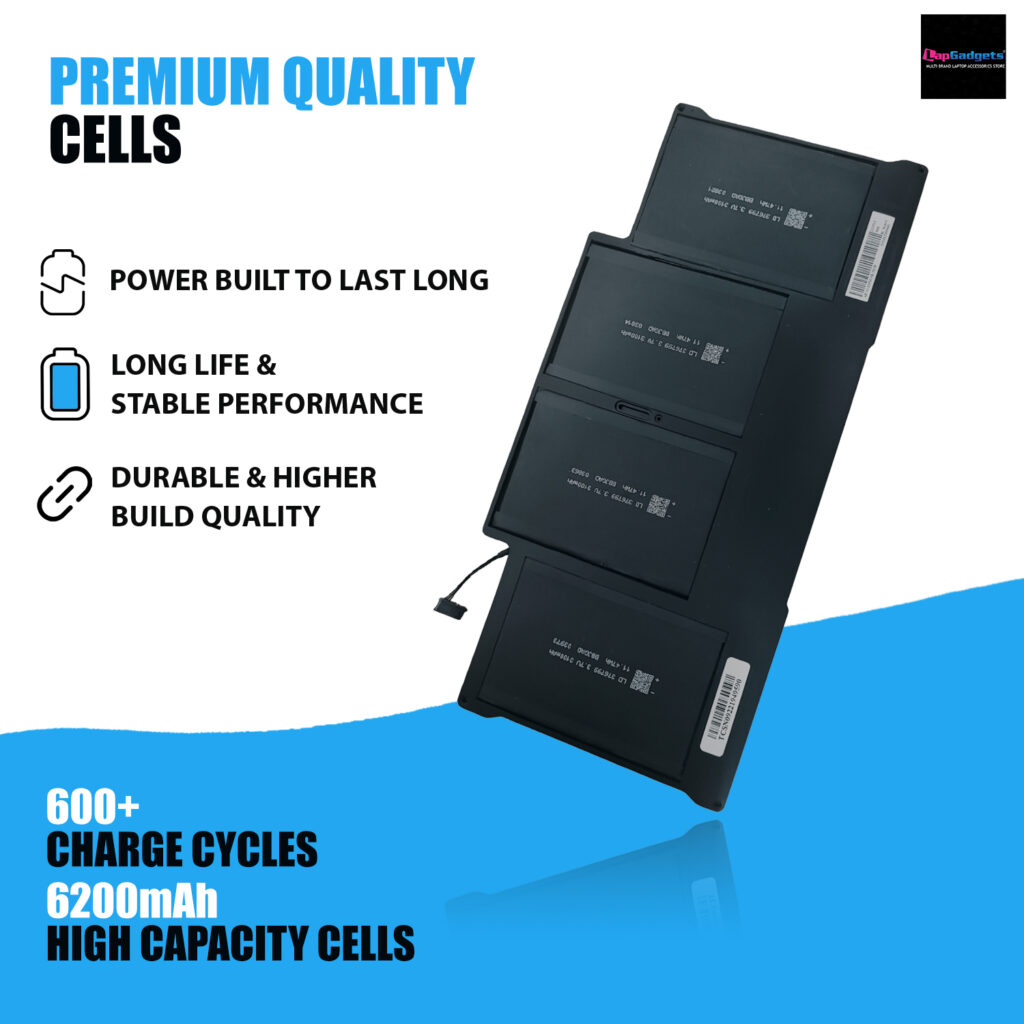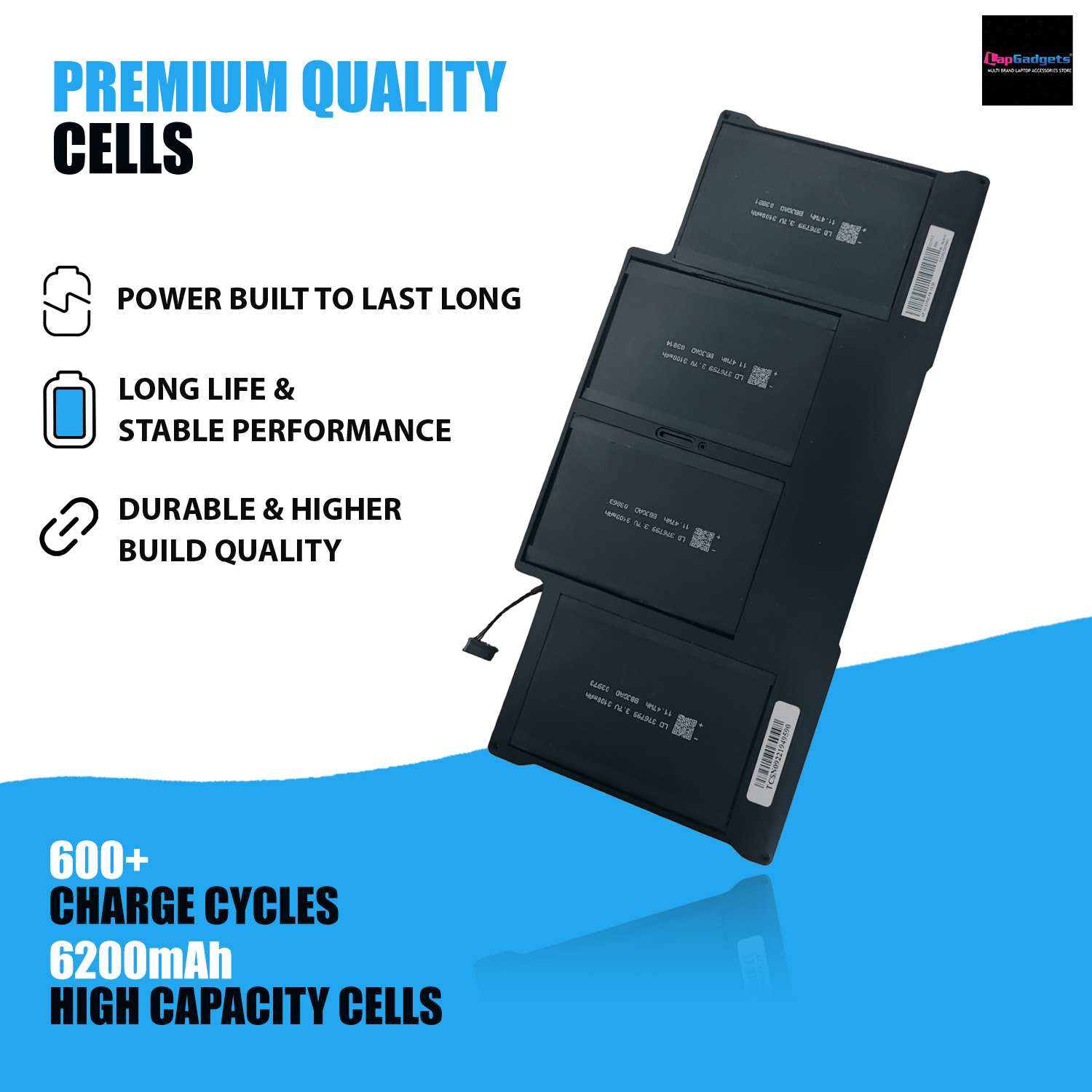 Why buy from Lap Gadgets ?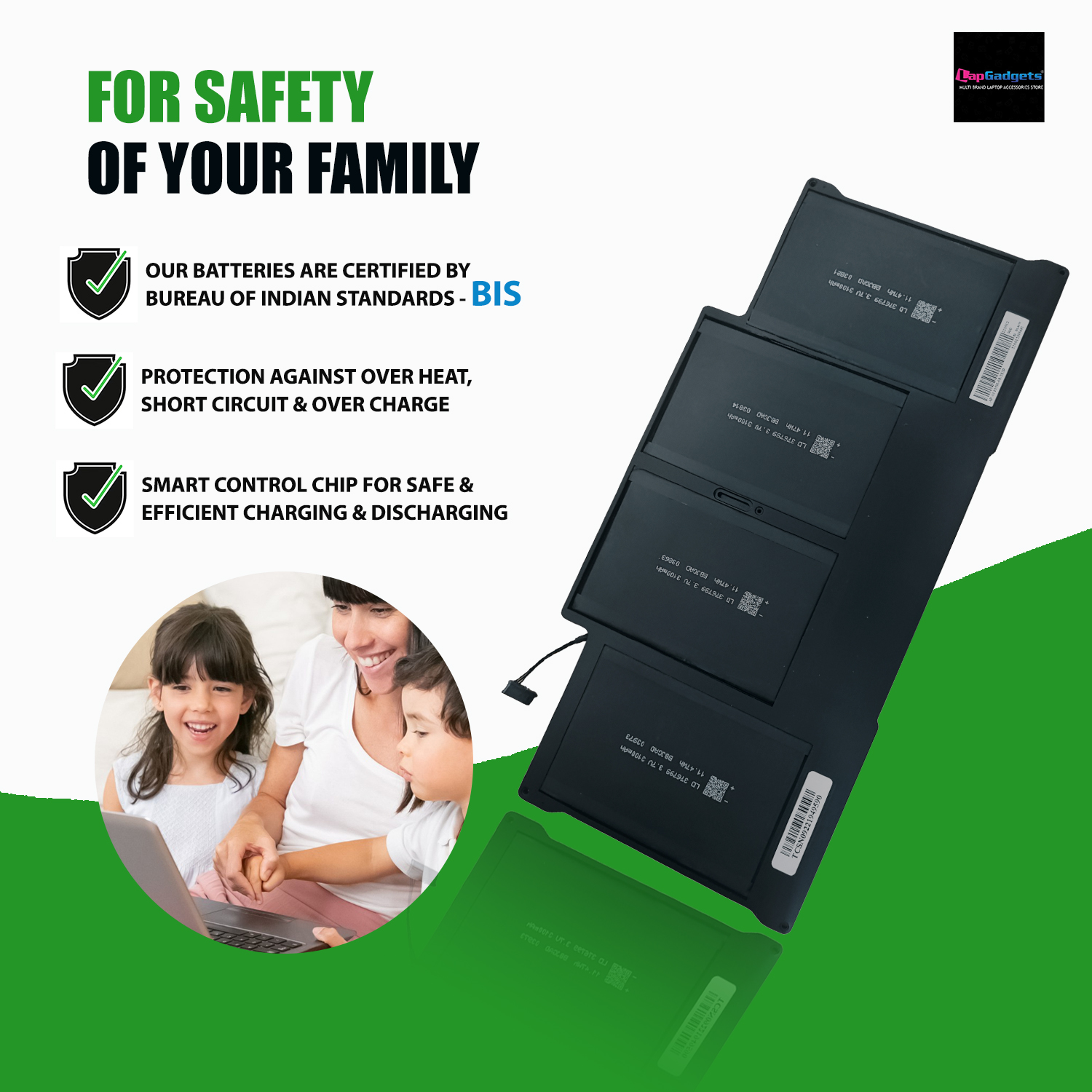 Not sure if this is the right battery for your Mac?
Get in touch with our Macbook Battery Experts, who are available for your help (click here)
Customer support is very good and reliable.
Kayyala Subba Rao
2023-07-14
Good
The quality of the product I orderd was very good. Delivery was on time. Satisfied 😀
Srinivas Yalamarthy
2023-07-13
Indeed, it was a pleasant experience. I had numerous doubts when attempting to procure a battery for my Macbook Air. After carefully considering the pros and cons, I ultimately decided to go with Lap Gadgets. Although I initially had reservations since it was my first time dealing with them, I was pleasantly surprised. The battery was delivered as promised, and I have successfully installed it. Currently, it is working fine and providing me with a backup of over 5 hours. I hope it continues to perform well in the long run. If it consistently provides me with good backup, I will enthusiastically recommend Lap Gadgets through my social media channels. I extend my best wishes to them.
Very good service
Bought a display and it's awesome! Would recommend it. But please consult their support before a purchase to see if it supports your laptop.
I had great experience with Lap Gadgets. Support and response is spontaneous. Keep it up.
Their service is extremely good. They are very professional in their dealing. Their return policy is also very good. I have had very professional and fast response from the team. I wish to recommend them due to their continued focus on customer need and service. They were prompt on phone and email. The response was Swift and delivery was super fast.
Good website compare to Amazon in order to purchase the new Asus charger in reasonable price. Also their customer service is also good. The person guided me to purchase the correct pin charger. I will definitely recommend website in case if u r ordering first time.