W940BAT-4 Battery for Acer W940 W94LS CLEVO W940BAT-6, W94LS, Clevo W940S Series, W940BAT-3, W940BAT-4, W940BAT-6
₹7,999.00 GST Included (-40%)
🎁 Get 12% Off : use code "12XNAVRATRI"
Limited Time Offer ends in 05 hrs 19 mins 52 secs. For prepaid orders & selected products only.
🚚 Same Day Shipping
Same Day Delivery available in Pune, Bengaluru, Mumbai, Surat & Ahmedabad . Want it today, October 6? Order within 01 hrs 19 mins 52 secs. (know more)
🛡️ 30 days Buyer Protection
You are fully protected by our 30 days Money Back Guarantee. If you don't like our products over the next 30 days, then we will gladly refund your money. (know more)
You Save:
₹

3,200.00 (40.01%)
Battery rating: 14.8V
Battery capacity: 2200mAh (32Wh)
Battery cells: 4-cell
Type: rechargeable Li-ion battery
Battery color: Black
👨‍👨‍👦‍👦-
Aeroshil from Imphal & Opa from Lunglei
bought this item recently.
Buy with confidence you get 10 days free returns and 30 days moneyback guarantee in our products
know more
Easy Returns
Buying on lapgadgets.in is very simple and safe, you are protected by Razorpay - India's leading payment gateway
Secured Transaction
We are much confident in our products hence we take atmost care and responsibility to satisfy you.
know more
Our Promise
Our customer support experts are available for your new purchase query or any technical query of any product
Excellent Support
Consult our experts, avoid the risk of laptop failure and other damage du to wrong part purchase.
know more
Expert's Advice
Frequently Bought Together
₹

7,999.00

GST Included

(-40%)
Customers who bought this item also bought
₹

1,049.00 –

₹

1,099.00 GST Included
W940BAT-4 battery for Acer W940 W94LS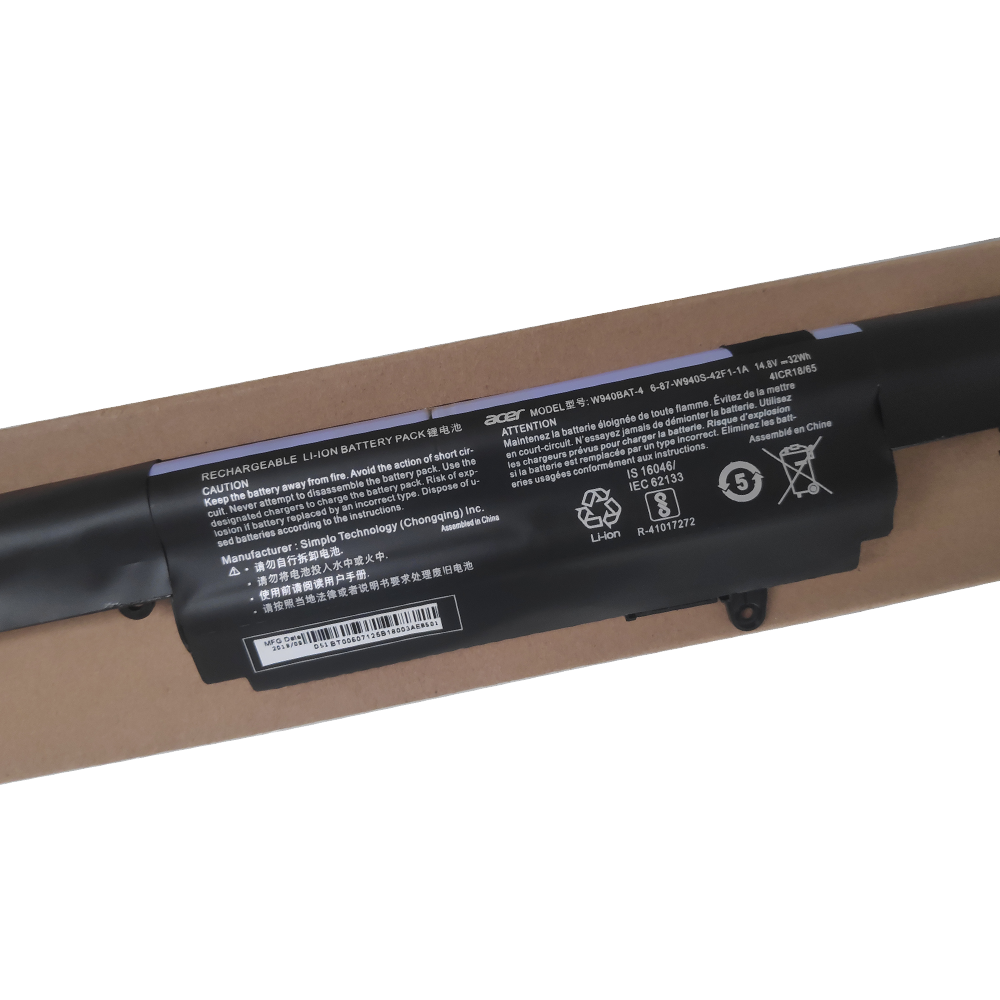 Compatible part numbers :

Acer
6-87-W940S-4242, 6-87-W940S-4272, 6-87-W940S-4273-P, 6-87-W940S-42F-1, 6-87-W940S-4U11, 6-87-W940S-4U4, 6-87-W940S-4U41, 6-87-W94LS-4UF-1P, W940BAT-4

Fit models:

Acer
W940S, W94LS
This original W940BAT-4 battery is designed and manufactured under strict European ISO 9001 standards. It meets and exceeds high priced OEM products, allowing you to power your computer with a superior quality battery for a fraction of the price!
Compatibilities: Laptop models: CLEVO W940BAT-6, W94LS, Clevo Premium Tv Xs3210, Clevo W940S Series, CLEVO W94LS Series, Battery models: W940BAT-3, W940BAT-4, W940BAT-6.
Additional information
| | |
| --- | --- |
| Weight | 0.5 kg |
| Dimensions | 31 × 10 × 6 cm |
| Battery Type | |
| Brand | |
| Cells | |
| Capacity | |
| Backup | |
| Warranty | |
Q & A
There are no questions yet