Sony VGP-BPS9 Battery for VGN-AR, VGN-CR, VGN-NR, VGN-SZ Series
₹3,999.00 Incl GST (-43%)
🎁 Save 5% on UPI - Debit - Credit Cards
Get 5% instant discount on UPI - Credit-Debit Cards. Offer ends in 22 hrs 38 mins 55 secs. 🕐
🚴‍♂️ Same Day Delivery: (for prepaid orders & selected cities only)
Want it today, September 21? Order within 16 hrs 58 mins 55 secs. Select same day from Delivery option (Order placed on Sunday will be delivered on Monday)
Capacity: 4000 mAh | Voltage: 11.1 V | 44Wh
Number of cells: 6 Cell | Color: Back & Silver Available,

Please select the Color from the below given choice menu.

Laptop battery approved by Bureau of Indian Standards.
Quality product – 100% compatible with your laptop, identical size, including all electronic safety measures.
Our batteries are designed for maximum safety: Overheat, Short-circuit, and overload protection, together with CE/RoHS certifications.
12 Months Replacement Warranty By Lap Gadgets.
👨‍👨‍👦‍👦-
Someone from kolkata & 2 others
bought this item recently.
Real Reviews on Google.
Customer support is very good and reliable.
Kayyala Subba Rao
2023-07-14
Good
The quality of the product I orderd was very good. Delivery was on time. Satisfied 😀
Srinivas Yalamarthy
2023-07-13
Indeed, it was a pleasant experience. I had numerous doubts when attempting to procure a battery for my Macbook Air. After carefully considering the pros and cons, I ultimately decided to go with Lap Gadgets. Although I initially had reservations since it was my first time dealing with them, I was pleasantly surprised. The battery was delivered as promised, and I have successfully installed it. Currently, it is working fine and providing me with a backup of over 5 hours. I hope it continues to perform well in the long run. If it consistently provides me with good backup, I will enthusiastically recommend Lap Gadgets through my social media channels. I extend my best wishes to them.
Very good service
Bought a display and it's awesome! Would recommend it. But please consult their support before a purchase to see if it supports your laptop.
I had great experience with Lap Gadgets. Support and response is spontaneous. Keep it up.
Their service is extremely good. They are very professional in their dealing. Their return policy is also very good. I have had very professional and fast response from the team. I wish to recommend them due to their continued focus on customer need and service. They were prompt on phone and email. The response was Swift and delivery was super fast.
Good website compare to Amazon in order to purchase the new Asus charger in reasonable price. Also their customer service is also good. The person guided me to purchase the correct pin charger. I will definitely recommend website in case if u r ordering first time.
Customers who bought this item also bought
₹

1,149.00 Incl GST

13% off
The Perfect Partner for Your Sony Laptop on the Go
Always on the go? Do not stop your valuable work due to low battery performance. Get a Lap Gadgets Battery to keep going while at home or office or travel.
Lap Gadgets battery for Sony undergo rigorous testing by qualified engineers to ensure compatibility and reliability in your Sony system.
Bis Certified Lap Gadgets's batteries are sustaining qualification process allows for testing and certification of the newest technology on your Sony system
Genuine Lap Gadgets parts mean that you will not need to worry about voiding your system's hardware warranty.

Lap Gadgets's Limited One Year Warranty guarantees that if parts fails within 12 months period, it will be replaced.
Sony VGP-BPS9 Battery Specs
The Perfect battery life for Your Sony VGN-CR Series, NR Series,AR Series
Employed high quality cells from Samsung, the brand new 11.1v 4000 mah replacement Sony VGP-BPS9 Battery Li-lion battery is totally compatible with the original manufacturer's specifications. Through tested, all our Li-ion replacement batteries for Sony VGP-BPS9 battery have been certified to meet and even exceed the original battery performance. Each replacement battery of the Sony VGP-BPS9 Battery has been tested on the Sony system before being dispatched to ensure the safety of your Sony laptop.
Except for being designed under the supreme control criterion, the high-quality replacement Sony VGP-BPS9 Battery carries with a smart interior circuit board that provides battery-unbalanced-shut-off protection, thermal-runaway protection, overcharged protection, over-discharged-shut-off protection, and high/low-temperature-shut-off protection. Besides, the battery contains free lead, mercury and other environmental metal pollutants. It is compliance with international standards. Every replacement Sony laptop battery has passed through a series of rigorous safety tests and been certified by CE, UL, ROHS, ISO9001/9002. Generally speaking, this replacement Sony VGP-BPS9 Battery can be charged/discharged up to more than 500 cycles. Top Quality Battery Cells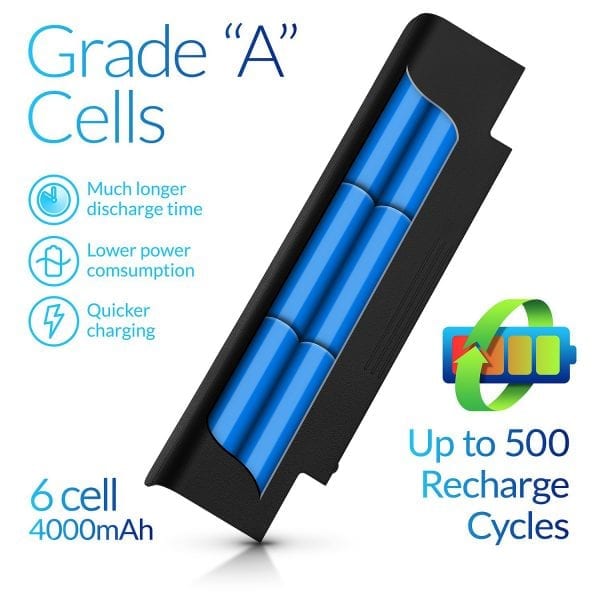 Here are some few Important Tips for using Sony VGP-BPS9 Battery:
This New Sony VGP-BPS9 Battery comes in discharged/ partially charged state and it should be charged minimum for 2-3 charge/ discharge cycles to achieve its optimum performance.
When you charge a new Sony VGP-BPS9 Battery your computer power meter may indicate that charging is complete after a few minutes, don't worry about it and just remove the battery and install it again and repeat the charging procedure.
Sony VGP-BPS9 Battery Replacement requires some technical skills to install it and user can either install it or hire a technician to do it. Please refer DIY (Do-It-Yourself) videos available our website for your convenience.
It is important to fully charge and fully discharge rechargeable laptop batteries after every 2 weeks, failing to do so may decrease Sony VGP-BPS9 Battery Life.
Sony VGP-BPS9 Battery Backup will be same as the original battery which you got installed in your new laptop.
If your Sony VGP-BPS9 Battery is not charging then kindly try a different charger to verify because this problem may occur due to a faulty charger also.
If Sony VGP-BPS9 Battery will not be in use for a long time then it is recommended that you should remove it from the device and store it in a cool, dry and clean place
Guides for a Healthy Sony VGP-BPS9 BATTERY
Find Your Laptop Model Number or Part Number Using Control+F
VGP-BPL9
VGP-BPL9C
VGP-BPS9
VGP-BPS9/B
VGP-BPS9/S
VGP-BPS9A
VGP-BPS9A/B
VGP-BPS9A/S
VGP-BPS9B
VGP-BPL10
VGP-BPS10
VGP-BPS10/S
VGP-BPS10A
VGP-BPS10A/B
VGP-BPS10B
VAIO PCG-5G2L
VAIO PCG-5G3L
VAIO PCG-5J1L
VAIO PCG-5J2L
VAIO PCG-5K1L
VAIO PCG-5K2L
VAIO PCG-5L1L
VAIO PCG-6S1L
VAIO PCG-6S2L
VAIO PCG-6S3L
VAIO PCG-6V1L
VAIO PCG-6W1L
VAIO PCG-6W2L
VAIO PCG-6W3L
VAIO PCG-7111L
VAIO PCG-7112L
VAIO PCG-7113L
VAIO PCG-7131L
VAIO PCG-7132L
VAIO PCG-7133L
VAIO PCG-7Z1L
VAIO PCG-7Z2L
VAIO PCG-8Y1L
VAIO PCG-8Y2L
VAIO PCG-8Z1L
VAIO PCG-8Z2L
VAIO VGN-AR Series
VAIO VGN-AR47G/E1
VAIO VGN-AR520
VAIO VGN-AR520E
VAIO VGN-AR53DB
VAIO VGN-AR54DB
VAIO VGN-AR550
VAIO VGN-AR550E
VAIO VGN-AR550U
VAIO VGN-AR55DB
VAIO VGN-AR570
VAIO VGN-AR570N
VAIO VGN-AR570U
VAIO VGN-AR590
VAIO VGN-AR590CE
VAIO VGN-AR605
VAIO VGN-AR605E
VAIO VGN-AR610
VAIO VGN-AR610E
VAIO VGN-AR620
VAIO VGN-AR620E
VAIO VGN-AR630
VAIO VGN-AR630E
VAIO VGN-AR64DB
VAIO VGN-AR650
VAIO VGN-AR650U
VAIO VGN-AR65DB
VAIO VGN-AR660
VAIO VGN-AR660U
VAIO VGN-AR670
VAIO VGN-AR670N
VAIO VGN-AR690
VAIO VGN-AR690CU
VAIO VGN-AR690U
VAIO VGN-AR705
VAIO VGN-AR705E
VAIO VGN-AR705E/B
VAIO VGN-AR710
VAIO VGN-AR710E
VAIO VGN-AR710E/B
VAIO VGN-AR71ZU
VAIO VGN-AR720
VAIO VGN-AR720E
VAIO VGN-AR720E/B
VAIO VGN-AR730
VAIO VGN-AR730E
VAIO VGN-AR730E/B
VAIO VGN-AR73DB
VAIO VGN-AR74DB
VAIO VGN-AR750
VAIO VGN-AR750E
VAIO VGN-AR750E/B
VAIO VGN-AR75UDB
VAIO VGN-AR760
VAIO VGN-AR760U
VAIO VGN-AR760U/B
VAIO VGN-AR770
VAIO VGN-AR770CU
VAIO VGN-AR770E
VAIO VGN-AR770U
VAIO VGN-AR790
VAIO VGN-AR790U
VAIO VGN-AR790U/B
VAIO VGN-AR810
VAIO VGN-AR810E
VAIO VGN-AR820
VAIO VGN-AR820E
VAIO VGN-AR825
VAIO VGN-AR825E
VAIO VGN-AR830
VAIO VGN-AR830E
VAIO VGN-AR83S
VAIO VGN-AR83US
VAIO VGN-AR840
VAIO VGN-AR840E
VAIO VGN-AR84S
VAIO VGN-AR84US
VAIO VGN-AR850
VAIO VGN-AR850E
VAIO VGN-AR85S
VAIO VGN-AR85US
VAIO VGN-AR870
VAIO VGN-AR870EA
VAIO VGN-AR870NA
VAIO VGN-AR870NB
VAIO VGN-AR870NC
VAIO VGN-AR870ND
VAIO VGN-AR890
VAIO VGN-AR890U
VAIO VGN-AR93S
VAIO VGN-AR93US
VAIO VGN-AR94S
VAIO VGN-AR94US
VAIO VGN-AR95S
VAIO VGN-AR95US
VAIO VGN-CR Series
VAIO VGN-CR110
VAIO VGN-CR110EW
VAIO VGN-CR115
VAIO VGN-CR115E
VAIO VGN-CR116
VAIO VGN-CR116E
VAIO VGN-CR11H/B
VAIO VGN-CR11S/L
VAIO VGN-CR11S/P
VAIO VGN-CR11S/W
VAIO VGN-CR11Z/R
VAIO VGN-CR120
VAIO VGN-CR120E
VAIO VGN-CR120E/L
VAIO VGN-CR120E/P
VAIO VGN-CR120E/R
VAIO VGN-CR120E/W
VAIO VGN-CR120EL
VAIO VGN-CR120EP
VAIO VGN-CR120ER
VAIO VGN-CR120EW
VAIO VGN-CR123
VAIO VGN-CR123E
VAIO VGN-CR123EB
VAIO VGN-CR125
VAIO VGN-CR125E
VAIO VGN-CR125E/B
VAIO VGN-CR13/B
VAIO VGN-CR13/L
VAIO VGN-CR13/P
VAIO VGN-CR13/R
VAIO VGN-CR13/W
VAIO VGN-CR131
VAIO VGN-CR131E
VAIO VGN-CR131E/BC
VAIO VGN-CR131E/L
VAIO VGN-CR131EBC
VAIO VGN-CR131EL
VAIO VGN-CR131ELC
VAIO VGN-CR13G
VAIO VGN-CR13G/B
VAIO VGN-CR13G/L
VAIO VGN-CR13G/P
VAIO VGN-CR13G/R
VAIO VGN-CR13G/W
VAIO VGN-CR13T/L
VAIO VGN-CR13T/P
VAIO VGN-CR13T/R
VAIO VGN-CR13T/W
VAIO VGN-CR140
VAIO VGN-CR140E
VAIO VGN-CR140E/B
VAIO VGN-CR140EB
VAIO VGN-CR140N
VAIO VGN-CR140NB
VAIO VGN-CR15/B
VAIO VGN-CR150
VAIO VGN-CR150E
VAIO VGN-CR150E/B
VAIO VGN-CR150EB
VAIO VGN-CR190
VAIO VGN-CR190E
VAIO VGN-CR190E/B
VAIO VGN-CR190E/L
VAIO VGN-CR190E/P
VAIO VGN-CR190E/R
VAIO VGN-CR190E/W
VAIO VGN-CR190EB
VAIO VGN-CR190EL
VAIO VGN-CR190EP
VAIO VGN-CR190ER
VAIO VGN-CR190EW
VAIO VGN-CR190N
VAIO VGN-CR190N2
VAIO VGN-CR19VN/B
VAIO VGN-CR19XN/B
VAIO VGN-CR20
VAIO VGN-CR203
VAIO VGN-CR203E
VAIO VGN-CR203E/N
VAIO VGN-CR203EN
VAIO VGN-CR205
VAIO VGN-CR205E
VAIO VGN-CR205E/P
VAIO VGN-CR205E/W
VAIO VGN-CR205EP
VAIO VGN-CR205EW
VAIO VGN-CR21/B
VAIO VGN-CR210
VAIO VGN-CR210EL
VAIO VGN-CR215
VAIO VGN-CR215E
VAIO VGN-CR215E/B
VAIO VGN-CR215EB
VAIO VGN-CR21E/L
VAIO VGN-CR21E/P
VAIO VGN-CR21E/W
VAIO VGN-CR21S/L
VAIO VGN-CR21S/P
VAIO VGN-CR21S/W
VAIO VGN-CR21Z/N
VAIO VGN-CR21Z/R
VAIO VGN-CR220
VAIO VGN-CR220E
VAIO VGN-CR220E/L
VAIO VGN-CR220E/N
VAIO VGN-CR220E/P
VAIO VGN-CR220E/R
VAIO VGN-CR220E/W
VAIO VGN-CR220EL
VAIO VGN-CR220EN
VAIO VGN-CR220EP
VAIO VGN-CR220ER
VAIO VGN-CR220EW
VAIO VGN-CR225
VAIO VGN-CR225E
VAIO VGN-CR225E/L
VAIO VGN-CR225EL
VAIO VGN-CR23/B
VAIO VGN-CR23/L
VAIO VGN-CR23/N
VAIO VGN-CR23/P
VAIO VGN-CR23/R
VAIO VGN-CR23/W
VAIO VGN-CR231
VAIO VGN-CR231E
VAIO VGN-CR231E/R
VAIO VGN-CR231ER
VAIO VGN-CR240
VAIO VGN-CR240E
VAIO VGN-CR240E/B
VAIO VGN-CR240EB
VAIO VGN-CR240N
VAIO VGN-CR240N/B
VAIO VGN-CR240NB
VAIO VGN-CR25G/N
VAIO VGN-CR290
VAIO VGN-CR290E
VAIO VGN-CR290E/AW
VAIO VGN-CR290E/BP
VAIO VGN-CR290E/BR
VAIO VGN-CR290E/BW
VAIO VGN-CR290EAL
VAIO VGN-CR290EAN
VAIO VGN-CR290EAP
VAIO VGN-CR290EAR
VAIO VGN-CR290EAW
VAIO VGN-CR290EBL
VAIO VGN-CR290EBL/C
VAIO VGN-CR290EBLC
VAIO VGN-CR290EBP
VAIO VGN-CR290EBP/C
VAIO VGN-CR290EBPC
VAIO VGN-CR290EBPR
VAIO VGN-CR290EBR
VAIO VGN-CR290EBR/C
VAIO VGN-CR290EBRC
VAIO VGN-CR290EBW
VAIO VGN-CR290N
VAIO VGN-CR29XN/B
VAIO VGN-CR305
VAIO VGN-CR305E
VAIO VGN-CR305E/L
VAIO VGN-CR305E/R
VAIO VGN-CR305E/RC
VAIO VGN-CR305EL
VAIO VGN-CR305ER
VAIO VGN-CR305ERC
VAIO VGN-CR307
VAIO VGN-CR307E
VAIO VGN-CR307E/P
VAIO VGN-CR307EP
VAIO VGN-CR307EW
VAIO VGN-CR309
VAIO VGN-CR309E
VAIO VGN-CR309E/L
VAIO VGN-CR309E/R
VAIO VGN-CR309E/RC
VAIO VGN-CR309EL
VAIO VGN-CR309ER
VAIO VGN-CR309ERC
VAIO VGN-CR310
VAIO VGN-CR310EL
VAIO VGN-CR31S/D
VAIO VGN-CR320
VAIO VGN-CR320E
VAIO VGN-CR320E/L
VAIO VGN-CR320E/N
VAIO VGN-CR320E/P
VAIO VGN-CR320E/R
VAIO VGN-CR320E/T
VAIO VGN-CR320E/W
VAIO VGN-CR320EL
VAIO VGN-CR320EN
VAIO VGN-CR320EP
VAIO VGN-CR320ER
VAIO VGN-CR320ET
VAIO VGN-CR320EW
VAIO VGN-CR323/W
VAIO VGN-CR33
VAIO VGN-CR382
VAIO VGN-CR390
VAIO VGN-CR390E/B
VAIO VGN-CR390EB
VAIO VGN-CR390N/B
VAIO VGN-CR390NB
VAIO VGN-CR4000
VAIO VGN-CR4000 CTO
VAIO VGN-CR405
VAIO VGN-CR405E
VAIO VGN-CR407
VAIO VGN-CR407E
VAIO VGN-CR407E/P
VAIO VGN-CR407E/R
VAIO VGN-CR407EP
VAIO VGN-CR407ER
VAIO VGN-CR408
VAIO VGN-CR408E
VAIO VGN-CR409
VAIO VGN-CR409E
VAIO VGN-CR409E/L
VAIO VGN-CR409E/T
VAIO VGN-CR409EL
VAIO VGN-CR409EP
VAIO VGN-CR409ET
VAIO VGN-CR410
VAIO VGN-CR410E
VAIO VGN-CR410E/L
VAIO VGN-CR410E/N
VAIO VGN-CR410E/P
VAIO VGN-CR410E/R
VAIO VGN-CR410E/T
VAIO VGN-CR410E/W
VAIO VGN-CR410EL
VAIO VGN-CR410EN
VAIO VGN-CR410EP
VAIO VGN-CR410ER
VAIO VGN-CR410ET
VAIO VGN-CR410EW
VAIO VGN-CR415
VAIO VGN-CR415E
VAIO VGN-CR415E/B
VAIO VGN-CR415EB
VAIO VGN-CR420
VAIO VGN-CR420E
VAIO VGN-CR420E/L
VAIO VGN-CR420E/N
VAIO VGN-CR420E/P
VAIO VGN-CR420E/R
VAIO VGN-CR420E/W
VAIO VGN-CR420EL
VAIO VGN-CR420EN
VAIO VGN-CR420EP
VAIO VGN-CR420ER
VAIO VGN-CR420ET
VAIO VGN-CR420EW
VAIO VGN-CR425
VAIO VGN-CR425E
VAIO VGN-CR460A
VAIO VGN-CR460AL
VAIO VGN-CR460AP
VAIO VGN-CR460AR
VAIO VGN-CR460AW
VAIO VGN-CR490
VAIO VGN-CR490E
VAIO VGN-CR490EBL
VAIO VGN-CR490EBN
VAIO VGN-CR490EBP
VAIO VGN-CR490EBR
VAIO VGN-CR490EBT
VAIO VGN-CR490EBW
VAIO VGN-CR490EELC
VAIO VGN-CR490EEPC
VAIO VGN-CR490EERC
VAIO VGN-CR490EEWC
VAIO VGN-CR490NBB
VAIO VGN-CR490NCB
VAIO VGN-CR490NDB
VAIO VGN-CR506
VAIO VGN-CR506E
VAIO VGN-CR506E/J
VAIO VGN-CR506EJ
VAIO VGN-CR507
VAIO VGN-CR507DJ
VAIO VGN-CR507E
VAIO VGN-CR507E/J
VAIO VGN-CR507E/Q
VAIO VGN-CR507EJ
VAIO VGN-CR507EJA
VAIO VGN-CR507ELA
VAIO VGN-CR507ELC
VAIO VGN-CR507EP
VAIO VGN-CR507EPC
VAIO VGN-CR507ER
VAIO VGN-CR508
VAIO VGN-CR508E
VAIO VGN-CR508E/L
VAIO VGN-CR508E/R
VAIO VGN-CR508EL
VAIO VGN-CR508ELC
VAIO VGN-CR508ER
VAIO VGN-CR508ERC
VAIO VGN-CR509
VAIO VGN-CR509D
VAIO VGN-CR509DJ
VAIO VGN-CR509E
VAIO VGN-CR509E/Q
VAIO VGN-CR509EJ
VAIO VGN-CR50B/W
VAIO VGN-CR510
VAIO VGN-CR510D
VAIO VGN-CR510DT
VAIO VGN-CR510DW
VAIO VGN-CR510E
VAIO VGN-CR510E/J
VAIO VGN-CR510E/L
VAIO VGN-CR510E/N
VAIO VGN-CR510E/P
VAIO VGN-CR510E/Q
VAIO VGN-CR510E/R
VAIO VGN-CR510E/T
VAIO VGN-CR510E/W
VAIO VGN-CR510EJ
VAIO VGN-CR510EL
VAIO VGN-CR510EN
VAIO VGN-CR510EP
VAIO VGN-CR510ER
VAIO VGN-CR510ET
VAIO VGN-CR510EW
VAIO VGN-CR515
VAIO VGN-CR515E
VAIO VGN-CR515E/B
VAIO VGN-CR515EB
VAIO VGN-CR51B/W
VAIO VGN-CR520
VAIO VGN-CR520D
VAIO VGN-CR520DJ
VAIO VGN-CR520DL
VAIO VGN-CR520DN
VAIO VGN-CR520DP
VAIO VGN-CR520DR
VAIO VGN-CR520DT
VAIO VGN-CR520DW
VAIO VGN-CR520E
VAIO VGN-CR520E/J
VAIO VGN-CR520E/L
VAIO VGN-CR520E/N
VAIO VGN-CR520E/P
VAIO VGN-CR520E/Q
VAIO VGN-CR520E/R
VAIO VGN-CR520E/T
VAIO VGN-CR520E/W
VAIO VGN-CR520EJ
VAIO VGN-CR520EL
VAIO VGN-CR520EN
VAIO VGN-CR520EP
VAIO VGN-CR520ER
VAIO VGN-CR520ET
VAIO VGN-CR520EW
VAIO VGN-CR525
VAIO VGN-CR525E
VAIO VGN-CR525E/B
VAIO VGN-CR525EB
VAIO VGN-CR52B/W
VAIO VGN-CR540
VAIO VGN-CR540E
VAIO VGN-CR540E/J
VAIO VGN-CR540E/L
VAIO VGN-CR540E/N
VAIO VGN-CR540E/P
VAIO VGN-CR540E/Q
VAIO VGN-CR540E/R
VAIO VGN-CR540E/T
VAIO VGN-CR540E/W
VAIO VGN-CR540EJ
VAIO VGN-CR540EL
VAIO VGN-CR540EN
VAIO VGN-CR540EP
VAIO VGN-CR540ER
VAIO VGN-CR540ET
VAIO VGN-CR540EW
VAIO VGN-CR590
VAIO VGN-CR590C
VAIO VGN-CR590CE
VAIO VGN-CR590CN
VAIO VGN-CR590E
VAIO VGN-CR590EAB
VAIO VGN-CR590EAL
VAIO VGN-CR590EAP
VAIO VGN-CR590EAR
VAIO VGN-CR590EAT
VAIO VGN-CR590EAW
VAIO VGN-CR590EBB
VAIO VGN-CR590EBL
VAIO VGN-CR590EBN
VAIO VGN-CR590EBP
VAIO VGN-CR590EBR
VAIO VGN-CR590EBT
VAIO VGN-CR590EBW
VAIO VGN-CR590N
VAIO VGN-CR590NA
VAIO VGN-CR590NAG
VAIO VGN-CR590NBB
VAIO VGN-CR590NBP
VAIO VGN-CR590NCB
VAIO VGN-CR590NCR
VAIO VGN-CR60B/L
VAIO VGN-CR60B/P
VAIO VGN-CR60B/R
VAIO VGN-CR61B/L
VAIO VGN-CR61B/N
VAIO VGN-CR61B/P
VAIO VGN-CR61B/R
VAIO VGN-CR62B/L
VAIO VGN-CR62B/N
VAIO VGN-CR62B/P
VAIO VGN-CR62B/R
VAIO VGN-CR70B/W
VAIO VGN-CR71B/W
VAIO VGN-CR72B/W
VAIO VGN-CR90HS
VAIO VGN-CR90NS
VAIO VGN-CR90S
VAIO VGN-CR92HS
VAIO VGN-CR92NS
VAIO VGN-CR92S
VAIO VGN-NR Series
VAIO VGN-NR110
VAIO VGN-NR110E
VAIO VGN-NR110E/S
VAIO VGN-NR110E/T
VAIO VGN-NR110E/W
VAIO VGN-NR110ES
VAIO VGN-NR110ET
VAIO VGN-NR110EW
VAIO VGN-NR115
VAIO VGN-NR115E
VAIO VGN-NR115E/S
VAIO VGN-NR115E/T
VAIO VGN-NR115ES
VAIO VGN-NR115ET
VAIO VGN-NR11M/S
VAIO VGN-NR11S/S
VAIO VGN-NR11Z/S
VAIO VGN-NR11Z/T
VAIO VGN-NR120
VAIO VGN-NR120E
VAIO VGN-NR120E/S
VAIO VGN-NR120E/T
VAIO VGN-NR120E/W
VAIO VGN-NR120ES
VAIO VGN-NR120ET
VAIO VGN-NR120EW
VAIO VGN-NR123
VAIO VGN-NR123E
VAIO VGN-NR123E/S
VAIO VGN-NR123ES
VAIO VGN-NR140
VAIO VGN-NR140E
VAIO VGN-NR140E/S
VAIO VGN-NR140ES
VAIO VGN-NR160
VAIO VGN-NR160E
VAIO VGN-NR160E/S
VAIO VGN-NR160E/T
VAIO VGN-NR160E/W
VAIO VGN-NR160ES
VAIO VGN-NR160ET
VAIO VGN-NR160EW
VAIO VGN-NR160N
VAIO VGN-NR160NS
VAIO VGN-NR180
VAIO VGN-NR180E
VAIO VGN-NR180E/S
VAIO VGN-NR180E/T
VAIO VGN-NR180ES
VAIO VGN-NR180ET
VAIO VGN-NR180EW
VAIO VGN-NR180N
VAIO VGN-NR180N/S
VAIO VGN-NR180NS
VAIO VGN-NR185
VAIO VGN-NR185E
VAIO VGN-NR185ES
VAIO VGN-NR185ET
VAIO VGN-NR185EW
VAIO VGN-NR220
VAIO VGN-NR220E
VAIO VGN-NR220E/S
VAIO VGN-NR220ES
VAIO VGN-NR240
VAIO VGN-NR240E
VAIO VGN-NR240ES
VAIO VGN-NR240ET
VAIO VGN-NR240EW
VAIO VGN-NR260
VAIO VGN-NR260E
VAIO VGN-NR260E/S
VAIO VGN-NR260E/T
VAIO VGN-NR260E/W
VAIO VGN-NR260ES
VAIO VGN-NR260ET
VAIO VGN-NR260EW
VAIO VGN-NR270
VAIO VGN-NR270N
VAIO VGN-NR270N/S
VAIO VGN-NR270NS
VAIO VGN-NR280
VAIO VGN-NR280E
VAIO VGN-NR280E/S
VAIO VGN-NR280E/T
VAIO VGN-NR280E/W
VAIO VGN-NR280ES
VAIO VGN-NR280ET
VAIO VGN-NR280EW
VAIO VGN-NR285
VAIO VGN-NR285E
VAIO VGN-NR285E/S
VAIO VGN-NR285E/T
VAIO VGN-NR285ES
VAIO VGN-NR285ET
VAIO VGN-NR290
VAIO VGN-NR290E
VAIO VGN-NR290E/S
VAIO VGN-NR290E/T
VAIO VGN-NR290ES
VAIO VGN-NR290ET
VAIO VGN-NR295
VAIO VGN-NR295N
VAIO VGN-NR295N/S
VAIO VGN-NR295NS
VAIO VGN-NR298
VAIO VGN-NR298E
VAIO VGN-NR298E/S
VAIO VGN-NR298ES
VAIO VGN-NR298ET
VAIO VGN-NR298EW
VAIO VGN-NR305E/S
VAIO VGN-NR310
VAIO VGN-NR310E
VAIO VGN-NR310E/S
VAIO VGN-NR310E/T
VAIO VGN-NR310E/W
VAIO VGN-NR320
VAIO VGN-NR320E
VAIO VGN-NR320E/S
VAIO VGN-NR330
VAIO VGN-NR330E
VAIO VGN-NR330E/S
VAIO VGN-NR360
VAIO VGN-NR360E
VAIO VGN-NR360E/S
VAIO VGN-NR360E/T
VAIO VGN-NR360E/W
VAIO VGN-NR370
VAIO VGN-NR370N
VAIO VGN-NR370N/S
VAIO VGN-NR380
VAIO VGN-NR380E
VAIO VGN-NR380E/S
VAIO VGN-NR385
VAIO VGN-NR385E
VAIO VGN-NR385E/S
VAIO VGN-NR385E/T
VAIO VGN-NR385E/W
VAIO VGN-NR390
VAIO VGN-NR398
VAIO VGN-NR398D
VAIO VGN-NR398E
VAIO VGN-NR398E/S
VAIO VGN-NR398E/SC
VAIO VGN-NR398E/T
VAIO VGN-NR398E/W
VAIO VGN-NR410
VAIO VGN-NR410D
VAIO VGN-NR410E
VAIO VGN-NR420
VAIO VGN-NR420D
VAIO VGN-NR420E
VAIO VGN-NR420EL
VAIO VGN-NR420ES
VAIO VGN-NR430
VAIO VGN-NR430D
VAIO VGN-NR430E
VAIO VGN-NR430E/L
VAIO VGN-NR430EL
VAIO VGN-NR430ELC
VAIO VGN-NR430EP
VAIO VGN-NR430ES
VAIO VGN-NR460
VAIO VGN-NR460D
VAIO VGN-NR460DS
VAIO VGN-NR460DW
VAIO VGN-NR460E
VAIO VGN-NR460E/L
VAIO VGN-NR460E/P
VAIO VGN-NR460E/S
VAIO VGN-NR460E/T
VAIO VGN-NR460E/W
VAIO VGN-NR460EL
VAIO VGN-NR460EP
VAIO VGN-NR460ES
VAIO VGN-NR460ET
VAIO VGN-NR460EW
VAIO VGN-NR475
VAIO VGN-NR475N
VAIO VGN-NR475NS
VAIO VGN-NR480
VAIO VGN-NR480E
VAIO VGN-NR480ES
VAIO VGN-NR485
VAIO VGN-NR485D
VAIO VGN-NR485DT
VAIO VGN-NR485E
VAIO VGN-NR485EL
VAIO VGN-NR485ES
VAIO VGN-NR485ET
VAIO VGN-NR485EW
VAIO VGN-NR490
VAIO VGN-NR490E
VAIO VGN-NR490E/L
VAIO VGN-NR490E/P
VAIO VGN-NR490E/S
VAIO VGN-NR490E/T
VAIO VGN-NR490E/W
VAIO VGN-NR490EL
VAIO VGN-NR490EP
VAIO VGN-NR490ES
VAIO VGN-NR490ET
VAIO VGN-NR490EW
VAIO VGN-NR498
VAIO VGN-NR498D
VAIO VGN-NR498E
VAIO VGN-NR498E/L
VAIO VGN-NR498E/P
VAIO VGN-NR498E/S
VAIO VGN-NR498E/T
VAIO VGN-NR498E/W
VAIO VGN-NR498EL
VAIO VGN-NR498EP
VAIO VGN-NR498ES
VAIO VGN-NR498ET
VAIO VGN-NR498EW
VAIO VGN-NR50
VAIO VGN-NR50B
VAIO VGN-NR51
VAIO VGN-NR51B
VAIO VGN-NR52
VAIO VGN-NR52B
VAIO VGN-NR71B
VAIO VGN-NR71B2
VAIO VGN-NR72B
VAIO VGN-SZ Series
VAIO VGN-SZ35B/B
VAIO VGN-SZ54B/B
VAIO VGN-SZ55B/B
VAIO VGN-SZ55GN/B
VAIO VGN-SZ56
VAIO VGN-SZ561N
VAIO VGN-SZ562N
VAIO VGN-SZ57N
VAIO VGN-SZ58GN
VAIO VGN-SZ58GN/C
VAIO VGN-SZ58N
VAIO VGN-SZ61MN/B
VAIO VGN-SZ61VN/X
VAIO VGN-SZ61WN/C
VAIO VGN-SZ640
VAIO VGN-SZ640E
VAIO VGN-SZ640N
VAIO VGN-SZ640N/B
VAIO VGN-SZ640NB
VAIO VGN-SZ645
VAIO VGN-SZ645P
VAIO VGN-SZ645P1
VAIO VGN-SZ645P2
VAIO VGN-SZ645P3
VAIO VGN-SZ645P4
VAIO VGN-SZ650
VAIO VGN-SZ650N
VAIO VGN-SZ650N/C
VAIO VGN-SZ650NC
VAIO VGN-SZ651N/C
VAIO VGN-SZ651NC
VAIO VGN-SZ660
VAIO VGN-SZ660N
VAIO VGN-SZ660N/C
VAIO VGN-SZ660NC
VAIO VGN-SZ670
VAIO VGN-SZ670N
VAIO VGN-SZ670N/C
VAIO VGN-SZ670NC
VAIO VGN-SZ680
VAIO VGN-SZ680E
VAIO VGN-SZ680N
VAIO VGN-SZ680N/D
VAIO VGN-SZ680ND
VAIO VGN-SZ691
VAIO VGN-SZ691N
VAIO VGN-SZ691N/X
VAIO VGN-SZ691NX
VAIO VGN-SZ71E/B
VAIO VGN-SZ71VN/X
VAIO VGN-SZ71WN/C
VAIO VGN-SZ730
VAIO VGN-SZ730E
VAIO VGN-SZ730E/C
VAIO VGN-SZ730EC
VAIO VGN-SZ740
VAIO VGN-SZ740E
VAIO VGN-SZ740EA
VAIO VGN-SZ740N
VAIO VGN-SZ740N1
VAIO VGN-SZ740N2
VAIO VGN-SZ740N3
VAIO VGN-SZ740N4
VAIO VGN-SZ740N5
VAIO VGN-SZ740N6
VAIO VGN-SZ740N7
VAIO VGN-SZ740NU
VAIO VGN-SZ740U
VAIO VGN-SZ74B/B
VAIO VGN-SZ750
VAIO VGN-SZ750N
VAIO VGN-SZ750N/C
VAIO VGN-SZ750NC
VAIO VGN-SZ75B/B
VAIO VGN-SZ76
VAIO VGN-SZ760
VAIO VGN-SZ760N
VAIO VGN-SZ760N/C
VAIO VGN-SZ760NC
VAIO VGN-SZ770
VAIO VGN-SZ770AN
VAIO VGN-SZ770N
VAIO VGN-SZ770N/C
VAIO VGN-SZ770NC
VAIO VGN-SZ77N
VAIO VGN-SZ780
VAIO VGN-SZ780CN
VAIO VGN-SZ780DN
VAIO VGN-SZ780E
VAIO VGN-SZ780EB
VAIO VGN-SZ780N
VAIO VGN-SZ780N1
VAIO VGN-SZ780N2
VAIO VGN-SZ780N3
VAIO VGN-SZ780N4
VAIO VGN-SZ780N5
VAIO VGN-SZ780N6
VAIO VGN-SZ780N7
VAIO VGN-SZ780N8
VAIO VGN-SZ780NW
VAIO VGN-SZ780U
VAIO VGN-SZ78N
VAIO VGN-SZ791
VAIO VGN-SZ791N
VAIO VGN-SZ791N/X
VAIO VGN-SZ791NX
VAIO VGN-SZ84NS
VAIO VGN-SZ84PS
VAIO VGN-SZ84S
VAIO VGN-SZ84US
VAIO VGN-SZ85NS
VAIO VGN-SZ85S
VAIO VGN-SZ85US
VAIO VGN-SZ94NS
VAIO VGN-SZ94PS
VAIO VGN-SZ94S
VAIO VGN-SZ94US
VAIO VGN-SZ95NS
VAIO VGN-SZ95S
VAIO VGN-SZ95US
Additional information
| | |
| --- | --- |
| Weight | 0.5 kg |
| Dimensions | 30 × 10 × 6 cm |
| Capacity | |
| Cells | |
| Color | |
| Voltage ratings | |
| Warranty | |
| WH capacity | |
Q & A
There are no questions yet