Replacement battery for Lenovo G50-70, G50-80, G40-70, Z50-70, Z50-80, G400s, G500s, G510S 4 CELL battery
Save
₹

3,100.00
Roll over image to zoom in
Click to open expanded view
₹1,799.00 – ₹2,899.00 GST Included (-52%)
🎁 OFFER : Get 10% Off (for prepaid orders only) on min spend Rs. 999/-
use code CLEARMARCH10X Offer ends in 06 hrs 29 mins 33 secs. 🕐
🚴‍♂️ Same Day Delivery: (for prepaid orders & selected cities only)
Want it tomorrow, March 25? Order within 00 hrs 49 mins 33 secs. Select same day from Delivery option (Order placed on Sunday will be delivered on Monday)
🚀
5
sold in last 72 hours
Note:

We have 2 options 1. Lap Gadgets battery -2000 mah 2. Lenovo Orignal battery – 2200 mAh (select the desired brand

)

Battery type: Li-ion; Capacity: 2000mAh / 2200mAh; Cells: 4-cell; Voltage: 14.4V.

Compatibles P/N:L12L4A02 L12L4E01 L12M4A02 L12M4E01 L12S4A02 L12S4E01. Modèles compatibles:G400s G400s Touch G405s G405s Touch G410s G410s Touch G500s G500s Touch G505s G505s Touch G510s G510s Touch S410p S410p Touch S510p S510p Touch Z710 Series; IdeaPad G400s G400s Touch IdeaPad G405s G405s Touch G410s G410s Touch G500s G500s Touch G505s G505s Touch G510s G510s Touch S410p S410p Touch S510p S510p Touch Z710 Series;IdeaPad Z50 Z50

All our products are Certified by CE, FCC for safety. Strict guidelines for compatibility, and standards compliance for environment safety.

Grade A cells ensure fast charges and low power consumption; Built-in circuit protection ensures both safety and stability. 100% New from Manufacturer. Up to 500 recharge cycles over the life of the battery.
👨‍👨‍👦‍👦-
V S PILLAI from Gwalior, ankit dhaker from Bengaluru & 74 others
bought this item recently.
Frequently Bought Together
₹

1,999.00

GST Included

45% off

₹

1,999.00

GST Included

45% off
Customers who bought this item also bought
₹

3,499.00 GST Included

17% off
Replacement battery for Lenovo G50-70, G50-80, G40-70, Z50-70, Z50-80, G400s, G500s, G510S 4 CELL battery
The Perfect Partner for Your Lenovo Laptop on the Go
Always on the go? Do not stop your valuable work due to low battery performance. Get a Lap Gadgets Battery to keep going while at home or office or travel.
Lap Gadgets battery for Lenovo undergo rigorous testing by qualified engineers to ensure compatibility and reliability in your Lenovo system.
Bis Certified Lap Gadgets' batteries are sustaining qualification process allows for testing and certification of the newest technology on your Lenovo system
Genuine Lap Gadgets parts mean that you will not need to worry about voiding your system's hardware warranty.

Lap Gadgets' Limited One Year Warranty guarantees that if parts fails within 12 months period, it will be replaced.
Lenovo G50-70 Battery Specs
The Perfect battery life for Your Lenovo G50-70
Employed high quality cells from Samsung, the brand new 14.8v 2000/2200 mAh replacement Lenovo G50-70 Battery  Li-lion battery is totally compatible with the original manufacturer's specifications. Through tested, all our Li-ion replacement batteries for Lenovo G50-70 battery have been certified to meet and even exceed the original battery performance. Each replacement battery of the Lenovo G50-70 has been tested on the Lenovo system before being dispatched to ensure the safety of your Lenovo laptop.
Except for being designed under the supreme control criterion, the high-quality replacement Lenovo G50-70 battery carries with a smart interior circuit board that provides battery-unbalanced-shut-off protection, thermal-runaway protection, overcharged protection, over-discharged-shut-off protection, and high/low-temperature-shut-off protection. Besides, the battery contains free lead, mercury and other environmental metal pollutants. It is compliance with international standards. Every replacement Lenovo laptop battery has passed through a series of rigorous safety tests and been certified by CE, UL, ROHS, ISO9001/9002. Generally speaking, this replacement Lenovo G50-70 Battery can be charged/discharged up to more than 500 cycles. Top Quality Battery Cells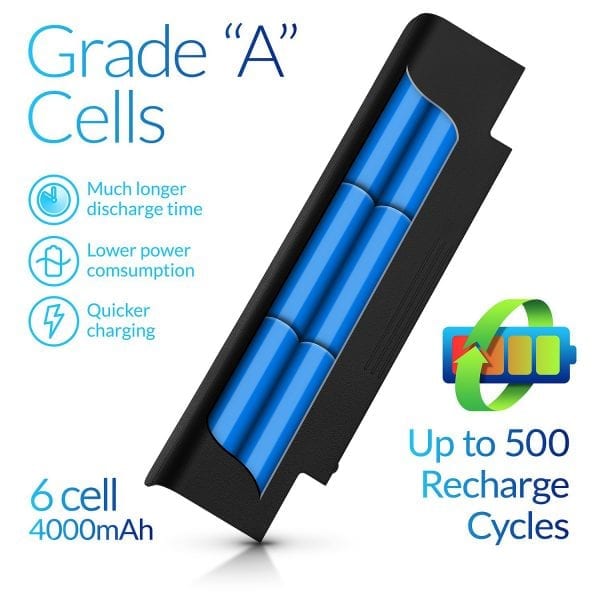 Here are some few Important Tips for using Lenovo G50-70 Battery:
This New Lenovo G50-70 Battery  comes in discharged/ partially charged state and it should be charged minimum for 2-3 charge/ discharge cycles to achieve its optimum performance.
When you charge a new Lenovo G50-70 Battery your computer power meter may indicate that charging is complete after a few minutes, don't worry about it and just remove the battery and install it again and repeat the charging procedure.
Lenovo G50-70 Battery Replacement requires some technical skills to install it and user can either install it or hire a technician to do it. Please refer DIY (Do-It-Yourself) videos available our website for your convenience.
It is important to fully charge and fully discharge rechargeable laptop batteries after every 2 weeks, failing to do so may decrease Lenovo G50-70 Battery
Lenovo G50-70 Battery Backup will be same as the original battery which you got installed in your new laptop.
If your Lenovo G50-70 Battery is not charging then kindly try a different charger to verify because this problem may occur due to a faulty charger also.
If Lenovo G50-70 Battery will not be in use for a long time then it is recommended that you should remove it from the device and store it in a cool, dry and clean place
Guides for a Healthy Lenovo G50-70 Battery
Find your Laptop Model number or Part Number using Contol+F
L12L4A02
L12L4E01
L12M4A02
L12M4E01
L12S4A02
L12S4E01
121500171
121500172
121500173
121500174
121500175
121500176
90202869
Fits Lenovo laptop models:
ERASER G50
ERASER G50-30
ERASER G50-45
ERASER G50-70
ERASER G50-70A
ERASER G50-70M
ERASER G50-75
ERASER G50-80
ERASER Z40
ERASER Z40-70
ERASER Z40-75
ERASER Z50
ERASER Z50-70
ERASER Z70
ERASER Z70-70
ERASER Z70-80
G40-30
G40-45
G40-70
G40-70M
G50 G50-30
G50-45
G50-70
G50-70M
G50
IDEAPAD G50-30
IDEAPAD G50-45
IDEAPAD G50-70
IDEAPAD G50-70A
IDEAPAD G50-70M
IDEAPAD G50-75
IDEAPAD G50-80
IDEAPAD S435
IDEAPAD Z40
IDEAPAD Z40-70
IDEAPAD Z40-75
IDEAPAD Z50
IDEAPAD Z50-70
IDEAPAD Z70
IDEAPAD Z70-70
IDEAPAD Z70-80
Z40
Z40-70
Z40-75
Z50
Z50-70
Z70
Z70-70
Z70-80
IdeaPad G400s
IdeaPad G400s Touch
IdeaPad G405s
IdeaPad G405s Touch
IdeaPad G410s
IdeaPad G410s Touch
IdeaPad G500s
IdeaPad G500s Touch
IdeaPad G505s
IdeaPad G505s Touch
IdeaPad G510s
IdeaPad G510s Touch
IdeaPad S410p
IdeaPad S410p Touch
IdeaPad S510p
IdeaPad S510p Touch
IdeaPad Z710
Q & A
Is it compatible with Lenovo G505s?
yes it is compatible with G505S