Lenovo 65W 20V 3.25A Standard USB Type-C AC Adapter Charger – 4X20M26274
₹1,799.00 – ₹2,199.00 Inc. GST (-64%)
Available Offers:
🎁 use code: 10XDIWALI - 10% Instant Discount on selected products (for prepaid orders only)
Brand : Lenovo, Connector Type: USB Type-C, Power Capacity : 65W – power cord included
AC Input: 100-240V ~ 1.5A 50-60Hz , DC Output: 20V 3.25A
We have 2 options : 1yr replacement warranty by Lenovo India across India & 1yr warranty by Lap Gadgets (10 days money back protection) No risk purchase.
Reach our product expert at +91-261-3514669 for more information.
Lenovo 65W 20V 3.25A Standard USB Type-C AC Adapter Charger – 4X20M26274
Get power whenever and wherever you need it. Keep one in the office, one at home and another in your carrying case for convenient access to power. Just plug it into an available outlet to deliver AC power to the compatible Lenovo NBs listed below and to recharge the system battery. Lenovo AC adapters are compact, energy efficient and backed by a 1-year warranty.
Compatible Models: Lenovo ThinkPad 11e Chromebook 4th Gen (20HX 20J0), Yoga 11e Chromebook 4th Gen (20HW 20HY) Lenovo Thinkpad 13 2nd Gen Windows (20J1 20J2), ThinkPad 13 Chromebook (20GL 20GM), ThinkPad 13 Windows (20GJ 20GK) ThinkPad 25 (20K7), T470s (20HF 20HG 20JS 20JT), T570 (20H9 20HA 20JW 20JX), T470 (20HD 20HE 20JM 20JN), P51s (20HB 20HC 20JY 20K0) Lenovo ThinkPad X1 Yoga 2nd Gen 20JF 20JG 20JE 20JD, X1 Carbon 5th Gen 20HQ 20HR 20K3 20K4, X1 Tablet Gen 2 20JB 20JC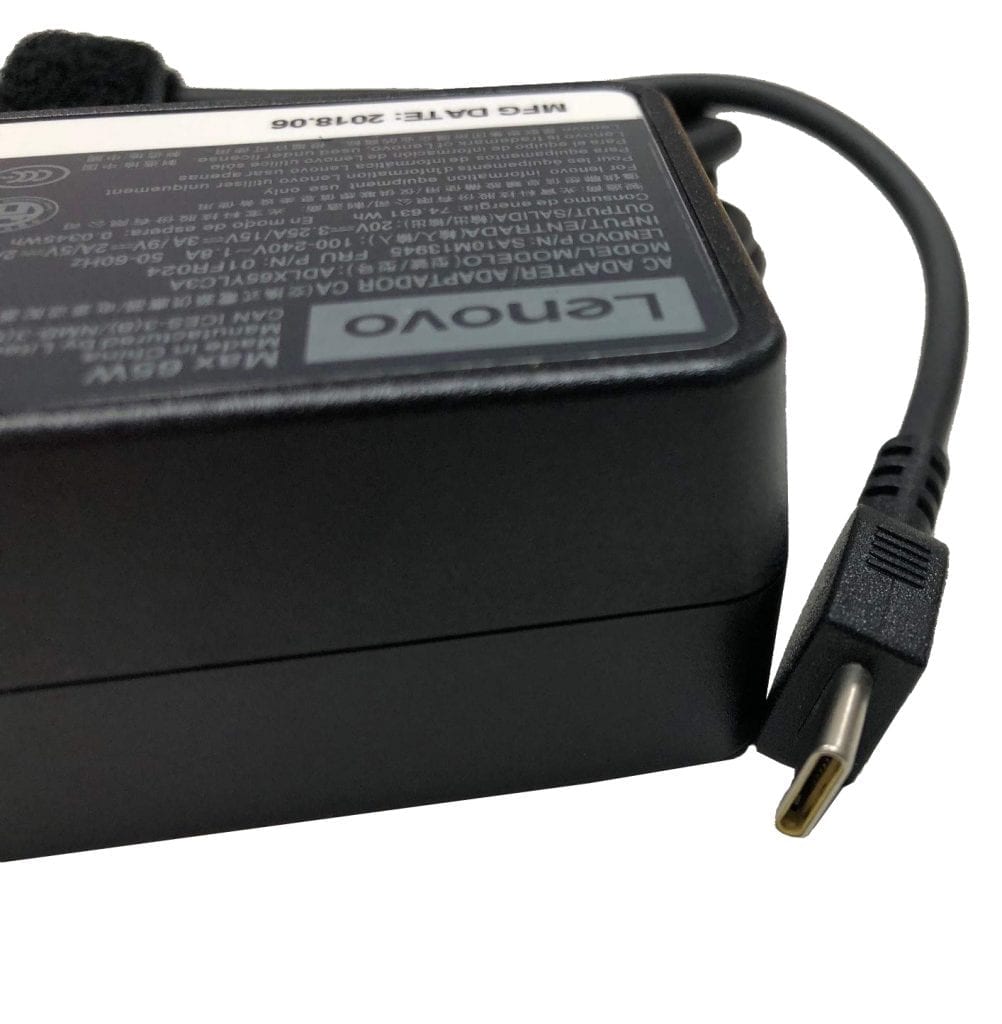 1.Performs to the same specifications as the standard 65W C-type AC adapter that ships with the notebooks. 2. Supports independent graphics Lenovo notebooks. 3. Backed by a Warranty and Service and Support from Lenovo.
100-240V 50-60Hz Output:65W Max Connector size:Type C/USB C ;the charger comes with the US 3 Prong POWER CABLE
Compatible With The Following Lenovo Models That have and Use USB Type C ; Lenovo V320 , ThinkPad A275, ThinkPad 475, ThinkPad E480, ThinkPad E580, ThinkPad L380 , ThinkPad L480 , ThinkPad L580 , ThinkPad P51s , ThinkPad P52s , ThinkPad T470 , ThinkPad T470s , ThinkPad T480 , ThinkPad T480s , ThinkPad T570 , ThinkPad T580 , ThinkPad TP25 , ThinkPad 11e 2nd gen , ThinkPad 13 2nd gen, ThinkPad ThinkPad 13 2nd gen , ThinkPad 2nd gen-ThinkPad Yoga 370 , ThinkPad X1 Carbon 5th Generation
ThinkPad -X1 Carbon 6th Generation, ThinkPad 2nd gen-X1 Yoga , ThinkPad 2nd gen-X1 Yoga 3rd Generation, ThinkPad 2nd gen-X270 , ThinkPad 2nd gen-X280 , ThinkPad 2nd gen-X380 Yoga, ThinkPad X1 Tablet-ThinkPad X1 Tablet Gen 3. The P51S uses this item but the P50 and P51 does not
100% Compatible with P/N: ADLX65YLC3A, SA10M13945, 01FR024, PA-1650-46
Q & A
There are no questions yet