Roll over image to zoom in
Click to open expanded view
Leelvis Thermometer Infrared Digital Thermometer with Fever Indicator
₹7,999.00 18% GST Included
Non-contact Body Infrared Thermometer is so easy to use.
Just point and press the button and it read the temp so easy. 0.5 second rapid measurement temperature, can measure the human body ,object ,indoor temperature.
Body temperature measurement: aiming towards the forehead with the distance of 5-13cm.
12 months warranty on the defect.
Making sure there is no hair, perspiration, cosmetic or cap covered on the forehead.
Perfect Non-Contact Infrared Thermometer to check body temperature and other usability.  
Thermometer is an essential medical device that every home needs. If you are planning to purchase a reliable thermometer of accuracy, the Hywell infrared thermometer is an ideal one.
Gone are the days when you have to struggle with the normal thermometer to wait until it reaches zero and clean it before next use. With the non-contact infrared technology, this thermometer lets you know the temperature a few centimetres away from a person's body, minimizing the risk of infections.
Thermometer every home needs
Featuring a large LED backlight display, this thermometer helps you read it at a glance with great clarity. It displays the result in less than 2 seconds. This infrared thermometer features an accuracy of +/-0.2 degree Celsius.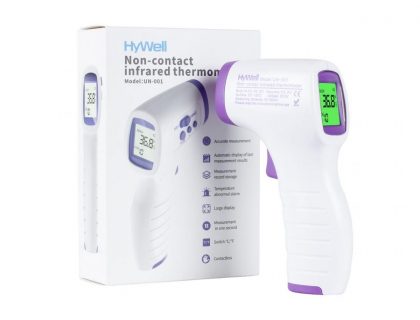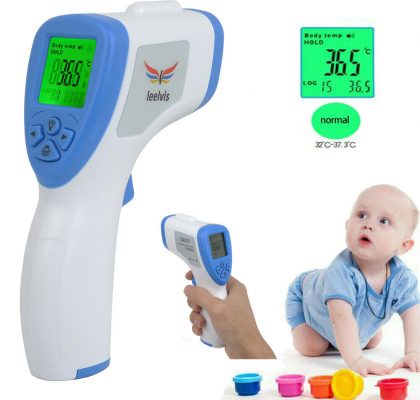 High Quality and stylish Gun style look, easy to handle
With its compact gun-style design, this thermometer is easy to use, store and carry. It has an auto-off option, giving you the freedom to just walk off after use.
how to use : Thermometer: Infrared Digital Thermometer with Fever Indicator
Product name: Infrared thermometer
Measuring range: 32-43℃ (89.6-109.4℉)
Applicable people: unlimited
Measurement accuracy: ± 0.2 ° C (± 0.4 ° F)
Measuring distance: 5-13cm
Automatic shutdown: within 8S
Product size: 165mm × 95mm × 45mm
Body temperature changes at different times of the day and is also affected by other external conditions, such as age, gender…
Temperature of different parts of the body:
Forehead : 34.6℃ – 37.2℃
Oral : 35.5℃–37.8℃
Behind of Ear : 35.8℃–38℃
Armpit : 34.7℃–37.2℃
Anal : 36.8℃–38.0℃
Normal body temperature range at different ages:
0—2 years old: 36.4~38.0
2—10 years old: 36.1~37.8
10—65 years old: 35.9~37.6
above 65 years old: 35.8~37.5
Additional information
| | |
| --- | --- |
| Weight | 0.5 kg |
| Dimensions | 30 × 10 × 5 cm |