Adapters, Batteries, HP Laptop Battery
HP HV02XL battery for HP Pavilion X360 11-K SERIES LAPTOP 796219-421, 796355-005, HSTNN-LB6P, HV02XL, TPN-Q164, TPN-W112
Get Help
Use Code : SUPER5 - Get 5% instant discount.
December Festive offer - Limited coupons..!
Code expires when the timer hits zero.
Condition : Brand New,High Quality
Chemistry : Li-Polymer Color : Black
Volatge : 7.6V Cells : 2 cells Capacity : 32Wh
Dimension : 160.20×102.24×6.80mm
Warranty: 12 months hassel free onsite replacement warranty (30 days money back guarantee)*
Fast Shipping all over India.
Order in the next 13 hrs 34 mins 14 secs and get it by December 17, 2018
Hassle Free Returns*
No questions asked, 30 days return policy.
Secure Checkout
SSL Enabled Secure Checkout
₹5,699.05 – ₹7,599.05
Estimated Delivery Date December 18, 2018
Amit Singh from Mohali
bought this item recently.
Note : 7.5V and 7.6V are compatible, they are in common use.
Our replacement HP HV02XL battery is the product of highest quality, which has obtained international certification ( CE, UL, ROHS, ISO9001/9002 ). Without any memory effect, the battery works as powerful as an extra power supply when traveling or being away from home/office. With long life, this replacement battery for HP HV02XL laptop can be charged/discharged for more than 500-750 cycles (has been rigorously tested). Every piece of replacement HP HV02XL battery pack is under the united protection of the PCP board, PCM board and intellectual power measurement circuit: automatically adjusting the charging time to achieve the maximum amount of charge, with over-charge protection, over-discharge protection, over current protection and short circuit protection.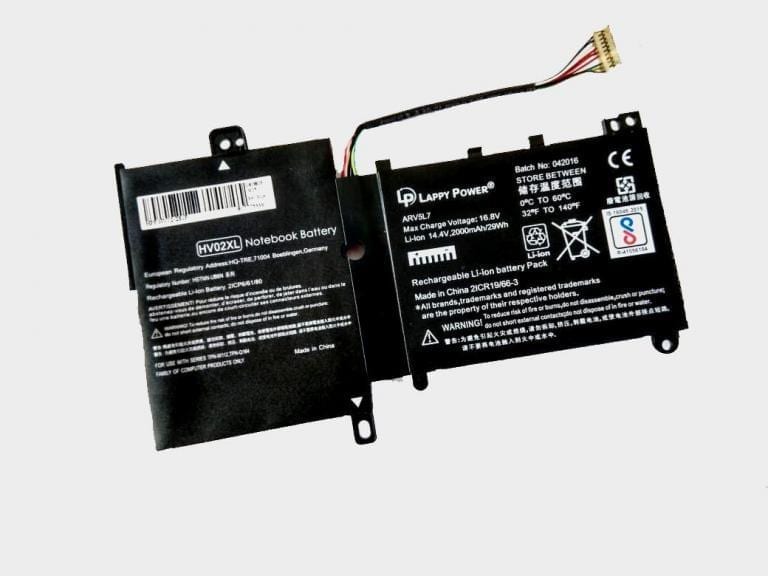 We offer superb pre-sales and after-sales service, providing a full one year warranty and a 30-day money back guarantee for this replacement HP HV02XL battery, 100% OEM compatible with the original HP HV02XL battery. Our batteries for HP HV02XL laptop have also undergone rigorous tests to ensure stability and safety before being dispatched from the battery manufactory. Usually, this high capacity (32Wh, 2 cells) replacement HP HV02XL battery offers the same or even longer usage period as/than that of the original HP HV02XL battery.
Compatible Part Numbers: HV02XL, 796219-421, HSTNN-LB6P, hp hv02xl battery, hp hv02xl
796219-421
796355-005
HSTNN-LB6P
HV02XL
TPN-Q164
TPN-W112
Pavilion X360 11-K000NA
Pavilion X360 11-K001NC
Pavilion X360 11-K001ND
Pavilion X360 11-K001NF
Pavilion X360 11-K001NL
Pavilion X360 11-K001NX
Pavilion X360 11-K001TU
Pavilion X360 11-K002TU
Pavilion X360 11-K003NS
Pavilion X360 11-K003TU
Pavilion X360 11-K004TU
Pavilion X360 11-K005TU
Pavilion X360 11-K006NA
Pavilion X360 11-K006TU
Pavilion X360 11-K007TU
Pavilion X360 11-K008TU
Pavilion X360 11-K009NA
Pavilion X360 11-K009TU
Pavilion X360 11-K010NW
Pavilion X360 11-K010TU
Pavilion X360 11-K011TU
Pavilion X360 11-K012TU
Pavilion X360 11-K013CL
Pavilion X360 11-K013TU
Pavilion X360 11-K014TU
Pavilion X360 11-K015TU
Pavilion X360 11-K016TU
Pavilion X360 11-K017TU
Pavilion X360 11-K018TU
Pavilion X360 11-K019TU
Pavilion X360 11-K020NR
Pavilion X360 11-K021TU
Pavilion X360 11-K022TU
Pavilion X360 11-K023TU
Pavilion X360 11-K024TU
Pavilion X360 11-K025TU
Pavilion X360 11-K026TU
Pavilion X360 11-K027TU
Pavilion X360 11-K028TU
Pavilion X360 11-K029TU
Pavilion X360 11-K030TU
Pavilion X360 11-K031TU
Pavilion X360 11-K032TU
Pavilion X360 11-K033TU
Pavilion X360 11-K034TU
Pavilion X360 11-K035TU
Pavilion X360 11-K036TU
Pavilion X360 11-K037TU
Pavilion X360 11-K038TU
Pavilion X360 11-K039TU
Pavilion X360 11-K040TU
Pavilion X360 11-K042TU
Pavilion X360 11-K043TU
Pavilion X360 11-K044TU
Pavilion X360 11-K045TU
Pavilion X360 11-K046TU
Pavilion X360 11-K047TU
Pavilion X360 11-K048TU
Pavilion X360 11-K049TU
Pavilion X360 11-K050NB
Pavilion X360 11-K050TU
Pavilion X360 11-K051NA
Pavilion X360 11-K051TU
Pavilion X360 11-K052TU
Pavilion X360 11-K053NA
Pavilion X360 11-K053TU
Pavilion X360 11-K054TU
Pavilion X360 11-K056TU
Pavilion X360 11-K057NA
Pavilion X360 11-K057TU
Pavilion X360 11-K058TU
Pavilion X360 11-K059TU
Pavilion X360 11-K063NA
Pavilion X360 11-K064NA
Pavilion X360 11-K064NR
Pavilion X360 11-K065NA
Pavilion X360 11-K065SA
Pavilion X360 11-K082NO
Pavilion X360 11-K084NO
Pavilion X360 11-K099NR
Pavilion X360 11-K100NK
Pavilion X360 11-K100NO
Pavilion X360 11-K100UR
Pavilion X360 11-K101TU
Pavilion X360 11-K102LA
Pavilion X360 11-K102NA
Pavilion X360 11-K102ND
Pavilion X360 11-K102NF
Pavilion X360 11-K102NS
Pavilion X360 11-K102TU
Pavilion X360 11-K103NG
Pavilion X360 11-K103NS
Pavilion X360 11-K103TU
Pavilion X360 11-K104NA
Pavilion X360 11-K104NW
Pavilion X360 11-K104TU
Pavilion X360 11-K105NA
Pavilion X360 11-K105TU
Pavilion X360 11-K106TU
Pavilion X360 11-K107TU
Pavilion X360 11-K108NF
Pavilion X360 11-K108TU
Pavilion X360 11-K109NA
Pavilion X360 11-K109TU
Pavilion X360 11-K120NR
Pavilion X360 11-K127TU
Pavilion X360 11-K133TU
Pavilion X360 11-K145TU
Pavilion X360 11-K150NB
Pavilion X360 11-K161NR
Pavilion X360 11-K162NR
Pavilion X360 11-K164NR