New Authentic HP 65W USB-C Power Adapter 1HE08AA
From: ₹3,999.00 Incl GST (-47%)
🎁 Save 5% on UPI - Debit - Credit Cards
Get 5% instant discount on UPI - Credit-Debit Cards. Offer ends in 08 hrs 50 mins 9 secs. 🕐
🚴‍♂️ Same Day Delivery: (for prepaid orders & selected cities only)
Want it today, September 26? Order within 03 hrs 10 mins 9 secs. Select same day from Delivery option (Order placed on Sunday will be delivered on Monday)
Input:100-240V~1.7A 50-60Hz
Output:

Depending on what your device needs, it delivers 5V, 9V, 10V, 12V, 15V, or 20V of power

100% Genuine original HP charger
1yr limited warranty by HP (10 days money back guarantee)
Compatible with HP Pro X2 612 G2; HP Elite X2 1012 G2; HP Elitebook x360 1030 G2
Reach our product expert at +91-261-3150304 for pre purchase information.

This charger comes with two shape kindly select as per your choice from the given menu
👨‍👨‍👦‍👦-
Someone from Kalayarkovil & 5 others
bought this item recently.
Real Reviews on Google.
Customer support is very good and reliable.
Kayyala Subba Rao
2023-07-14
Good
The quality of the product I orderd was very good. Delivery was on time. Satisfied 😀
Srinivas Yalamarthy
2023-07-13
Indeed, it was a pleasant experience. I had numerous doubts when attempting to procure a battery for my Macbook Air. After carefully considering the pros and cons, I ultimately decided to go with Lap Gadgets. Although I initially had reservations since it was my first time dealing with them, I was pleasantly surprised. The battery was delivered as promised, and I have successfully installed it. Currently, it is working fine and providing me with a backup of over 5 hours. I hope it continues to perform well in the long run. If it consistently provides me with good backup, I will enthusiastically recommend Lap Gadgets through my social media channels. I extend my best wishes to them.
Very good service
Bought a display and it's awesome! Would recommend it. But please consult their support before a purchase to see if it supports your laptop.
I had great experience with Lap Gadgets. Support and response is spontaneous. Keep it up.
Their service is extremely good. They are very professional in their dealing. Their return policy is also very good. I have had very professional and fast response from the team. I wish to recommend them due to their continued focus on customer need and service. They were prompt on phone and email. The response was Swift and delivery was super fast.
Good website compare to Amazon in order to purchase the new Asus charger in reasonable price. Also their customer service is also good. The person guided me to purchase the correct pin charger. I will definitely recommend website in case if u r ordering first time.
Frequently Bought Together
Description
HP 65W USB C Power Adapter: The Perfect Companion for Your Laptop on the Go
Keep going, Stop hauling your adapter back and forth between home and office. Get a second adapter for your Laptop or Tablet and keep one in the office and one for home or travel.
Designed and tested to deliver optimum power support, the HP 65W USB C Power Adapter also charges the notebook's internal battery simultaneously when connected.
The built-in surge-protector in HP 65W USB C Power Adapter helps keep your laptop safe from sudden power changes.
HP 65W USB C Power Adapter comes with a quality cable specifically designed to alleviate stress from bending.
HP branded adapters 100 percent compatible with original manufacture's device.
Limited one year warranty guarantees replacement by HP India.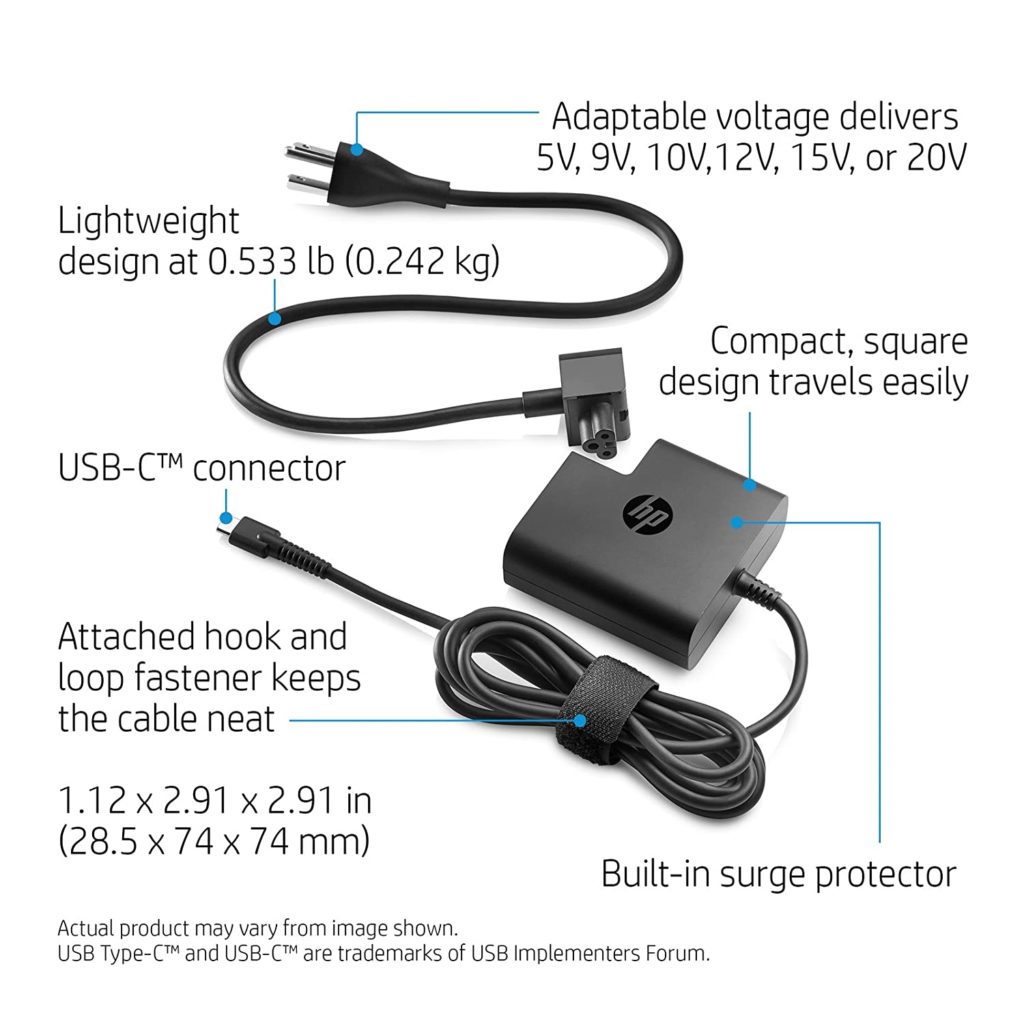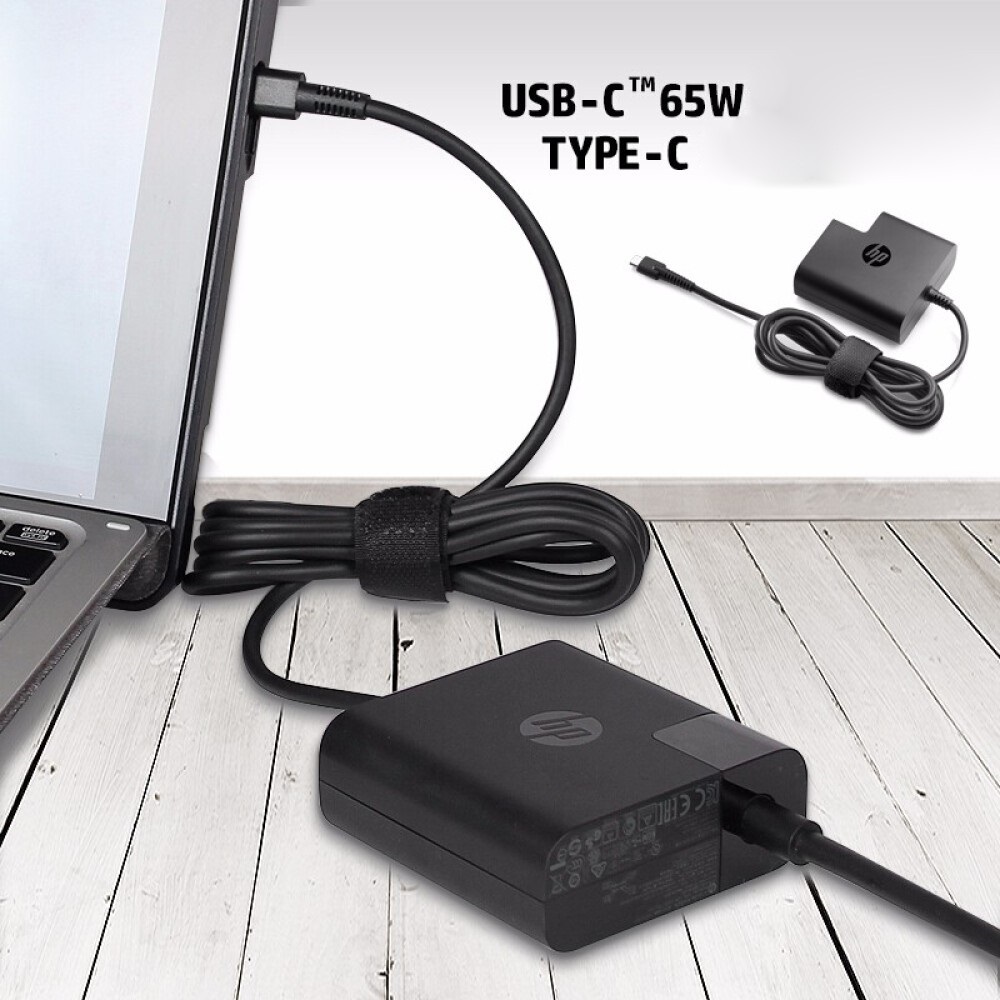 HP 65w USB C Power Adapter Compatible Part Numbers:
0K00F5, K00F5, 0M0H25,M0H25
hp 65w USB C charger FIT MODELS :(use "ctrl+F" to find your model quickly)
| | | | |
| --- | --- | --- | --- |
| Elite x2 1012 G2 (1KE33AW) | Elite x2 1013 G3-7AM11UC | Elitebook x360 1030 G2-5LY94UC | Elitebook x360 1040 G5-6VD69US |
| Elite x2 1012 G2 (Y5E18AV) | Elite x2 1013 G3-7CY14UP | Elitebook x360 1030 G2-6YC38US | Elitebook x360 1040 G5-6WU95LA |
| Elite x2 1012 G2-1KE36AWR | Elite x2 1013 G3-7CY23UP | Elitebook x360 1030 G3-4XL90PA | Elitebook x360 1040 G5-6XD61ES |
| Elite x2 1012 G2-1KE54AA | Elite x2 1013 G3-7GL10US | Elitebook x360 1030 G3-4YZ64US | Elitebook x360 1040 G5-6ZB76LA |
| Elite x2 1012 G2-1LV19EA | Elite x2 1013 G3-7KJ54EC | Elitebook x360 1030 G3-5HQ28US | Elitebook x360 1040 G5-6ZE57US |
| Elite x2 1012 G2-1PX83PA | Elite x2 1013 G3-7KJ64US | Elitebook x360 1030 G3-5JL37US | Elitebook x360 1040 G5-7CG12UP |
| Elite x2 1012 G2-1VX33EAR | Elite x2 1013 G3-7RJ75UC | Elitebook x360 1030 G3-5KC28US | Elitebook x360 1040 G5-7GE81US |
| Elite x2 1012 G2-2FK15EP | Elite x2 1013 G3-7YK50ES | Elitebook x360 1030 G3-5LH90US | Elitebook x360 1040 G5-7HS67EC |
| Elite x2 1012 G2-2KQ76PA | Elite x2 1013 G3-7ZA01US | Elitebook x360 1030 G3-5LZ56UC | Elitebook x360 1040 G5-7MQ09US |
| Elite x2 1012 G2-2LZ97UP | EliteBook 1040 G4 (3GH03PA) | Elitebook x360 1030 G3-5NQ24EP | Elitebook x360 1040 G5-7XA02EC |
| Elite x2 1012 G2-2NT89UP | EliteBook x360 1020 G2 (1EJ35AV) | Elitebook x360 1030 G3-5QN75UP | Elitebook x360 1040 G5-7XL84US |
| Elite x2 1012 G2-2SQ36UP | Elitebook x360 1020 G2-1EQ21EA | Elitebook x360 1030 G3-5SS17EA | Pro x2 612 G2 (1ZY45AV) |
| Elite x2 1012 G2-2SV14UP | Elitebook x360 1020 G2-2UE38UT | Elitebook x360 1030 G3-5TG47US | SPECTRE 13-AE001NG |
| Elite x2 1012 G2-2TE28UP | Elitebook x360 1020 G2-2UE46UT | Elitebook x360 1030 G3-5TJ41PA | SPECTRE 13-AE002NG |
| Elite x2 1012 G2-2TK16UC | Elitebook x360 1020 G2-2YB58PA | Elitebook x360 1030 G3-5UG80UC | SPECTRE 13-AE003NP |
| Elite x2 1012 G2-2TL15UC | Elitebook x360 1020 G2-3XQ23US | Elitebook x360 1030 G3-5UQ79LC | SPECTRE 13-AE004UR |
| Elite x2 1013 G3-4LK57LC | Elitebook x360 1020 G2-4LL04US | Elitebook x360 1030 G3-5YK25US | SPECTRE 13-AE007NB |
| Elite x2 1013 G3-4RG84UT | Elitebook x360 1020 G2-4QD29EC | Elitebook x360 1030 G3-5ZE20US | SPECTRE 13-AE060NG |
| Elite x2 1013 G3-4TJ40LT | Elitebook x360 1020 G2-4QM06US | Elitebook x360 1030 G3-6JY49US | SPECTRE 13-AE085NO |
| Elite x2 1013 G3-4WZ85EP | Elitebook x360 1020 G2-4SJ62US | Elitebook x360 1030 G3-6NX30EP | SPECTRE 13-AE099NJ |
| Elite x2 1013 G3-4ZL33PA | Elitebook x360 1020 G2-4SQ36PA | Elitebook x360 1030 G3-6VG43US | SPECTRE 13-af001nb |
| Elite x2 1013 G3-5CM32US | EliteBook x360 1030 G2 (X3U18AV) | Elitebook x360 1030 G3-6XF74UP | SPECTRE 13-af002nb |
| Elite x2 1013 G3-5CZ52UC | Elitebook x360 1030 G2-1EM87EA | Elitebook x360 1030 G3-6YH08US | SPECTRE 13-af003na |
| Elite x2 1013 G3-5FR49UP | Elitebook x360 1030 G2-1EP01EA | Elitebook x360 1030 G3-6YN43EC | SPECTRE 13-af005nf |
| Elite x2 1013 G3-5GQ78UP | Elitebook x360 1030 G2-1XJ45UC | Elitebook x360 1030 G3-7AW44US | SPECTRE 13-af007nia |
| Elite x2 1013 G3-5KU68US | Elitebook x360 1030 G2-2KL08US | Elitebook x360 1030 G3-7EJ75US | SPECTRE 13-af013ur |
| Elite x2 1013 G3-5KV83US | Elitebook x360 1030 G2-3CY68EP | Elitebook x360 1030 G3-7FU08UC | SPECTRE 13-af035ng |
| Elite x2 1013 G3-5SC13AW | Elitebook x360 1030 G2-3NV38EP | Elitebook x360 1030 G3-7HT11EC | SPECTRE 13-af091tu |
| Elite x2 1013 G3-5VN54PA | Elitebook x360 1030 G2-3PJ13US | Elitebook x360 1030 G3-7MV07US | SPECTRE 13-AF104TU |
| Elite x2 1013 G3-5XZ03US | Elitebook x360 1030 G2-3RZ99US | Elitebook x360 1030 G3-7QS92US | SPECTRE 13-AF119TU |
| Elite x2 1013 G3-6AD16UC | Elitebook x360 1030 G2-4DP59US | Elitebook x360 1030 G3-7YD28UC | SPECTRE X360 13-AE000NI |
| Elite x2 1013 G3-6BB81UT | Elitebook x360 1030 G2-4KK91US | Elitebook x360 1030 G3-7ZU50US | SPECTRE X360 13-AE001NO |
| Elite x2 1013 G3-6KG92UC | Elitebook x360 1030 G2-4PH07UP | Elitebook x360 1040 G5-5SR44EA | SPECTRE X360 13-AE002NX |
| Elite x2 1013 G3-6NN51UC | Elitebook x360 1030 G2-4TK58US | Elitebook x360 1040 G5-5SS37EA | SPECTRE X360 13-AE004NF |
| Elite x2 1013 G3-6VG20US | Elitebook x360 1030 G2-4TN10UP | Elitebook x360 1040 G5-5YK55US | SPECTRE x360 13-ae035ng |
| Elite x2 1013 G3-6WU97LA | Elitebook x360 1030 G2-4VX54UP | Elitebook x360 1040 G5-5YP45US | SPECTRE X360 13-AE061NZ |
| Elite x2 1013 G3-6YH31US | Elitebook x360 1030 G2-5DC09LP | Elitebook x360 1040 G5-6BS48US | SPECTRE X360 13-AE075TU |
| Elite x2 1013 G3-6ZE97US | Elitebook x360 1030 G2-5HS81US | Elitebook x360 1040 G5-6KK07US | SPECTRE X360 13-AE090NZ |
Q & A
Q & A
There are no questions yet