Fujitsu FPCBP416 FPCBP429 LifeBook A555 A544 AH564 E733 SH904 FMVNBP231 Laptop Battery
₹5,999.00 GST Invoice (-30%)
Offer:
🎁 Get 10% Instant Discount, use code : XMAS10X -Offer expires in 02 hrs 28 mins 55 secs Order Now
Condition : Brand New battery
Chemistry : Li-ion Color : Black
Voltage : 10.8V  Cells : 6 cells Capacity : 4200mAh- 49Wh
Compatible with Lifebook A555, LifeBook A514, LifeBook A557, Lifebook A564, LifeBook E754, Lifebook E744, LifeBook E753, LifeBook E743, LifeBook AH544, LifeBook S904, LifeBook A544.
12 months Replacement warranty By Lap Gadgets (30 days money back guarantee)
Reach our product expert at +91-261-3150304 for more information.
Estimated Delivery:
January 29 to January 31 - Order now. Check you pincode.
Why buy from

Lap Gadgets

?
Buy with confidence you get 10 days free returns and 30 days moneyback guarantee in our products
know more
Buying on lapgadgets.in is very simple and safe, you are protected by Razorpay - India's leading payment gateway
We are much confident in our products hence we take atmost care and responsibility to satisfy you.
know more
Our customer support experts are available for your new purchase query or any technical query of any product
Consult our experts, avoid the risk of laptop failure and other damage du to wrong part purchase.
buy with confidence
Buy Fujitsu FPCBP416 FPCBP429 Battery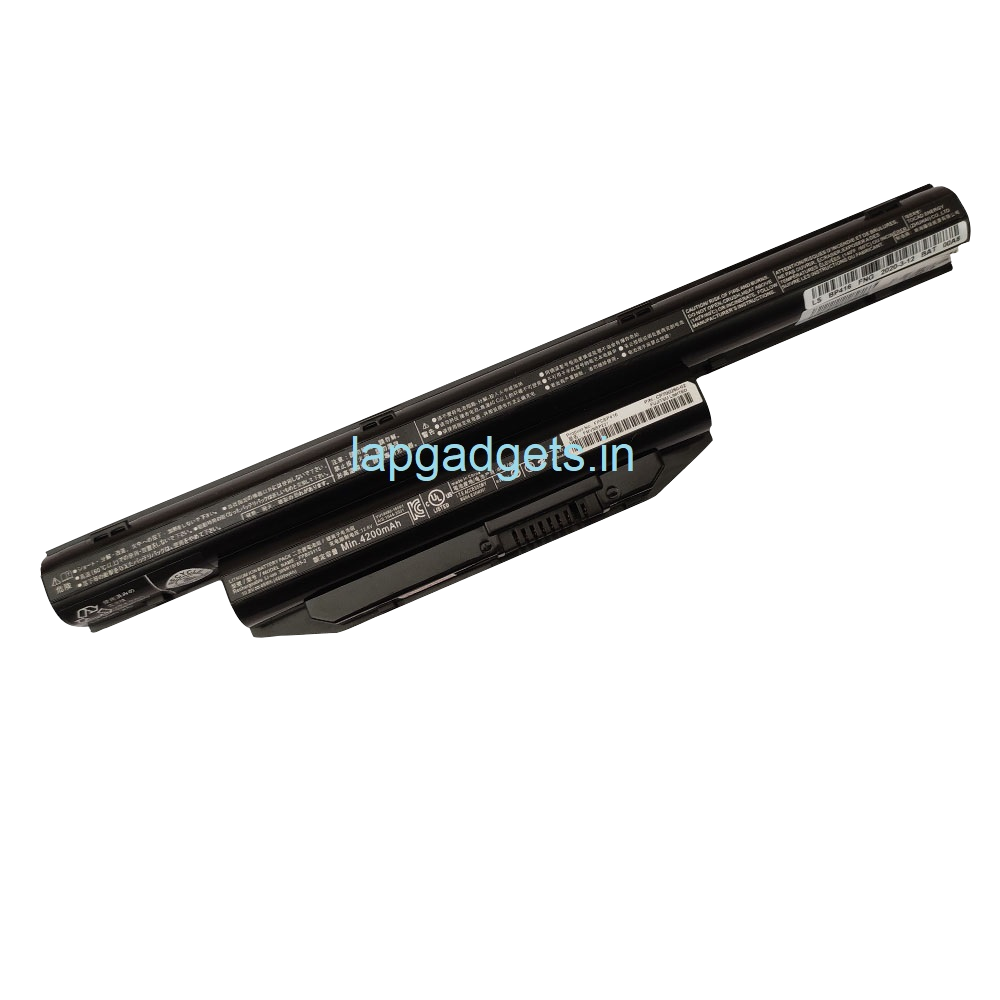 Get the best out of our Fujitsu product experts having extensive knowledge of Fujitsu laptop batteries,
Fujitsu FPCBP416 FPCBP429 Battery specs
BPS229
BPS231
FMVNBP227
FMVNBP227A
FMVNBP228
FMVNBP229A
FMVNBP231
FMVNBP234
FMVNBP235
FPB0297S
FPB0300S
FPBO300S
FPBO311S
FPCBP404
FPCBP404AP
FPCBP405
FPCBP405Z
FPCBP416
FPCBP426
FPCBP426AP
FPCBP429
FPCBP429AP
FPCBP434
FPCBP449
E5460M75AODE
E5460M851ODE
E5460M85CODE
E5460M85DODE
E7340M37B1DE
E7360M85DBDE
E7360M87APDE
E7360M87BPDE
E7440M77APDE
E7440MXE51DE
E7440MXP11DE
E7440MXP21DE
E7540M35A1DE
E7540M75ABDE
E7540M75CNDE
E7540M77APDE
E7540M77AUDE
E7540MXC51DE
E7540MXC51DE/B1
E7540MXEC1DE
E7540MXP11DE
E7540MXP21DE
E7540MXU21DE
E7560M85BBDE
E7560M85CNDE
E7560M87BPDE
E7560M87CPDE
E7560MP5CBDE, E7440M751BDE
E7560MP5CNDE
E7560MP5DBDE
LifeBook A514
LifeBook A544
LifeBook A544 (M13A1DE)
LifeBook A544 (M15B7DE)
LifeBook A544 (M7321NC)
LifeBook A544 (M7501DE)
LifeBook A544 (M7501FR)
LifeBook A544 (M7501GB)
LifeBook A544 (M75A1NC)
LifeBook A544 (M75A2GB)
LifeBook A544 (M87A5RU)
Lifebook A555
LifeBook A555/G
LifeBook A555-P80JDE
LifeBook A557
Lifebook A564
LifeBook AH544
LIFEBOOK E736
LifeBook E743
LifeBook E743(M55A1DE)
LifeBook E743(MXE11DE)
LifeBook E743(MXP41DE)
Lifebook E744
LifeBook E744(M8501DE)
LifeBook E744(MXEA1DE)
LifeBook E744(MXP11DE)
LifeBook E751(MXG01DE)
LifeBook E751(MXP01DE)
LifeBook E751(MXS01DE)
LifeBook E753
LifeBook E753(M55A1DE)
LifeBook E753(MXDEMDE)
LifeBook E753(MXE11DE)
LifeBook E753(MXP41DE)
LifeBook E754
LifeBook E756
LifeBook S904
Lifeboook E546
How to Replace your Fujitsu FPCBP429 Laptop Battery?
Turn off your Fujitsu FPCBP429 laptop and disconnect the AC adapter.
Release the latch or other attachment devices that hold your battery in place.
Slide the old battery out of its compartment or storage bay
Take the replacement battery for Fujitsu FPCBP429 laptop out of the box.
Slide it into the notch or bay.
Close the safety latch to lock it into place.
Reconnect the AC adapter and give the new battery for your Fujitsu FPCBP416 notebook a full charge.
Additional information
| | |
| --- | --- |
| Weight | 0.5 kg |
| Dimensions | 31 × 10 × 6 cm |
| Cells | |
| Capacity | |
| Voltage ratings | |
| Warranty | |
| WH capacity | |
Q & A
There are no questions yet