Fujitsu FPCBP416 FPCBP429 LifeBook A555 A544 AH564 E733 SH904 FMVNBP231 Laptop Battery
₹2,999.00 – ₹3,999.00 GST Included (-40%)
🎁 OFFER : Get 10% Off (for prepaid orders only)
use code REPUBLIC10X Offer ends in 04 hrs 13 mins 50 secs.
🚴‍♂️ Same Day Delivery: (for prepaid orders & selected cities only)
Want it tomorrow, February 5? Order within 22 hrs 33 mins 50 secs. Select same day from Delivery option (Order placed on Sunday will be delivered on Monday)
Condition : Brand New battery
Chemistry : Li-ion Color : Black
Voltage : 10.8V  Cells : 6 cells Capacity : 4200mAh/ 4000mAh – 49Wh/ 43Wh
Compatible with Lifebook A555, LifeBook A514, LifeBook A557, Lifebook A564, LifeBook E754, Lifebook E744, LifeBook E753, LifeBook E743, LifeBook AH544, LifeBook S904, LifeBook A544.

NOTE:- Please select brand the from the given option menu.

12 months Replacement warranty By Lap Gadgets (30 days money back guarantee)
Reach our product expert at +91-261-3510304 for more information.
👨‍👨‍👦‍👦-
Avinash Santhapur from K V Rangareddy, Gulshan from Anand & 11 others
bought this item recently.
buy with confidence
Buy Fujitsu FPCBP416 FPCBP429 Battery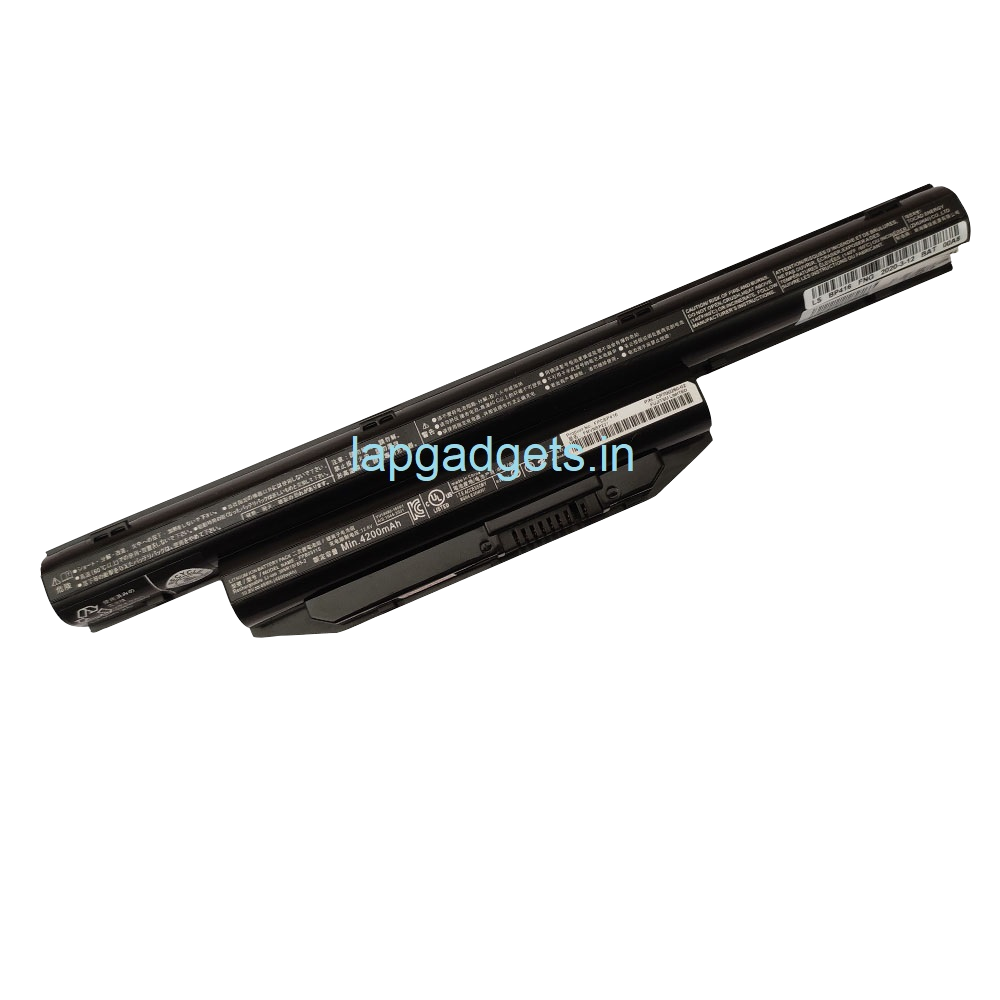 Get the best out of our Fujitsu product experts having extensive knowledge of Fujitsu laptop batteries,
Fujitsu FPCBP416 FPCBP429 Battery specs
BPS229
BPS231
FMVNBP227
FMVNBP227A
FMVNBP228
FMVNBP229A
FMVNBP231
FMVNBP234
FMVNBP235
FPB0297S
FPB0300S
FPBO300S
FPBO311S
FPCBP404
FPCBP404AP
FPCBP405
FPCBP405Z
FPCBP416
FPCBP426
FPCBP426AP
FPCBP429
FPCBP429AP
FPCBP434
FPCBP449
E5460M75AODE
E5460M851ODE
E5460M85CODE
E5460M85DODE
E7340M37B1DE
E7360M85DBDE
E7360M87APDE
E7360M87BPDE
E7440M77APDE
E7440MXE51DE
E7440MXP11DE
E7440MXP21DE
E7540M35A1DE
E7540M75ABDE
E7540M75CNDE
E7540M77APDE
E7540M77AUDE
E7540MXC51DE
E7540MXC51DE/B1
E7540MXEC1DE
E7540MXP11DE
E7540MXP21DE
E7540MXU21DE
E7560M85BBDE
E7560M85CNDE
E7560M87BPDE
E7560M87CPDE
E7560MP5CBDE, E7440M751BDE
E7560MP5CNDE
E7560MP5DBDE
LifeBook A514
LifeBook A544
LifeBook A544 (M13A1DE)
LifeBook A544 (M15B7DE)
LifeBook A544 (M7321NC)
LifeBook A544 (M7501DE)
LifeBook A544 (M7501FR)
LifeBook A544 (M7501GB)
LifeBook A544 (M75A1NC)
LifeBook A544 (M75A2GB)
LifeBook A544 (M87A5RU)
Lifebook A555
LifeBook A555/G
LifeBook A555-P80JDE
LifeBook A557
Lifebook A564
LifeBook AH544
LIFEBOOK E736
LifeBook E743
LifeBook E743(M55A1DE)
LifeBook E743(MXE11DE)
LifeBook E743(MXP41DE)
Lifebook E744
LifeBook E744(M8501DE)
LifeBook E744(MXEA1DE)
LifeBook E744(MXP11DE)
LifeBook E751(MXG01DE)
LifeBook E751(MXP01DE)
LifeBook E751(MXS01DE)
LifeBook E753
LifeBook E753(M55A1DE)
LifeBook E753(MXDEMDE)
LifeBook E753(MXE11DE)
LifeBook E753(MXP41DE)
LifeBook E754
LifeBook E756
LifeBook S904
Lifeboook E546
How to Replace your Fujitsu FPCBP429 Laptop Battery?
Turn off your Fujitsu FPCBP429 laptop and disconnect the AC adapter.
Release the latch or other attachment devices that hold your battery in place.
Slide the old battery out of its compartment or storage bay
Take the replacement battery for Fujitsu FPCBP429 laptop out of the box.
Slide it into the notch or bay.
Close the safety latch to lock it into place.
Reconnect the AC adapter and give the new battery for your Fujitsu FPCBP416 notebook a full charge.
Additional information
| | |
| --- | --- |
| Weight | 0.5 kg |
| Dimensions | 31 × 10 × 6 cm |
| Cells | |
| Capacity | |
| Voltage ratings | |
| Warranty | |
| WH capacity | |
| Brand | |
Q & A
There are no questions yet