Battery for Dell Inspiron 13 Inspiron 1318 Inspiron 1318N XPS 1330 XPS M1330 XPS M1350
You Save:
₹

2,600.00 (65.02%)
₹3,999.00 GST Invoice (-65%)
🎁10% Off : use code 'RAINYJUNE" - Order Now. ☔☔☔
Offer expires in 08 hrs 28 mins 8 secs Valid for selected products.
Condition : Brand New, High Quality
Chemistry : Li-Ion  – Color : Black
Voltage : 11.1V  –  Capacity : 44WH ( 4000mAh )- Cells : 6 cells
Warranty: 12 months Replacement warranty by Lap Gadgets (10 days money back guarantee)
Reach our product expert at +91-261-3150304 for more information
🛡️ 30 days Buyer Protection
You are fully protected by our 30 days Money Back Guarantee. If you don't like our products over the next 30 days, then we will gladly refund your money. (know more)
✔️
10
sold in last 90 days
👨‍👨‍👦‍👦-
Mayukh from Kolkata, Raju from Nizamabad (district) Dichpally (mandal ) & 7 others
bought this item recently.
Description
Battery for Dell Inspiron 13 Inspiron 1318 Inspiron 1318N XPS 1330 XPS M1330 XPS M1350
The Perfect Partner for Your Dell Laptop on the Go
Always on the go? Do not stop your valuable work due to low battery performance. Get a Lap Gadgets Battery to keep going while at home or office or travel.
Lap Gadgets battery for Dell undergo rigorous testing by qualified engineers to ensure compatibility and reliability in your Dell system.
Bis Certified Lap Gadgets's batteries are sustaining qualification process allows for testing and certification of the newest technology on your Dell system
Genuine Lap Gadgets parts mean that you will not need to worry about voiding your system's hardware warranty.

Lap Gadgets's Limited One Year Warranty guarantees that if parts fails within 12 months period, it will be replaced.
The Perfect battery life for Your Dell Inspiron & XPS laptops
Employed high quality cells from Samsung, the brand new 11.1v 4000 mah replacement Dell XPS 1330 battery  Li-lion battery is totally compatible with the original manufacturer's specifications. Through tested, all our Li-ion replacement batteries for Dell XPS M1330 battery  have been certified to meet and even exceed the original battery performance. Each replacement battery of the Dell XPS M1330 battery has been tested on the Dell system before being dispatched to ensure the safety of your Dell laptop.
Except for being designed under the supreme control criterion, the high-quality replacement Dell XPS M1330 battery carries with a smart interior circuit board that provides battery-unbalanced-shut-off protection, thermal-runaway protection, overcharged protection, over-discharged-shut-off protection, and high/low-temperature-shut-off protection. Besides, the battery contains free lead, mercury and other environmental metal pollutants. It is compliance with international standards. Every replacement Dell laptop battery has passed through a series of rigorous safety tests and been certified by CE, UL, ROHS, ISO9001/9002. Generally speaking, this replacement Dell XPS M1330 battery can be charged/discharged up to more than 500 cycles.
Top Quality Battery Cells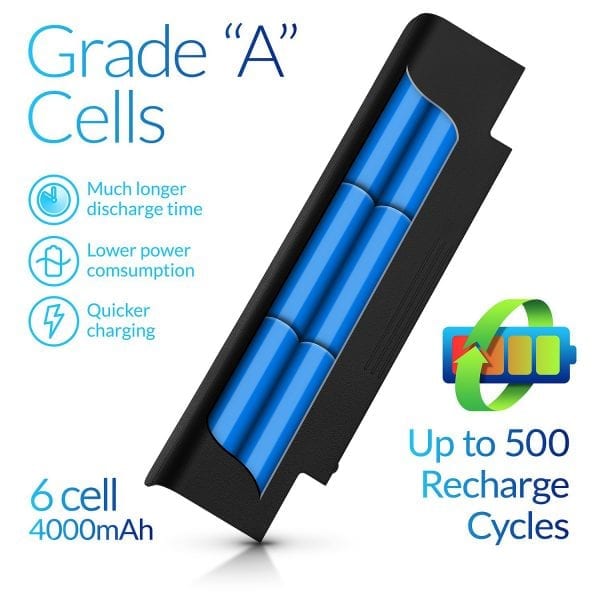 Here are some few Important Tips for using Dell XPS 1330 battery:
This New Dell XPS 1330 battery comes in discharged/ partially charged state and it should be charged minimum for 2-3 charge/ discharge cycles to achieve its optimum performance.
When you charge a new Dell XPS M1330 battery your computer power meter may indicate that charging is complete after a few minutes, don't worry about it and just remove the battery and install it again and repeat the charging procedure.
Dell XPS M1330 battery Replacement requires some technical skills to install it and user can either install it or hire a technician to do it. Please refer DIY (Do-It-Yourself) videos available our website for your convenience.
It is important to fully charge and fully discharge rechargeable laptop batteries after every 2 weeks, failing to do so may decrease Dell XPS M1330 battery Life.
Dell XPS M1330 battery Backup will be same as the original battery which you got installed in your new laptop.
If your Dell XPS M1330 battery is not charging then kindly try a different charger to verify because this problem may occur due to a faulty charger also.
If Dell XPS M1330 battery will not be in use for a long time then it is recommended that you should remove it from the device and store it in a cool, dry and clean place
Guides for a Healthy Dell XPS 1330 battery
Compatible Part Number & Model Number Listes as below
0CR036
312-0566
312-0567
312-0739
451-10473
451-10474
CR036
DU128
FW301
FW302
HX198
JN039
JY316
KP405
NT340
NT349
NX511
PP25L
PU556
PU559
PU563
TT344
TT483
TT485
TX826
UM225
UM226
UM230
WR047
WR050
WR053
Inspiron 13
Inspiron 1318
Inspiron 1318N
XPS 1330
XPS M1330
XPS M1350
Specification
Additional information
| | |
| --- | --- |
| Weight | 0.5 kg |
| Dimensions | 30 × 10 × 5 cm |
Q & A
Q & A
There are no questions yet
Why buy from

Lap Gadgets

?
Buy with confidence you get 10 days free returns and 30 days moneyback guarantee in our products
know more
Buying on lapgadgets.in is very simple and safe, you are protected by Razorpay - India's leading payment gateway
We are much confident in our products hence we take atmost care and responsibility to satisfy you.
know more
Our customer support experts are available for your new purchase query or any technical query of any product
Consult our experts, avoid the risk of laptop failure and other damage due to wrong part purchase.