Lap Gadgets Dell Alienware m15 m17 / G5 5590 / G7 7590/ G7 7790 60Wh 4-cell original Laptop Battery – 1F22N
Limited Qty
Roll over image to zoom in
Click to open expanded view
₹11,999.00 GST Included (-52%)
🎁 OFFER : Get 10% Off (for prepaid orders only)
use code REPUBLIC10X Offer ends in 05 hrs 2 mins 55 secs.
🚴‍♂️ Same Day Delivery: (for prepaid orders & selected cities only)
Want it tomorrow, February 5? Order within 23 hrs 22 mins 55 secs. Select same day from Delivery option (Order placed on Sunday will be delivered on Monday)
Battery type: Li-ion; Voltage: 15.2V; Capacity: 60Wh/3750mAh; Cells: 4-cell

Compatible Models: Dell Alienware M15 M17 R1, G7 7590 7790 G5 5590-D2783W D2743B D2865B D2863W D2842W D2843W Series

Replace Part Numbers: 1F22N 0JJPFK 08622M XRGXX 06YV0V OJJPFK 0HYWXJ HYWXJ 01F22N JJPFK IF22N

100% New from Manufacturer. Up to 500 recharge cycles over the life of the battery. The actual operation time will depend on how much electricity is required by the device and how you use it

For first use, please discharge the battery to 5%(not to 0%) and then charge to 95%, and cycle 3-4 times.

6 Months Replacement Warranty by Lap Gadgets
👨‍👨‍👦‍👦-
Aditya from Kota, Lilu from Kottayam & 12 others
bought this item recently.
Customers who bought this item also bought
₹

4,999.00 –

₹

8,999.00 GST Included
NEW Laptop Battery for the Dell Alienware m15 and m17 Laptops.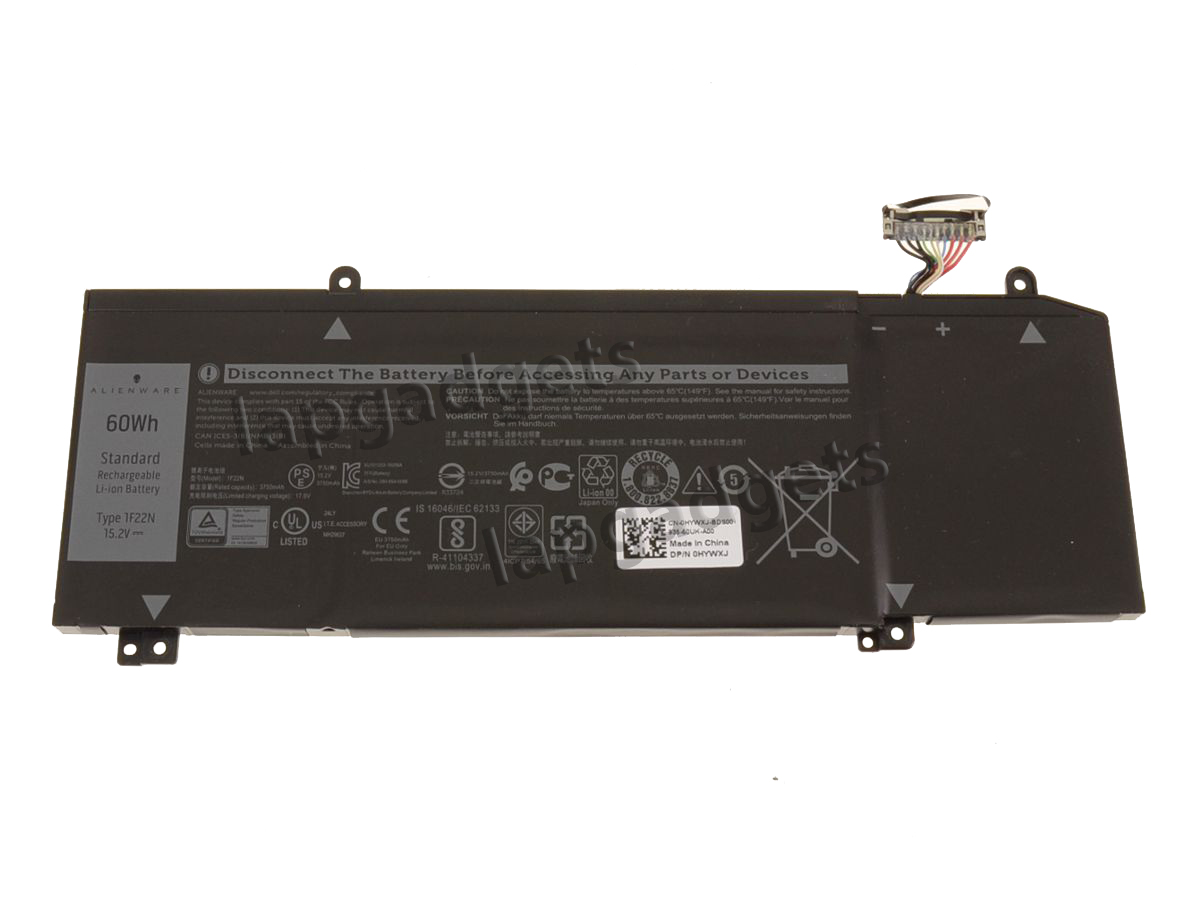 Get going with longer Battery Life and Improved Laptop Performance with this Dell Alienware Alienware m15 m17 Original Laptop Battery. This battery is manufactured by Dell and built with highest grade cells and best quality components which provides longer battery life with fast charging. This is battery is suitable to all Alienware m15 m17 / G5 5590 / G7 7590 / G7 7790 with Core i3, i5 and i7 Variants.
Dell Inspiron 5370 Battery Price in India is the lowest on pctech.co.in amongst all shopping websites in India.
Here are some few Important Tips for using Dell Alienware M15 M17 Battery:
This New Dell Alienware M15 M17 Battery comes in discharged/ partially charged state and it should be charged minimum for 2-3 charge/ discharge cycles to achieve its optimum performance.
When you charge a new Dell Alienware M15 M17 Battery your computer power meter may indicate that charging is complete after a few minutes, don't worry about it and just remove the battery and install it again and repeat the charging procedure.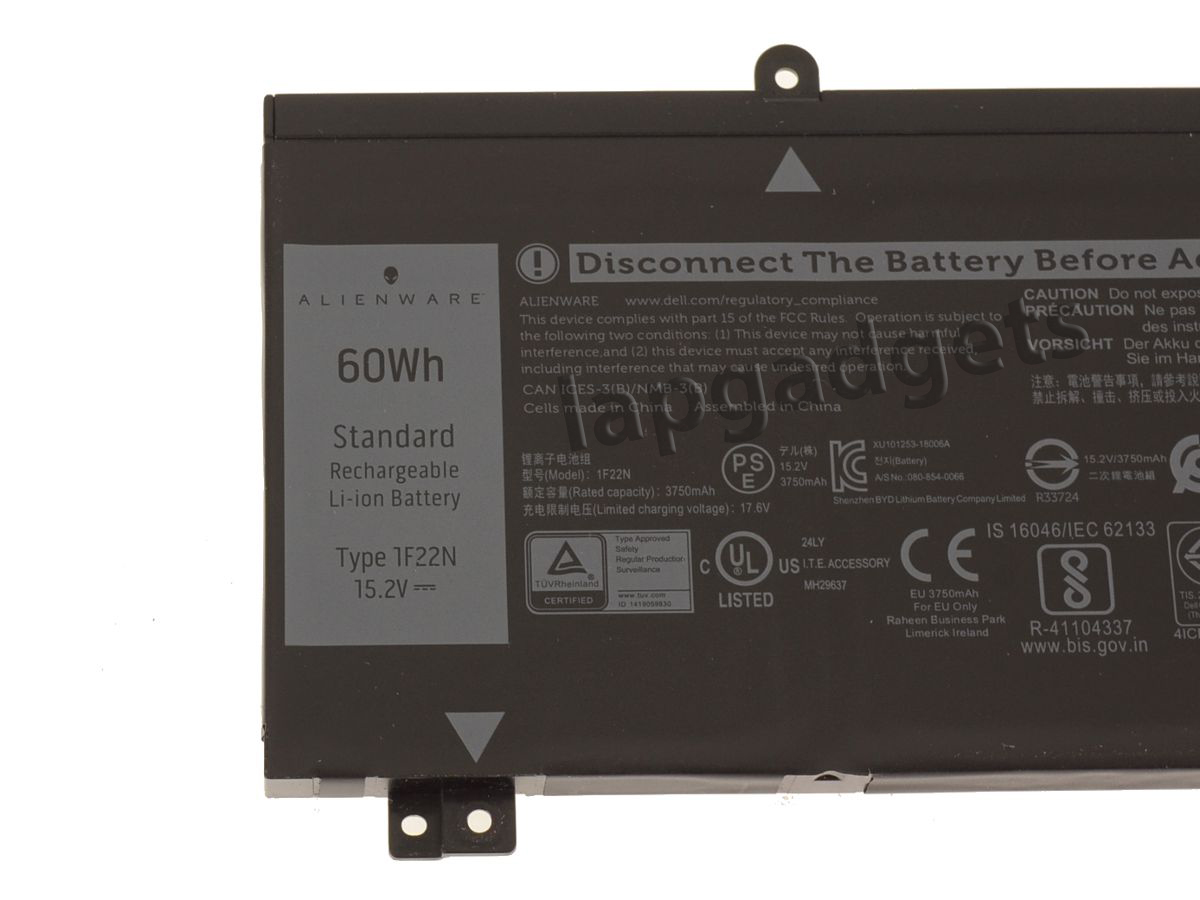 Dell Alienware M15 M17 BatteryReplacement requires some technical skills to install it and user can either install it or hire a technician to do it. Please refer DIY (Do-It-Yourself) videos available our website for your convenience.
It is important to fully charge and fully discharge rechargeable laptop batteries after every 2 weeks, failing to do so may decrease Dell Alienware M15 M17 BatteryLife.
Dell Alienware M15 M17 BatteryBackup will be same as the original battery which you got installed in your new laptop.
If your Dell Alienware M15 M17 Batteryis not charging then kindly try a different charger to verify because this problem may occur due to a faulty charger also.
If Dell Alienware M15 M17 Battery will not be in use for a long time then it is recommended that you should remove it from the device and store it in a cool, dry and clean place.
Compatible Dell Laptops:
-Alienware m15
-Alienware m17
-G Series G5 5590
-G Series G7 7590
-G Series G7 7790
Rechargeable Li-ion Battery
Rating: 15.2V 4-Cell
High Capacity: 60WHr
Type 1F22N, 01F22N
DP/N: HYWXJ JJPFK 8622M
Q & A
Is it original? No fake or scam, right?
oem battery.lapgadgets warranty
ITS A brand new not the used ones