BTY-M6H Battery for MSI GE62 GE72 GP62 PE60 PE70 10.86V 4730mAh 51Wh
₹6,999.00 GST Included (-29%)
Battery Type – Li-ion. Voltage: 10.8V. Capacity: 51WH 4730mAh .
Compatible Part Number – BTY-M6H 3ICR19/65-2 .
Compatible Model Numbers – MSI GE62 2QC 2QE 6QC 6QD 6QF GE72 2QC 2QD 2QE 6QC 6QD 6QF Series Notebook.
100% New from Manufacturer. Up to 600 recharge cycles over the life of the battery. The actual operation time will depend on how much electricity is required by the device and how you use it .
1 Year Replacement Warranty By Lap Gadgets. 30 Days Money Back Guarantee .
Power your Laptop with Kingston SSD @ just Rs 1399/-
Description
buy with confidence
Buy MSI BTY-M6H Laptop Battery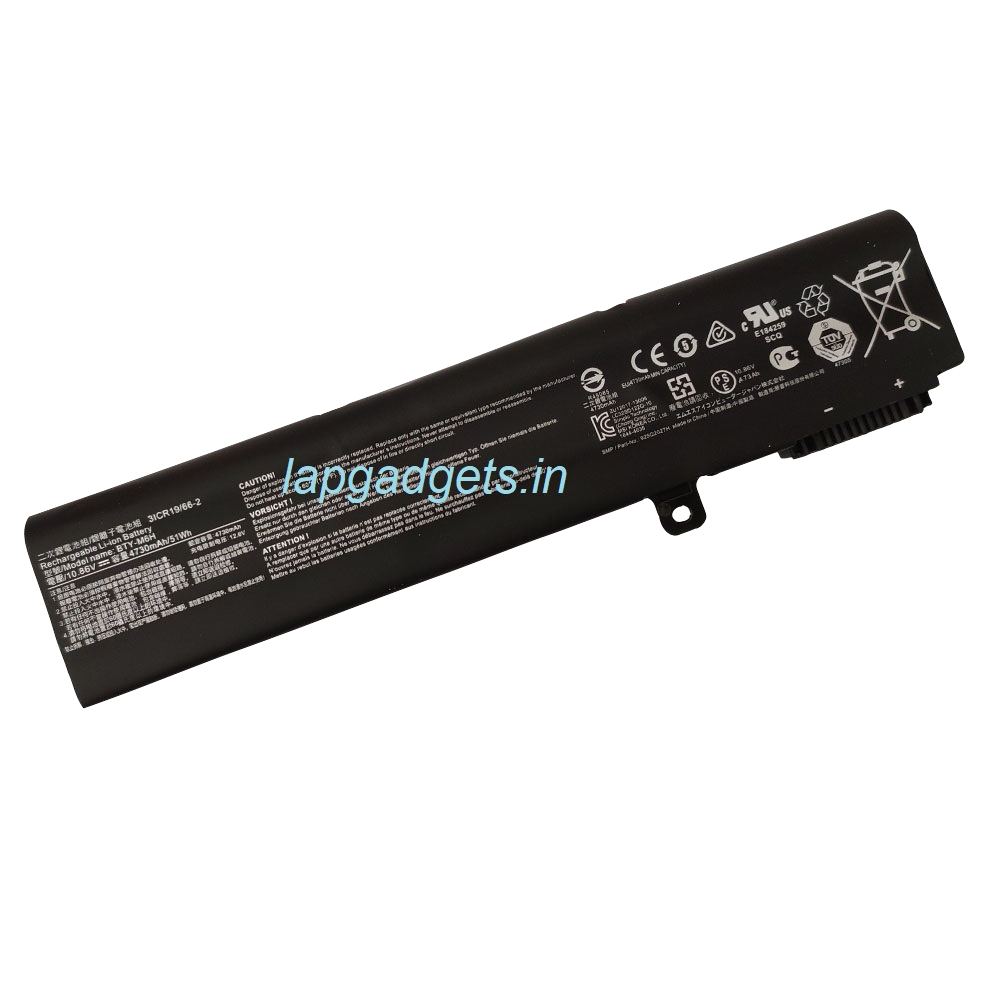 Get the best out of our MSI product experts having extensive knowledge of MSI laptop batteries,
MSI BTY-M6H battery specs
The Perfect battery life for Your MSI Laptop
Get going with longer Battery Life and Improved Laptop Performance with this MSI BTY-M6H Battery. This battery is with highest grade cells and best quality components which provides longer battery life with fast charging. This is battery is suitable to GE62 GE72 GP62 PE60 PE70 with Core i3, i5 and i7 Variants.
MSI BTY-M6H Battery Price in India is the lowest on lapgadgets.in amongst all major online marketplaces in India.
This high quality rechargeable MSI BTY-M6H Battery is designed with the highest control standards; have internal circuit boards with smart chips ( Cell imbalance shut off protection, Thermal runaway protection, Overcharge shut off protection, Over discharge shut off protection, High/low temperature shut off protection ), and are made from eco-friendly materials without lead or mercury. Every MSI laptop battery has been Certified by CE, UL, ROHS, ISO9001/9002 and has passed strict safety tests. Long lasting, this extended 6 cells MSI BTY-M6H battery can be charged/discharged for more than 600-800 cycles.
Here are some few Important Tips for using MSI BTY-M6H Laptop Battery:
This New MSI BTY-M6H Battery comes in discharged/ partially charged state and it should be charged minimum for 2-3 charge/ discharge cycles to achieve its optimum performance.
When you charge a new Battery your laptop power meter may indicate that charging is complete after a few minutes, don't worry about it and just remove the battery and install it again and repeat the charging procedure.
It is important to fully charge and fully discharge rechargeable laptop batteries after every 2 weeks, failing to do so may decrease Battery Life.
MSI BTY-M6H Battery Backup will be minimum 2-3 hours and Maximum will depend on your Laptop Usage/ condition 
If your MSI BTY-M6H Battery is not charging then kindly try a different charger to verify because this problem may occur due to a faulty charger also.
If MSI BTY-M6H Battery will not be in use for a long time then it is recommended that you should remove it from the device and store it in a cool, dry and clean place
3ICR19/65-2
3ICR19/66-2
BTY-M6H
MS-16J1
MS-16J2
BTY-M6H 3ICR19/65-2
Alpha 15 A3DDK
Alpha 15 A3DDK-002XPT
CX62 6QD-258TW
CX62 7QL-071XIN
CX72 6QD-231XES
CX72 7QL-008FR
CX72 7QL-054TW
GE62 2QD-007XCN
GE62 6QF-203XCN
GE62 7RE-088
GE62-6QCA8H11
GE62-6QF81FD
GE62VR 6RF-010CN
GE62VR-6RF16H11
GE63 7RD RAIDER
GE63 7RD-006
GE63 8SG
GE63 Raider RGB 8SE-235RU
GE63 RAIDER RGB 8SF-035PT
GE63 RAIDER RGB 8SF-090UK
GE63 RAIDER RGB 8SF-258TR
GE63VR 7RF-086
GE63VR 7RF-252XES
GE72 2QD-035XPL
GE72 6QD APACHE PRO 003-HID1 17.3 INCH
GE72 6QE Apache Pro
GE72 6QF-073XCN
GE72 6QF81FD
GE72-2QFi7W16SR21BW
GE72-6QD8H21
GE72-7RE-046
GE72MVR APACHE PRO-044
GE72VR APACHE PRO-416
GE72VR-7RE APACHE PRO
GE73 7RD
GE73 8RE-216
GE73 Raider RGB 8RE-061
GE73 Raider RGB 8RE-097RU
GE73 RAIDER RGB-012
GE73VR 7RE RAIDER-042
GE73VR 7RE RAIDER-084XTR
GE73VR 7RE-203XES
GE73VR 7RF-204X
GE73VR 7RF-286
GE75 RAIDER 8RE-062XPL
GE75 Raider 8SF
GE75 RAIDER 8SF-212ZA
GE75 RAIDER 8SG-070ID
GE75 RAIDER 9SF-639CN
GF62 8RD-010XES
GF62 8RE-062TW
GF72 8RD-081XES
GF72 8RE-062XES
GF72VR 7RF-673CN
GL62 6QE-1428SG
GL62 7QF-1670UK
GL62-6QFi781H11
GL62M 7RC-200XIN
GL62M 7RD-223CN
GL62M 7RE-406
GL62M 7REX-2202XES
GL62M 7REX-2273CH
GL62VR 7RFX-888TW
GL63 8RE-416CN
GL72 6QE-497TW
GL72 6QF XOTIC PC EDITION
GL72 7QF-1008UK
GL72M 7RDX-684CN
GL72M 7RDX-886XFR
GL72M 7REX-1423
GL72MVR
GL73 8RC-025XFR
GL73 8RC-268ZA
GL73 8RE-632CN
GP62 2QE-017TW
GP62 6QF-1204AU
GP62 6QG-1281CN
GP62 7QF-1692
GP62 7RD-090DE
GP62 7RE-431XES
GP62 7REX-1059TW
GP62-2QEA8H11
GP62-7RD
GP62M 7RD LEOPARD-7RD-076DE
GP62M 7RDX-1440TW
GP62M 7REX-2621MY
GP62MVR-7RF Serie
GP62VR 7RF-453XES
GP63 8RE-041XES
GP63 8RE-223
GP63 8RF-486CN
GP65 Leopard 10SFK-047
GP72 6QF-284CA
GP72 7RDX-488XRU LEOPARD
GP72 7RE
GP72-6QD-231XTR
GP72-6QE8H11
GP72M 7RDX-1096XTH
GP72M 7REX-1091TW
GP72M 7REX-1245NL Leopard Pro
GP72VR 7RF-415IT
GP72VR-7RF-269
GP73 8RE-080CA
GP75 Leopard 9SD
GV62 7RE-1457CN
GV62 7RE-2443XVN
GV62 8RC
GV62 8RC-240PH
GV62 8RD-101TW
GV62 8RE-073TW
GV72 7RE
GV72 7RE-1471TW
GV72 8RC-032FR
GV72 8RC-063ES
GV72 8RD-005TW
GV72 8RD-033FR
GV72 8RE-0179E
PE60 6QD-085TW
PE62 7RE-2024XIN
PE70 2QE-091TW
PE70 6QE-453NL
PE70 7RD-644XES
PL62 7RC-029
WE62 7RI-1891XES
WE63 8SJ-602ZA
WE72 7RJ-1038TW
Specification
Additional information
| | |
| --- | --- |
| Weight | 0.5 kg |
| Dimensions | 31 × 10 × 6 cm |
| Capacity | |
| Cells | |
| Voltage ratings | |
| Warranty | |
| WH capacity | |
Q & A
Q & A
There are no questions yet