HP PX03XL BATTERY for HP Envy M6-K Envy 14-K Envy TouchSmart M6 HSTNN-LB4P TPN-C109 TPN-C110
₹4,999.00 GST Included (-24%)
🎁 OFFER : Get 10% Off (for prepaid orders only) on min spend Rs. 999/-
use code CLEARMARCH10X Offer ends in 05 hrs 5 mins 12 secs. 🕐
🚴‍♂️ Same Day Delivery: (for prepaid orders & selected cities only)
Want it tomorrow, March 25? Order within 23 hrs 25 mins 12 secs. Select same day from Delivery option (Order placed on Sunday will be delivered on Monday)
Condition : Brand New, Original cells High Quality
Brand: Generic (Non HP)
Chemistry : Li-Lion  | Color : Black
Voltage : 11.1V | Cells : 6 cells | Capacity : 38Wh
Warranty : 12 months replacement warranty (10 days moneyback guarantee)
Reach our product expert at +91-261-3510304 for more information.
Customers who bought this item also bought
HP PX03XL Battery for HP Envy M6-K Envy 14-K Envy TouchSmart M6 HSTNN-LB4P TPN-C109 TPN-C110
Note : 11.1V and 11.4V are compatible, they are in common use.
Our 
replacement HP PX03XL battery
 is the product of highest quality, which has obtained international certification ( CE, UL, ROHS, ISO9001/9002 ). Without any memory effect, the battery works as powerful as an extra power supply when traveling or being away from home/office. With long life, this replacement battery for HP PX03XL laptop can be charged/discharged for more than 500-750 cycles (has been rigorously tested). Every piece of replacement 
HP PX03XL battery pack
 is under the united protection of the PCP board, PCM board and intellectual power measurement circuit: automatically adjusting the charging time to achieve the maximum amount of charge, with over-charge protection, over-discharge protection, over current protection and short circuit protection.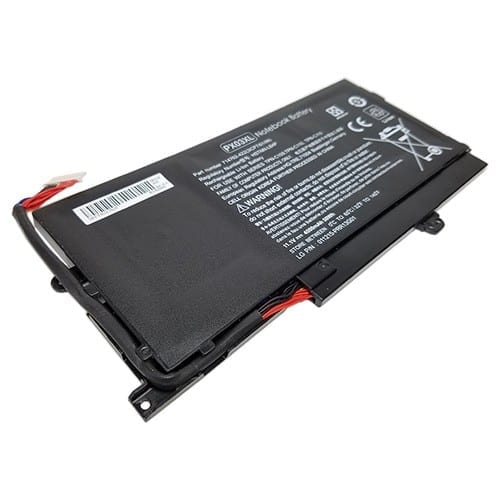 We offer superb pre-sales and after-sales service, providing a full one year warranty and a 30-day money back guarantee for this replacement HP PX03XL battery, 100% OEM compatible with the original HP PX03XL battery. Our batteries for HP PX03XL laptop have also undergone rigorous tests to ensure stability and safety before being dispatched from the battery manufactory. Usually, this high capacity (50Wh, 6 cells) replacement HP PX03XL battery offers the same or even longer usage period as/than that of the original HP PX03XL battery.
Compatible Part Numbers:  hp px03xl battery, px03xl battery replacement, px03xl battery best buy, px03xl battery price in India, px03xl battery india
714762-141
714762-171
714762-1C1
714762-241
714762-271
714762-2C1
714762-421
714762-422
715050-001
715050-005
HSTNN-DB4P
HSTNN-IB4P
HSTNN-LB4P
PX03050XL-PR
PX03XL
TPN-C109
TPN-C110
TPN-C111
Fit Models
Envy 14-K000 CTO
Envy 14-K001TX
Envy 14-K001XX
Envy 14-K002LA
Envy 14-K002TX
Envy 14-K003TX
Envy 14-K004LA
Envy 14-K004TX
Envy 14-K005TX
Envy 14-K006LA
Envy 14-K006TX
Envy 14-K007TX
Envy 14-K008TX
Envy 14-K009TU
Envy 14-K010LA
Envy 14-K010TU
Envy 14-K010US
Envy 14-K012LA
Envy 14-K012TX
Envy 14-K014TU
Envy 14-K016TX
Envy 14-K018TX
Envy 14-K019TX
Envy 14-K020TX
Envy 14-K020US
Envy 14-K021TX
Envy 14-K022TX
Envy 14-K023TX
Envy 14-K024TX
Envy 14-K025TX
Envy 14-K026TX
Envy 14-K027CL
Envy 14-K027TX
Envy 14-K028TX
Envy 14-K029TX
Envy 14-K030TX
Envy 14-K032TX
Envy 14-K033TU
Envy 14-K034TX
Envy 14-K035TX
Envy 14-K036TX
Envy 14-K037TX
Envy 14-K038TU
Envy 14-K039TX
Envy 14-K040TX
Envy 14-K041TX
Envy 14-K042TX
Envy 14-K043TU
Envy 14-K044TX
Envy 14-K045TX
Envy 14-K046TX
Envy 14-K047TX
Envy 14-K048TX
Envy 14-K049TX
Envy 14-K050TX
Envy 14-K052TU
Envy 14-K074CA
Envy 14-K100EO
Envy 14-K101TX
Envy 14-K102TX
Envy 14-K106LA
Envy 14-K107TX
Envy 14-K108TX
Envy 14-K110EO
Envy 14-K110NR
Envy 14-K110TX
Envy 14-K111NR
Envy 14-K112NR
Envy 14-K112TX
Envy 14-K113TX
Envy 14-K115TX
Envy 14-K118TX
Envy 14-K119TX
Envy 14-K120TX
Envy 14-K120US
Envy 14-K121TX
Envy 14-K122TX
Envy 14-K123TX
Envy 14-K124TX
Envy 14-K125TX
Envy 14-K126TX
Envy 14-K127TX
Envy 14-K128TX
Envy 14-K131TX
Envy 14-K132TX
Envy 14-K133TX
Envy 14-K134TU
Envy 14-K134TX
Envy 14T-K000 CTO
Envy 14T-K000
Envy 14T-K100 CTO
Envy 14T-K100
Envy 14T-K110NR
Envy M6-K001XX
Envy M6-K010DX
Envy M6-K012DX
Envy M6-K015DX
Envy M6-K022DX
Envy M6-K025DX
Envy M6-K026DX
Envy M6-K054CA
Envy M6-K058CA
Envy M6-K088CA
Envy TouchSmart M6-K001XX
Envy TouchSmart M6-K012DX
Envy TouchSmart M6-K015DX
Envy TouchSmart M6-K022DX
Envy TouchSmart M6-K025DX
Envy TouchSmart M6-K054CA
Envy TouchSmart M6-K125DX
Additional information
| | |
| --- | --- |
| Weight | 0.5 kg |
| Dimensions | 25 × 10 × 5 cm |
Q & A
There are no questions yet