Asus C21N1408 battery for ASUS VivoBook 4000 MX555 X555LN K555lJ 37WH
You Save:
₹

4,000.00 (50.01%)
₹7,999.00 Incl GST (-50%)
🎁 Save 5% on UPI - Debit - Credit Cards
Get 5% instant discount on UPI - Credit-Debit Cards. Offer ends in 09 hrs 28 mins 23 secs. 🕐
🚴‍♂️ Same Day Delivery: (for prepaid orders & selected cities only)
Want it today, September 28? Order within 03 hrs 48 mins 23 secs. Select same day from Delivery option (Order placed on Sunday will be delivered on Monday)
Battery type: Li-ion; Capacity: 37Wh; Voltage: 7.5V;

Safeguard features against incorrect voltage, short circuit, internal overheating

Real capacity, high quality battery cells, longer operating time, convenient to use.

CE & ROHS certified. 100% compatible with original battery.

6 months Replacement warranty support By Lap Gadgets
Reach our product expert at +91-261-3150304 for more information.
👨‍👨‍👦‍👦-
Someone from Vasco & 2 others
bought this item recently.
Real Reviews on Google.
Customer support is very good and reliable.
Kayyala Subba Rao
2023-07-14
Good
The quality of the product I orderd was very good. Delivery was on time. Satisfied 😀
Srinivas Yalamarthy
2023-07-13
Indeed, it was a pleasant experience. I had numerous doubts when attempting to procure a battery for my Macbook Air. After carefully considering the pros and cons, I ultimately decided to go with Lap Gadgets. Although I initially had reservations since it was my first time dealing with them, I was pleasantly surprised. The battery was delivered as promised, and I have successfully installed it. Currently, it is working fine and providing me with a backup of over 5 hours. I hope it continues to perform well in the long run. If it consistently provides me with good backup, I will enthusiastically recommend Lap Gadgets through my social media channels. I extend my best wishes to them.
Very good service
Bought a display and it's awesome! Would recommend it. But please consult their support before a purchase to see if it supports your laptop.
I had great experience with Lap Gadgets. Support and response is spontaneous. Keep it up.
Their service is extremely good. They are very professional in their dealing. Their return policy is also very good. I have had very professional and fast response from the team. I wish to recommend them due to their continued focus on customer need and service. They were prompt on phone and email. The response was Swift and delivery was super fast.
Good website compare to Amazon in order to purchase the new Asus charger in reasonable price. Also their customer service is also good. The person guided me to purchase the correct pin charger. I will definitely recommend website in case if u r ordering first time.
Description
buy with confidence
Buy Asus C21N1408 Battery New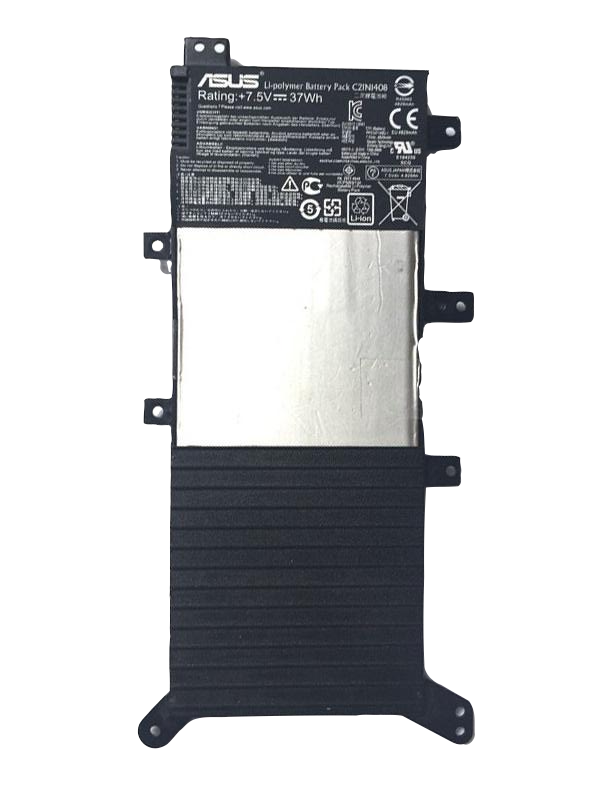 Get the best out of our Asus product experts having extensive knowledge of Asus laptop batteries,
Asus C21N1408 battery specs
The Perfect battery life for Your Asus Vivobook
Get going with longer Battery Life and Improved Laptop Performance with this Asus C21N1408 BATTERY. This battery is with highest grade cells and best quality components which provides longer battery life with fast charging. This is battery is suitable to 4000 MX555 X555LN K555IJ with Core i3, i5 and i7 Variants.
Asus C21N1408 Battery Price in India is the lowest on lapgadgets.in amongst all major online marketplaces in India.
This high quality rechargeable Asus C21N1408 Battery is designed with the highest control standards; have internal circuit boards with smart chips ( Cell imbalance shut off protection, Thermal runaway protection, Overcharge shut off protection, Over discharge shut off protection, High/low temperature shut off protection ), and are made from eco-friendly materials without lead or mercury. Every Asus laptop battery has been Certified by CE, UL, ROHS, ISO9001/9002 and has passed strict safety tests. Long lasting, this extended 2 cells Asus C21N1408 battery can be charged/discharged for more than 600-800 cycles.
Here are some few Important Tips for using Asus C21N1408 Laptop Battery:
This New Asus C21N1408 Laptop Battery comes in discharged/ partially charged state and it should be charged minimum for 2-3 charge/ discharge cycles to achieve its optimum performance.
When you charge a new Battery your laptop power meter may indicate that charging is complete after a few minutes, don't worry about it and just remove the battery and install it again and repeat the charging procedure.
It is important to fully charge and fully discharge rechargeable laptop batteries after every 2 weeks, failing to do so may decrease Battery Life.
Asus C21N1408 Battery Backup will be minimum 2-3 hours and Maximum will depend on your Laptop Usage/ condition
If your Asus Battery is not charging then kindly try a different charger to verify because this problem may occur due to a faulty charger also.
If Battery will not be in use for a long time then it is recommended that you should remove it from the device and store it in a cool, dry and clean place
Asus C21N1408 Battery - Frequently Asked Questions
F555UB-XO130T
F555LB-DM282H
F555LD-XX308H
F555LD-XX088H
F555LA-XX052H
F555LD-XX998H
F555LA-XX629D
F555LD-XX555H
F555LA-XX2811D
F555LA-XX088H
F555LD-XX086H
F555LD-XO472H
MX555
F555LA-XX321H
F555LD-XX372H
F555LF-XO423D
F555LD-XX564H
F555LD-XX307H
F555LD-XX625H
X555LN
F555UB-DM046T
F555LD-XX110H
F555LD-XX909H
F555LJ-XO922T
F554LD
F554LD-XX908H
F555LB-XO134H
F555LF-XO413T
F555LN-DM495H
F555UB-XO045T
F554LA-WS71
F555LF-XO334D
F555LD
F555LB-XO133H
F554LD-XX912H
F554LA
F555LA-XX283H
F555LB
F554LD-XX618H
F555LD-XX243H
K555L
F555LD-XX310H
F554LD-XX630H
F555LN-XO355D
F554LD-XX734H
F555UB-XO043T
F555UB-XO111T
F555LJ
VivoBook 4000
F555LP
F555LD-XX244H
F555LD-XX770H
F555LN
F554LA-XX2848
F555LD-XX320H
F555UB-DM154T
F554LA-XX2943
F554LA-XX2854D
F555LP-XX081H
F554LD-XO841H
F555UB
F555LA
F555LF-XO029H
F555UB-XO129T
F555LA-XX1806T
F555LN-X0070H
F555LF-DM186T
F555LD-XX371H
F555LD-XX186H
F555LA-XX270D
F555LD-XX769H
F555LA-XX657T
F555LF
F555LA-XX502H
F555LN-X0054H
F555LF-XO061H
F555LD-xx368H
F555LD-XX369H
F555LF-XO059H
F555LD-XO435H
F554LA-XX2857D
F555LF-XO029T
F555LA-XX2728D
F555UB-XO044T
F555UB-XO214D
Specification
Additional information
| | |
| --- | --- |
| Weight | 0.5 kg |
| Dimensions | 30 × 10 × 5 cm |
Q & A
Q & A
There are no questions yet