ASUS ADAPTER 150W 20V – 7.5A (6PHI) ADP-150CH B /A18-150P1A for TUF GAMING FX505 FX506 FX705 G531GT G731GT series laptops
₹5,999.00 Incl GST (-33%)
🎁 Save 5% on UPI - Debit - Credit Cards
Get 5% instant discount on UPI - Credit-Debit Cards. Offer ends in 04 hrs 52 mins 13 secs. 🕐
🚴‍♂️ Same Day Delivery: (for prepaid orders & selected cities only)
Want it tomorrow, September 23? Order within 23 hrs 12 mins 13 secs. Select same day from Delivery option (Order placed on Sunday will be delivered on Monday)
We have two Variant available kindly select as per your old charger

Input: AC 100-240v, 50-60Hz,

Output: 20V 7.5A 150W,

Connector Size :6.0*3.7mm/4.5*3.0mm

Warranty: 12 months by Lap Gadgets (no warranty on power cord supplied with charger)
👨‍👨‍👦‍👦-
Someone from New town & 38 others
bought this item recently.
Real Reviews on Google.
Customer support is very good and reliable.
Kayyala Subba Rao
2023-07-14
Good
The quality of the product I orderd was very good. Delivery was on time. Satisfied 😀
Srinivas Yalamarthy
2023-07-13
Indeed, it was a pleasant experience. I had numerous doubts when attempting to procure a battery for my Macbook Air. After carefully considering the pros and cons, I ultimately decided to go with Lap Gadgets. Although I initially had reservations since it was my first time dealing with them, I was pleasantly surprised. The battery was delivered as promised, and I have successfully installed it. Currently, it is working fine and providing me with a backup of over 5 hours. I hope it continues to perform well in the long run. If it consistently provides me with good backup, I will enthusiastically recommend Lap Gadgets through my social media channels. I extend my best wishes to them.
Very good service
Bought a display and it's awesome! Would recommend it. But please consult their support before a purchase to see if it supports your laptop.
I had great experience with Lap Gadgets. Support and response is spontaneous. Keep it up.
Their service is extremely good. They are very professional in their dealing. Their return policy is also very good. I have had very professional and fast response from the team. I wish to recommend them due to their continued focus on customer need and service. They were prompt on phone and email. The response was Swift and delivery was super fast.
Good website compare to Amazon in order to purchase the new Asus charger in reasonable price. Also their customer service is also good. The person guided me to purchase the correct pin charger. I will definitely recommend website in case if u r ordering first time.
Frequently Bought Together
Customers who bought this item also bought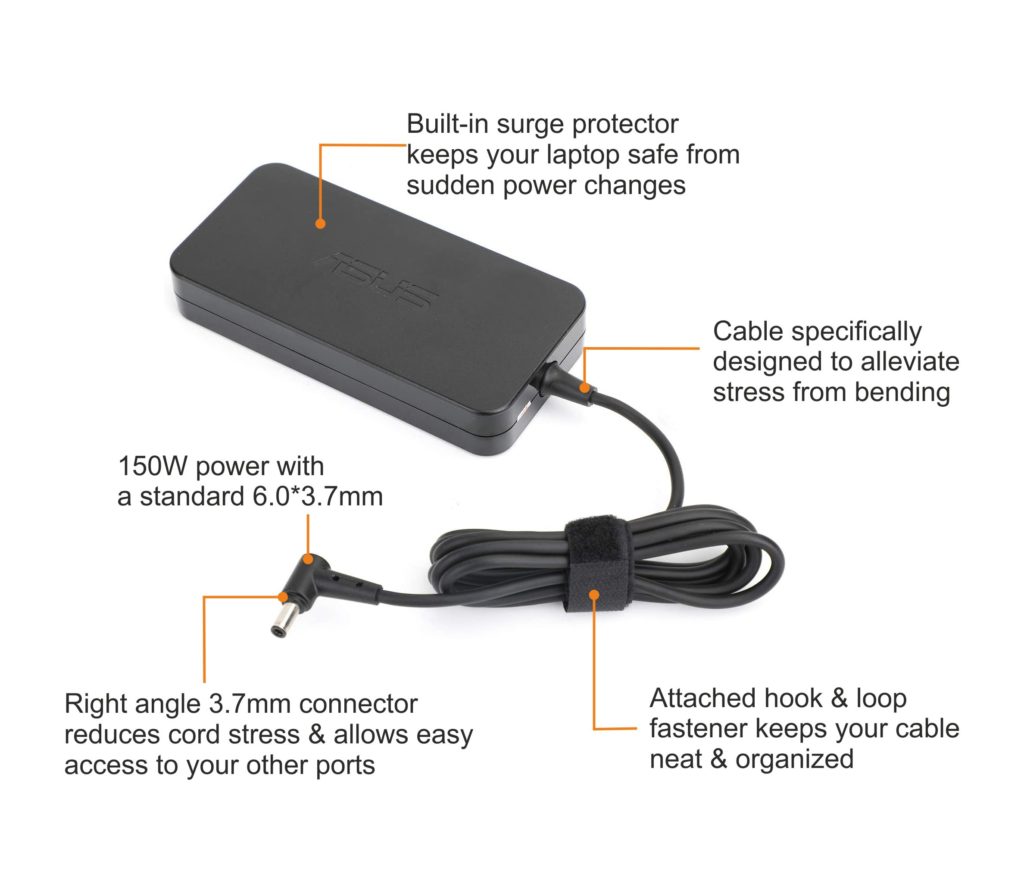 Input : 100-240V ~ 1.4A 50-60Hz (Can be used worldwide if country specific power cord or travel adapter is used.)
Output : 20V 7.5a / 7.7a
Output Power (Max) : 150W
Connector size : 6.0*3.7mm/4.5*3.0mm
Safety : Overload & Short Circuit Protection, High Temperature Cut-Off
Package includes : 1 x Adapter
Reliable power. Day in. Day out.
Getting a trusted AC adapter shouldn't be a shot in the dark. With a reliable name like HP, this standard power adapter delivers a safe, powerful charge every time, and at an affordable price.
Standard power
This 150W power adapter delivers the power you need with an Asus standard 6.0×3.7mm connector.
Protected from the unexpected
The built-in surge-protector helps keep your laptop safe from sudden power changes.
Forget broken cables
A quality cable specifically designed to alleviate stress from bending.
Stress-free connector
The right angle 3.7mm/3.0mm connector reduces cord stress and allows easy access to your other ports.
Easy organization
Keep your cable neat and organized with the attached hook and loop fastener.
Peace-of-mind coverage
Rest easy with Lap Gadgets standard one-year limited warranty.
Compatible Models:
ASUS A2G
A2T
F571
F705
FA506
FA566
FA706
FX504
FX505
FX506
FX531
FX571GT
FX705
FX706
G512
G53
G531
G55
G71
G72
G73
G731
G74
GA401
GL503
GL531
GL703
GL731
K571
L1
L2
L3
L5
L58
NX571
PRO80
PX531
PX703
PX731
RX571
S571
TUF504
TUF505
TUF506
TUF554
TUF565
TUF566
TUF705
TUF706
TUF765
TUF766
UX535
UX550
UX580
X571
X81
Z80
Z81
Z99
Q & A
My laptop is Asus tuf f15 model FX506L1-HN271TS. Will it work with the above product. And is it Asus band product or any local made product.
Yrs it will work and it's an Asus original charger
My old charger model is A15-120P1A, and my laptop is model FX505DD. Is this compatible?
Buy this charger for your laptop
https://lapgadgets.in/products/charger-for-aq302l-q302la-q302u-q302ua-q302-laptop-19v-2-37a-45w/?attribute_pa_output-voltage=120v-5-5mm-19v-6-32
My laptop is tuf a15 FA566IV-HN449T. Will it work?
My laptop is asus TUF gaming FX505DT-AL174T, my charger isn't working, will the above charger work?
pleaser share your old charger image at our whatsapp no:- 8160159928
hi i have asus tuf a15 fa506ih ryzen 5 4600h gtx 1650. is this charger compaitable
please whatsapp us your old charger image at 81601 59928