Asus AC65-00 65W USB Type-C Adapter/Charger USB PD 3.0 Technology with 5V/3A, 9V/3A, 15V/3A and 20V/3.25A Output
₹2,699.00 GST Included
USB Type-C connector with USB PD 3.0 technology that automatically detects and supplies 5V/3A, 9V/3A, 15V/3A and 20V/3.25A output

Multiple output protection, including Over Voltage Protection (OVP), Over Current Protection (OCP), Over Temperature Protection (OTP) and Short Circuit Protection (SCP)

Warranty: 12 Months Replacement by Asus India
For Product enquiry please contact us at 0261-3510304
🛡️Guaranteed Asus Genuine
Get assured Asus original products only at lapgadgets.in
🎄Offer: Get 10% Off
Use code XMAS10X during checkout. Limited offer ends on February 12
👨‍👨‍👦‍👦-
Hemanth from Hyderabad
bought this item recently.
Frequently Bought Together
Asus 65w Type C Original Charger
For your Asus Type C compatible Notebook
Connector : Type C
12 months warranty by Asus India. 
₹2499/- (Inclusive GST + Free shipping ) 
Over temperature protection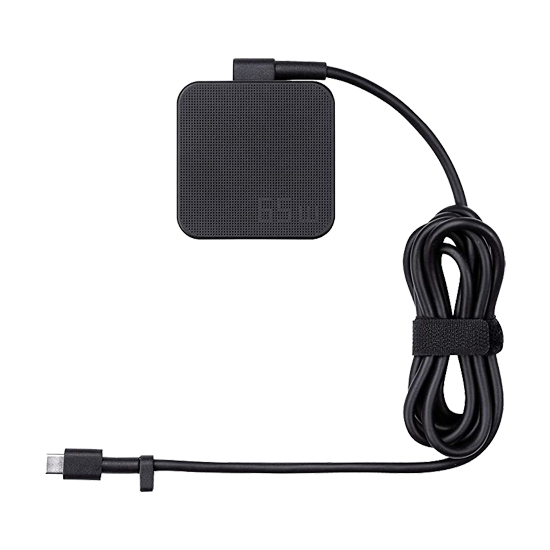 Asus Original charger keep you connected always to carry out your important work on your laptop. No matter wherever you are.
Our replacement Chargers are best in market in terms of quality, reliability and price. You are being assured for every money you spent on our chargers.
Rigorous Testing – All our chargers are tested to ensure it gives optimal performance to you.
Note
The adapter / charger comes with a complimentary power cord (Power cord is not included in warranty)
12 months replacement warranty by Asus India
We are confident in our product hence we give you 10 days free returns & 30 days self return window to either get replacement or return (know more)
High Quality Asus AC65-00 65W USB Type-C Adapter/Charger
Why buy from Lap Gadgets ?
B5302CEA
B5302FEA
B9400CEA
B9440UA
B9450CEA
B9450FA
C202XA
C203XA
C204EE
C204MA
C213SA
C214MA
C223NA
C302CA
C403NA
C423NA
C425TA
C433TA
C434TA
C436FA
C523NA
C536EA
CM1400FXA
CM3000DVA
CM3200FM1A
CM3200FVA
CM5500FDA
CR1100FKA
CT100PA
CX1100CNA
CX1101CMA
CX1400CNA
CX1500CKA
CX1500CNA
CX3400FMA
CX5500FEA
CX9400CEA
CZ1000DVA
Q408UG
S435EA
T102HA
T103HAF
T3300KA
UM3402YA
UM425IA
UM425UA
UM425UAZ
UM5302TA
UX325EA
UX325JA
UX325SA
UX325UAZ
UX3402ZA
UX363EA
UX363JA
UX370UA
UX371EA
UX391FA
UX392FA
UX392FN
UX393EA
UX393JA
UX425EA
UX425IA
UX425JA
UX425SA
UX425UA
UX425UAZ
UX425UG
UX435EA
UX435EAL
UX435EG
UX435EGL
UX482EA
UX482EG
UX490UA
X435EA
Additional information
| | |
| --- | --- |
| Weight | 0.5 kg |
| Dimensions | 31 × 10 × 6 cm |
| Input | |
| Output | DC 5.0V / 3.0A DC 9.0V / 3.0A DC 15.0V / 3.0A DC 20.0V / 3.25A |
| Connecter | |
| Color | |
| Compatible Model | C425TA, CM1400FXA, CM3200FM1A, CX1101CMA, CX1500CKA, CX3400FMA, CX9400CEA, CZ1000DVA, B5302CEA, B5302FEA, CR1100FKA, C433TA, C436FA, CX5500FEA, UM425UAZ, UX425EA, UM425IA, UX363EA |
Q & A
There are no questions yet