Asus A32N1405 Battery For Rog G551 Rog G551JK Rog GL771J
₹2,299.00 – ₹3,999.00 Incl GST (-33%)
🔖OFFER : Get 5% Discount across website
use code: APRIL5X Offer ends in 15 hrs 2 mins 6 secs. 🕐
🚴‍♂️ Same Day Delivery: (for prepaid orders & selected cities only)
Want it today, June 5? Order within 09 hrs 22 mins 6 secs. Select same day from Delivery option (Order placed on Sunday will be delivered on Monday)
Condition: Brand New
Voltage: 10.8V – Capacity: 56Wh /43Wh, 5200mAh / 4000mAh
Number of Cells: 6 cells
Cell Type: Li-ion – Color: Black
Warranty: 12 months Replacement warranty support By Lap Gadgets (30 days money back guarantee).

Note: Kindly Select Brand from the given option menu.
👨‍👨‍👦‍👦-
Someone from Pune & 10 others
bought this item recently.
Real Reviews on Google.
Good website store for laptop parts..good delivery in north india
Maneesh Pathak
2023-05-13
I received well packed and very well working bettery. Initially i am worried about company ,since its first time i have chosen,and get very well communication on watup . Another thing about product I have received manufacturing of 2019,but as i attach my laptop and review two days , I can say its awesome. Thanking you Lap Gadgets team. I also give my opinion ,for better for people like me ,if your application like other ecommerce platform,it will be more interactive for us. But overall i can say its trustable and reliable. Thanks
Mohan Kakumanu
2023-04-28
I have purchased a laptop battery and I was having trouble in replacement and the support helped me by doing video call and explaining.
The urge to write about my experiences with LapGadgets made me ask for the review link from them. It would be difficult to comprehend my experience in words though but still for the benefit of customers like me I would. It so happened that my ThinkPad's battery had died and I purchased a new battery about a year ago from LapGadgets, which they supplied was original and due to perhaps several charging cycles it's capacity dipped to a significant fraction and since LapGadgets offered 1 year warranty with the same I reached out to them to which they promptly responded. I must mention Mr. Jignesh from LapGadgets who took an extra mile to send me a fresh, original and obviously non-refurbished battery pack within promised time, the experience between these was amazing and I would always recommend LapGadgets for everyone to fulfil their laptop parts replacements
I ordered multiple macbook usb c compatible chargers , quality was superb , Jignesh bhai provided me discounts , next day delivery, nice packing, overall nice experience , would easily recommend to anyone buying compatible chargers
Shamsher Singh
2023-03-25
I had a wonderful experience with Lap Gadgets . I received the Laptop Battery which was, unfortunately not the right one for my HP laptop. Before I reached the concerned personnel , I doughts for replacement. However, to my surprise , the matter was resolved immediately on priority. I am thankful to them and I wish to place it on record. Shamsher Singh.
akiL Totanawala
2023-03-24
I placed an Order for my Laptop & it was delivered in 3 days .. The Battery is Genuine & comes with One Year Warranty ..
Technical Jugaad
2023-03-24
Best service & support, product quality also best.
Customers who bought this item also bought
₹

1,110.00 –

₹

3,799.00 Incl GST
buy with confidence
Buy Asus A32N1405 Battery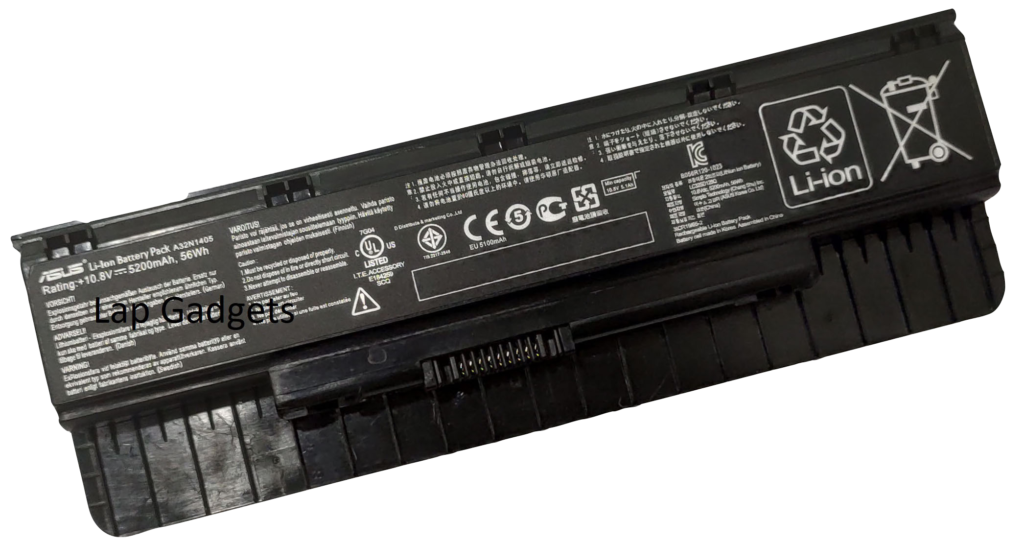 Get the best out of our Asus product experts having extensive knowledge of Asus laptop batteries,
Asus A32N1405 battery specs
The Perfect battery life for Your Asus Vivobook
Get going with longer Battery Life and Improved Laptop Performance with this Asus A32N1405 BATTERY. This battery is with highest grade cells and best quality components which provides longer battery life with fast charging. This is battery is suitable to Rog G551, Rog Gl771J, G771JM, N551JW, R555JB with Core i3, i5 and i7 Variants.
Asus A32N1405 Battery Price in India is the lowest on lapgadgets.in amongst all major online marketplaces in India.
This high quality rechargeable Asus A32N1405 Battery is designed with the highest control standards; have internal circuit boards with smart chips ( Cell imbalance shut off protection, Thermal runaway protection, Overcharge shut off protection, Over discharge shut off protection, High/low temperature shut off protection ), and are made from eco-friendly materials without lead or mercury. Every Asus laptop battery has been Certified by CE, UL, ROHS, ISO9001/9002 and has passed strict safety tests. Long lasting, this extended 2 cells Asus A32N1405 battery can be charged/discharged for more than 600-800 cycles.
Here are some few Important Tips for using Asus A32N1405 Laptop Battery:
This New Asus A32N1405 Laptop Battery comes in discharged/ partially charged state and it should be charged minimum for 2-3 charge/ discharge cycles to achieve its optimum performance.
When you charge a new Battery your laptop power meter may indicate that charging is complete after a few minutes, don't worry about it and just remove the battery and install it again and repeat the charging procedure.
It is important to fully charge and fully discharge rechargeable laptop batteries after every 2 weeks, failing to do so may decrease Battery Life.
Asus A32N1405 Battery Backup will be minimum 2-3 hours and Maximum will depend on your Laptop Usage/ condition 
If your Asus Battery is not charging then kindly try a different charger to verify because this problem may occur due to a faulty charger also.
If Battery will not be in use for a long time then it is recommended that you should remove it from the device and store it in a cool, dry and clean place
Asus A32N1405 Battery - Frequently Asked Questions
0B110-00300000
0B11000300000
0B110-00300100
0B11000300100
3ICR19/65-2
3ICR19/652
A32LI9H
A32N1405
A32N14O5
A32NI405
G551
G58JK
G771JK
LC32SD128Q
N771
G551JB
G551VW-FW280T
G58JB
G58JM4710
G58JW4200
G58JX
G771JM-T4039D
G771JM-T7025D
G771JM-T7031H
G771JM-T7053H
G771JM-T7061H
G771JM-T7068H
G771JX
GL551JW-CN085H
GL771JM-T4034H
GL771JM-T7128H
GL771JM-T7129H
GL771JM-T7143H
GL771JX
N551JB-1A
N551JB-8A
N551JB-CN021H
N551JB-CN049T
N551JB-CN060P
N551JB-CN072T
N551JB-CN109T
N551JB-DM018H
N551JB-DM019H
N551JB-DM055H
N551JB-DM073T
N551JB-DN061H
N551JB-DN061T
N551JB-XO044T
N551JK-1B
N551JK-CN016H
N551JK-CN047H
N551JK-CN079H
N551JK-CN125H
N551JK-CN130H
N551JK-CN173H
N551JK-CN176H
N551JK-CN189H
N551JK-DM078H
N551JK-XO
N551JM-1A
N551JM-1C
N551JM4200
N551JM4710
N551JM-CN007H
N551JM-CN029H
N551JM-CN040H
N551JM-CN089D
N551JM-CN098H
N551JM-CN107H
N551JM-XO023D
N551JQ-1A
N551JQ-AS71
N551JQ-CN045H
N551JQ-CN094H
N551JQ-DH71-CA
N551JQ-DM035H
N551JQ-DM046H
N551JQ-DS71
N551JQ-XO
N551JW-1B
N551JW4200
N551JW-CN002D
N551JW-CN062D
N551JW-CN067H
N551JW-CN079H
N551JW-CN094H
N551JW-CN096H
N551JW-CN097H
N551JW-CN149H
N551JW-CN202H
N551JW-CN212D
N551JW-CN217H
N551JW-CN317H
N551JW-CN357T
N551JW-CN373
N551JX-1A
N551JX-1C
N551JX-CN031H
N551JX-CN043H
N551JX-CN045H
N551JX-CN046H
N551JX-CN079H
N551JX-CN080H
N551JX-CN082H
N551JX-CN085H
N551JX-CN122H
N551JX-CN157H
N551JX-CN157T
N551JX-CN167H
N551JX-CN176H
N551JX-CN197T
N551JX-CN215H
N551JX-CN235H
N551JX-CN289H
N551JX-CN291H
N551JX-CN311T
N551JX-CN349T
N551JX-DM140H
N551JX-DM153D
N551JX-DM193H
N551JX-DM258T
N551JX-DM341T
N551JX-DM362T
N551JX-DS71
N551VW-1B
N551VW-8A
N551VW-CN003T
N551VW-CN009T
N551VW-CN089T
N551VW-CN125T
N551VW-FI260T
N551VW-FW119T
N551VW-FW238T
N551VW-FY195T
N551VW-FY197T
N551VW-FY219T
N551VW-FY286T
N551ZU7600
N551ZU-CN010D
N551ZU-DM002H
N751JK-DH71
N751JK-T4161H
N751JK-T4199H
N751JK-T4205H
N751JK-T4226D
N751JK-T4250H
N751JK-T7043H
N751JK-T7064H
N751JK-T7100H
N751JK-T7118H
N751JK-T7128H
N751JK-T7129H
N751JK-T7130H
N751JK-T7165H
N751JK-T7246
N751JK-T7256H
N751JX-T4041T
N751JX-T4120H
N751JX-T4180H
N751JX-T7006D
N751JX-T7034H
N751JX-T7060H
N751JX-T7159H
N751JX-T7174T
N751JX-T7233D
R555JB
R555JB-XO009D
R555JK
R555JK-CN273H
R555JQ
R555JW
R555JX-XO124D
R555ZU
ROG G551JK-CN010D
ROG G551JK-CN011D
ROG G551JK-CN074H
ROG G551JK-CN100H
ROG G551JK-CN122H
ROG G551JK-CN162H
ROG G551JK-CN271H
ROG G551JK-CN280D
ROG G551JK-DM059D
ROG G551JK-DM142H
ROG G551JK-DM203H
ROG G551JK-DM204H
ROG G551JM-CN
ROG G551JM-CN013D
ROG G551JM-CN074H
ROG G551JM-CN082H
ROG G551JM-CN121H
ROG G551JM-CN128H
ROG G551JM-CN133H
ROG G551JM-CN140H
ROG G551JM-DH71-CA
ROG G551JM-DM057D
ROG G551JM-DM118H
ROG G551JM-DM169H
ROG G551JW-CN
ROG G551JW-CN043H
ROG G551JW-CN053H
ROG G551JW-CN073H
ROG G551JW-CN080H
ROG G551JW-CN099D
ROG G551JW-CN099H
ROG G551JW-CN105H
ROG G551JW-CN178H
ROG G551JW-CN180H
ROG G551JW-CN277D
ROG G551JW-CN319D
ROG G551JW-DM022H
ROG G551JW-DM139H
ROG G551JW-DM158H
ROG G551JW-DM221H
ROG G551JW-DM272H
ROG G551JW-DM279T
ROG G551JW-DM282T
ROG G551JW-DM330T
ROG G551JW-DS71CA
ROG G551JX-CN030
ROG G551JX-CN047H
ROG G551JX-CN129D
ROG G551JX-CN267D
ROG G551JX-CN359D
ROG G551JX-DM036H
ROG G551JX-DM128H
ROG G551JX-DM142D
ROG G551JX-DM143H
ROG G551JX-DM171H
ROG G551JX-DM198H
ROG G551JX-DM217H
ROG G551JX-DM218H
ROG G551JX-DM321D
ROG G551JX-DM344T
ROG G551JX-DM351T
ROG G551VW-CN090
ROG G551VW-F
ROG G551VW-FI075T
ROG G551VW-FI157T
ROG G551VW-FI233T
ROG G551VW-FI242T
ROG G551VW-FW
ROG G551VW-FW074T
ROG G551VW-FW106D
ROG G551VW-FW107T
ROG G551VW-FW149T
ROG G551VW-FW150T
ROG G551VW-FW170T
ROG G551VW-FW276D
ROG G551VW-FW290D
ROG G551VW-FY180D
ROG G551VW-FY315T
ROG G58JM4710
ROG G58JW4200
ROG G58JW4720
ROG G741JM-T4046H
ROG G741JM-T4047H
ROG G741JM-T4066H
ROG G741JM-T4131H
ROG G741JW-T7100H
ROG G741JW-T7101H
ROG G741JW-T7109H
ROG G741JW-T7154H
ROG G741JW-T7171T
ROG G771JM-T4039D
ROG G771JM-T7025D
ROG G771JM-T7031H
ROG G771JM-T7058H
ROG G771JM-T7063H
ROG G771JM-T7068H
ROG G771JW-BSI7N04
ROG G771JW-T7009H
ROG G771JW-T7056H
ROG GL551JK-CN128H
ROG GL551JK-CN235H
ROG GL551JK-CN308H
ROG GL551JM-EH74
ROG GL551JW-DM366T
ROG GL551JW-DM410T
ROG GL551JW-WH71
ROG GL551JW-XO376T
ROG GL551JX-ES71
ROG GL771JM-DH71
ROG GL771JM-T7093H
ROG GL771JM-T7098H
ROG GL771JM-T7129H
ROG GL771JW-T7047H
ROG GL771JW-T7081H
ROG GL771JW-T7082T
ROG GL771JW-T7083T
ROG GL771JW-T7143H
ROG GL771JW-T7170T
Additional information
| | |
| --- | --- |
| Weight | 1 kg |
| Dimensions | 34 × 16 × 8 cm |
| Capacity | |
| Cells | |
| Voltage | |
| Warranty | |
| Brand | |
Q & A
1 pish asus g551v battery
yes it is compatible with g551v