Asus A31-K53 Battery, A42-K53 A32-K53, A41-K53 (4000mAh,6 cells)
₹2,999.00 Incl GST (-57%)
You Save:
₹

1,700.00 (56.69%)
🔖OFFER : Get 5% Discount across website
use code: APRIL5X Offer ends in 12 hrs 5 mins 37 secs. 🕐
🚴‍♂️ Same Day Delivery: (for prepaid orders & selected cities only)
Want it today, June 8? Order within 06 hrs 25 mins 37 secs. Select same day from Delivery option (Order placed on Sunday will be delivered on Monday)
Highly compatible with A31-K53, A32-K5,  A41-K53, A42-K53
Compatible with Asus K53 A43, A53, X43x X54h, X54c,  K53SD, Asus K53SD
12 months Replacement Warranty By Lap Gadgets (10 days money back guarantee)
Reach our Asus product expert at +91-261-3150304 for more information .
🚀
4
sold in last 72 hours
👨‍👨‍👦‍👦-
Someone from Samastipur & 27 others
bought this item recently.
Real Reviews on Google.
Genuine products.
Good website store for laptop parts..good delivery in north india
Maneesh Pathak
2023-05-13
I received well packed and very well working bettery. Initially i am worried about company ,since its first time i have chosen,and get very well communication on watup . Another thing about product I have received manufacturing of 2019,but as i attach my laptop and review two days , I can say its awesome. Thanking you Lap Gadgets team. I also give my opinion ,for better for people like me ,if your application like other ecommerce platform,it will be more interactive for us. But overall i can say its trustable and reliable. Thanks
Mohan Kakumanu
2023-04-28
I have purchased a laptop battery and I was having trouble in replacement and the support helped me by doing video call and explaining.
The urge to write about my experiences with LapGadgets made me ask for the review link from them. It would be difficult to comprehend my experience in words though but still for the benefit of customers like me I would. It so happened that my ThinkPad's battery had died and I purchased a new battery about a year ago from LapGadgets, which they supplied was original and due to perhaps several charging cycles it's capacity dipped to a significant fraction and since LapGadgets offered 1 year warranty with the same I reached out to them to which they promptly responded. I must mention Mr. Jignesh from LapGadgets who took an extra mile to send me a fresh, original and obviously non-refurbished battery pack within promised time, the experience between these was amazing and I would always recommend LapGadgets for everyone to fulfil their laptop parts replacements
I ordered multiple macbook usb c compatible chargers , quality was superb , Jignesh bhai provided me discounts , next day delivery, nice packing, overall nice experience , would easily recommend to anyone buying compatible chargers
Shamsher Singh
2023-03-25
I had a wonderful experience with Lap Gadgets . I received the Laptop Battery which was, unfortunately not the right one for my HP laptop. Before I reached the concerned personnel , I doughts for replacement. However, to my surprise , the matter was resolved immediately on priority. I am thankful to them and I wish to place it on record. Shamsher Singh.
akiL Totanawala
2023-03-24
I placed an Order for my Laptop & it was delivered in 3 days .. The Battery is Genuine & comes with One Year Warranty ..
Description
Asus A31-K53 Battery, A42-K53 A32-K53, A41-K53 (4000mAh,6 cells)
Lap Gadgets batteries keep you connected always to carry out your important work on your laptop. No matter wherever you are.
Our replacement batteries are best in market in terms of quality, reliability and price. You are being asssured for every paise you spent on our batteries.
Fresh batteries – 0-Cycle – all our batteries are unused, fresh directly from factory.
Premium Cells – We use quailty cells with atmost capacity.
Rigorous Testing – All our batteries are tested to ensure it gives optimal performance to you.
Note
New battery packs must be charge fully before use. It should be fully charged and discharged for couple of cycles to get optimum performance.
Type – Lithium-Polymer battery
Cells –  6 cells 
Capacity – 4000 mAh
12 months carry in replacement warranty 
We are confident in our product hence we give you 10 days free returns & 30 days self return window to either get replacement or return (know more)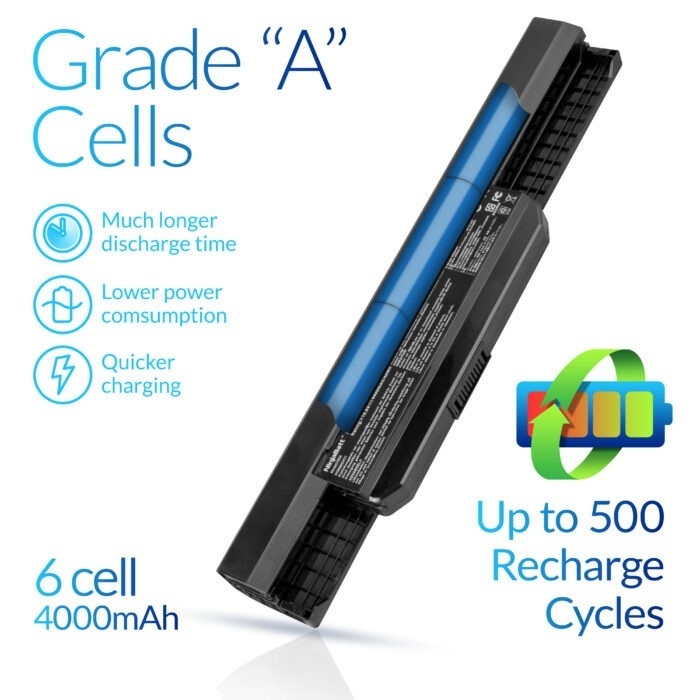 High Quality Acer AP18E7M AP18E8M Battery
This Asus A31-K53 Battery, A42-K53 A32-K53, A41-K53 Battery replacement has built-in A+ grade cells and high-quality TI intelligent control chip, which not only performs better, charges faster but lasts longer. In addition, the outer shell of the Asus A31-K53 Battery, A42-K53 A32-K53, A41-K53 is made according to the original battery shape design scheme, using high temperature and wear-resistant ABS +PC alloy environmentally friendly materials, which can be 100% compatible with your laptop and fit closely.
Do not be deceived by the false capacity advertisements from bad merchants, of which battery capacity will often drop off significantly after using a few months. Made with the highest quality "A" grade cells, our Asus A31-K53 Battery, A42-K53 A32-K53, A41-K53 Battery has passed various strict quality tests to ensure that it meets OEM specifications, which can provide more than 600 charging cycles to maintain the same capacity for a long time.
Using a poor battery with unstable performance may do harm to the notebook and your safety. Our Asus A31-K53 Battery, A42-K53 A32-K53, A41-K53 Replacement Battery has passed CE, UL, ROHS, and other international authority certifications, which provides a variety of protection functions, effectively preventing common risks such as short circuits, overheating, and overvoltage. In order to protect your laptop and your safety, please rest assured to purchase our high-quality batteries!
Why buy from Lap Gadgets ?
A31-K53, A32-K53, A41-K53, A42-K53
07G016H31875
07G016HG1875
07G016HK1875
07G016JE1875
90-N3V3B1000Y
A31-K53
A32-K53
A41-K53
A42-K53
A43
A43B
A43BR
A43BY
A43E
A43EB815E-SL
A43EB815SD-SL
A43EB94SD-SL
A43EB95SD-SL
A43EB96SD-SL
A43EI233SA-SL
A43EI233SJ-SL
A43EI233SV-SL
A43EI235SD-SL
A43EI241SV-SL
A43EI243E-SL
A43EI243SA-SL
A43EI243SJ-SL
A43EI243SV-SL
A43EI245SD-SL
A43EI245SM-SL
A43EI267SD-SL
A43EI267SM-SL
A43F
A43J
A43JA
A43JB
A43JC
A43JE
A43JF
A43JG
A43JH
A43JN
A43JP
A43JQ
A43JR
A43JU
A43JV
A43S
A43SA
A43SD
A43SJ
A43SM
A43SV
A43T
A43TA
A43TK
A43U
A53
A53B
A53BY
A53E
A53E-EH31
A53E-EH91
A53EI267SM-SL
A53E-NH51
A53E-XA2
A53E-XE1
A53E-XE2
A53F
A53J
A53JA
A53JB
A53JC
A53JE
A53JH
A53JQ
A53JR
A53JT
A53JU
A53S
A53SD
A53SJ
A53SV
A53SV-EH71
A53SV-NH51
A53SV-NH71
A53SV-TH71
A53SV-XC1
A53SV-XE2
A53SV-XT1
A53T
A53TA
A53TA-EH61
A53TA-XE2
A53TA-XN1
A53U
A53U-EH11
A53U-EH21
A53U-EH22
A53U-XA1
A53U-XE1
A53U-XE2
A53U-XT2
A53XI233SV-SL
A53XI235SD-SL
A53XI243SV-SL
A53XI245SD-SL
A53XI245SM-SL
A53XI267SM-SL
A53Z
A54
A54C
A54H
A54HO
A54HR
A54H-SX147V
A54H-SX204V
A54HY
A54L
A54LY
A83
A83B
A83BR
A83BY
A83E
A83S
A83SA
A83SD
A83SJ
A83SM
A83SV
A83T
A83TA
A83U
K43
K43B
K43BY
K43E
K43E-2410M
K43E-3CVX
K43E-3DVX
K43E-3EVX
K43E-3FVX
K43E-3HVX
K43E-3IVX
K43E-3JVX
K43E-VX037
K43E-VX052R
K43E-VX056
K43E-VX057
K43E-VX065
K43E-VX113
K43E-VX114V
K43E-VX118
K43E-VX120D
K43E-VX122
K43E-VX123
K43E-VX124
K43E-VX127
K43E-VX139
K43E-VX139D
K43F
K43J
K43JC
K43JM
K43JS
K43JY
K43S
K43SC
K43SD
K43SE
K43SJ
K43SJ-VX061D
K43SJ-VX077
K43SJ-VX086V
K43SJ-VX177D
K43SJ-VX183D
K43SJ-VX184D
K43SJ-VX189D
K43SJ-VX190
K43SR
K43SV
K43SV-193D2410M
K43SV-VX014D
K43SV-VX065D
K43SV-VX094
K43SV-VX097V
K43SV-VX120
K43SV-VX124V
K43SV-VX129
K43SV-VX142
K43SY
K43T
K43TA
K43U
K43U-VX006
K43U-VX008
K43U-VX012
K43U-VX016D
K53
K53-3D
K53B
K53BY
K53E
K53E-1BSX
K53E-A1
K53E-B
K53E-B1
K53E-BBR1
K53E-BBR11
K53E-BBR3
K53E-BBR7
K53E-BD4TD
K53E-C1
K53E-DH31
K53E-DH51
K53E-DH52
K53E-DH91
K53E-RBR4
K53E-SX048X
K53E-SX049X
K53E-SX058V
K53E-SX069V
K53E-SX104V
K53E-SX111V
K53E-SX123V
K53F
K53J
K53JA
K53JC
K53J-D1B
K53JE
K53JF
K53JG
K53JN
K53JS
K53J-SX216A
K53JT
K53S
K53S/E
K53SA
K53SC
K53SD
K53SD-DS51
K53SD-DS71
K53SD-SX168D
K53SE
K53SJ
K53SJ-SX216V
K53SN
K53S-SX085
K53SV
K53S-V1G
K53SV-2GG-SX006V
K53SV-A1
K53SV-B1
K53SV-DH51
K53SV-DH71
K53SV-SX045R
K53SV-SX055V
K53SV-SX071V
K53SV-SX075V
K53SV-SX077D
K53SV-SX079V
K53SV-SX080V
K53SV-SX081
K53SV-SX087V
K53SV-SX121V
K53SV-SX123V
K53SV-SX125
K53SV-SX126V
K53SV-SX131V
K53SV-SX137V
K53SV-SX144D
K53SV-SX146V
K53SV-SX169D
K53SV-SX174V
K53SV-SX204V
K53SV-SX223V
K53SV-V2G-SX208V
K53SV-XR1
K53T
K53TA
K53TA-A1
K53TA-BBR6
K53U
K53U-A1
K53U-DH21
K53U-RBR5
K53U-RBR7
K53Z
K54
K54C
K54H
K54HO
K54HR
K54HY
K54L
K54LY
K84
K84C
K84H
K84HO
K84HR
K84HY
K84L
K84LY
P43
P43E
P43E-VO045X
P43E-VO155X
P43E-XH31
P43E-XH51
P43F
P43J
P43JC
P43S
P43SJ
P43SL
P53
P53E
P53F
P53J
P53JC
P53S
P53SJ
Pro4J
Pro4JE
Pro4JEB96SJ-SL
Pro4JEI235SJ-SL
Pro4JEI245SJ-SL
Pro4JEI262SJ
Pro4JI235SJ-SL
Pro4JI245SJ-SL
Pro4JS
Pro4JSJ
Pro5N
Pro5NB
Pro5NBR
Pro5NBY
Pro5NE
Pro5NS
Pro5NSC
Pro5NSD
Pro5NSJ
Pro5NSK
Pro5NSM
Pro5NSV
Pro5NT
Pro5NTA
Pro5NTK
Pro5NU
Pro5NZ
Pro5P
Pro5PE
Pro5PS
Pro5PSJ
Pro8G
Pro8GB
Pro8GBR
Pro8GBY
Pro8GE
Pro8GS
Pro8GSA
Pro8GSD
Pro8GSJ
Pro8GSM
Pro8GSV
Pro8GT
Pro8GTA
Pro8GTK
Pro8GU
X43
X43B
X43BR
X43BY
X43E
X43EC60BR-SL
X43EC60U-SL
X43EE35BY-SL
X43EE45BR-SL
X43J
X43JE
X43JF
X43JR
X43JX
X43S
X43SA
X43SD
X43SJ
X43SM
X43SR
X43SV
X43T
X43TA
X43U
X43V
X44
X44C
X44H
X44HO
X44HR
X44HY
X44L
X44LY
X53
X53B
X53BY
X53E
X53EE35BY-SL
X53E-RH31
X53E-RH51
X53E-RH52
X53E-RH71
X53E-RH92
X53E-XR1
X53E-XR2
X53E-XR3
X53S
X53SK
X53SV
X53SV-MH71
X53SV-RH51
X53SV-RH52
X53SV-RH71
X53SV-SX097V
X53SV-SX111V
X53SV-SX117V
X53SV-SX132V
X53SV-SX173V
X53SV-SX179V
X53SV-SX200V
X53SV-SX213V
X53SV-SX214V
X53SV-SX218V
X53SV-SX231V
X53SV-SX246
X53SV-SX296V
X53SV-TH71
X53T
X53TA
X53U
X53U-RH11
X53U-RH21
X53U-XR1
X53U-XR2
X53XC60U-SL
X53XE35BY-SL
X53XE45BR-SL
X53XE45BY-SL
X53XI233SJ-SL
X53Z
X54
X54C
X54C-BBK3
X54F
X54H
X54HB
X54H-BD1BH
X54H-BD3MA
X54HR
X54HY
X54K
X54L
X54LB
X54L-BBK2
X54L-BBK4
X54LY
X84
X84C
X84EB815HR-SL
X84EB94HR-SL
X84EB95HR-SL
X84EB96HR-SL
X84EI233LY-SL
X84EI235HR-SL
X84H
X84HO
X84HY
X84L
X84LY
X84S
X84SL
Some tips to increase the life of Asus A31-K53 Battery, A42-K53 A32-K53, A41-K53 Battery
Please carefully read the instructions before using the battery.
Before using the new replacement Asus A31-K53 Battery, A42-K53 A32-K53, A41-K53 Battery for the first time, make sure that the battery is full charge for the first time usage and then get it discharge up to 5% and then recharge it for the same pattern for couple of times.
You'd better use a dedicated AC adapter when charging the new Asus A31-K53 Battery, A42-K53 A32-K53, A41-K53 Battery> 
You'd better turn off your Asus laptop when the Asus A31-K53 Battery, A42-K53 A32-K53, A41-K53 Battery
 is charging; do not pull out the power plug or use your computer when charging for the first time.
If you don't use laptop for a long time, please remove the Asus A31-K53 Battery, A42-K53 A32-K53, A41-K53 Battery
 and place it in a ventilated and dry place.
Excessively high or low temperature environment should be avoided when using the replacement Asus A31-K53 Battery, A42-K53 A32-K53, A41-K53 Battery, as the too low or too high temperature will affect the battery life.
Specification
Additional information
| | |
| --- | --- |
| Weight | 0.3 kg |
| Dimensions | 30 × 10 × 5 cm |
Q & A (6)
Q & A
Can anyone tell me this Battery compatible for #Asus *K53 S* model??
this battery will be compatible
is this battery fit in Asus K43SA
Is its a capable Asus X54C Model?
How many cells in Asus laptop battery K-32 A-53
What is the backup time of Asus K-32A-53 laptop battery