New 280W 20V 14A AC Charger Fit for ASUS ROG G703GX-EV017FR,G703GS-WS71,G703GI,ADP-280BB B Laptop Power Supply Adapter Cord
Original Asus
Roll over image to zoom in
Click to open expanded view
You Save:
₹

1,000.00 (10%)
₹9,999.00 GST Invoice (-10%)
Offer:
🎁 Get 10% Instant Discount, use code : XMAS10X -Offer expires in 08 hrs 17 mins 8 secs Order Now
FEATURES : Strong, durable construction and compact design. Charges your device at maximum current and full speed. Charging will automatically stop when battery is full.

POWER SPECS:AC input:100 – 240V / 50-60Hz 3.2A output:20V/14A Power : 280W DC Plug Size :6.0 mmx3.7mm

COMPATIBLE MODELS: ROG G703GX-EV017FR,G703GS-WS71,G703GI,ADP-280BB B

Here's What You Get: 1 x power adapter, 1 x high-quality AC cable

SAFETY RELIABILITY: All of our product lines are put through rigorous quality control procedures to ensure safe, reliable operation for years to come. We guarantee our products will charge your device as efficiently as the original charger, or any other replacement.

Warranty: 12 months hassle free onsite warranty support and 30 days moneyback guarantee*.
Estimated Delivery:
January 30 to February 1 - Order now. Check you pincode.
👨‍👨‍👦‍👦-
Soumyaa from Kolkata & Vipin from Padrauna
bought this item recently.
Why buy from

Lap Gadgets

?
Buy with confidence you get 10 days free returns and 30 days moneyback guarantee in our products
know more
Buying on lapgadgets.in is very simple and safe, you are protected by Razorpay - India's leading payment gateway
We are much confident in our products hence we take atmost care and responsibility to satisfy you.
know more
Our customer support experts are available for your new purchase query or any technical query of any product
Consult our experts, avoid the risk of laptop failure and other damage due to wrong part purchase.
Frequently Bought Together
Customers who bought this item also bought
₹

3,499.00 –

₹

5,999.00 GST Invoice
buy with confidence
Original Asus 280w Adapter
Get the best out of our Asus product experts having extensive knowledge of Asus notebook accessories.
The Perfect Power Companion for Your ASUS Rogs Gaming Laptop
Always on the go? No more worries about running out of battery power! You can power your Laptop with this 280w original charger 
Provides 20v 14a power output
Offers reliable power for dependable performance
Genuine Asus 280w Adapter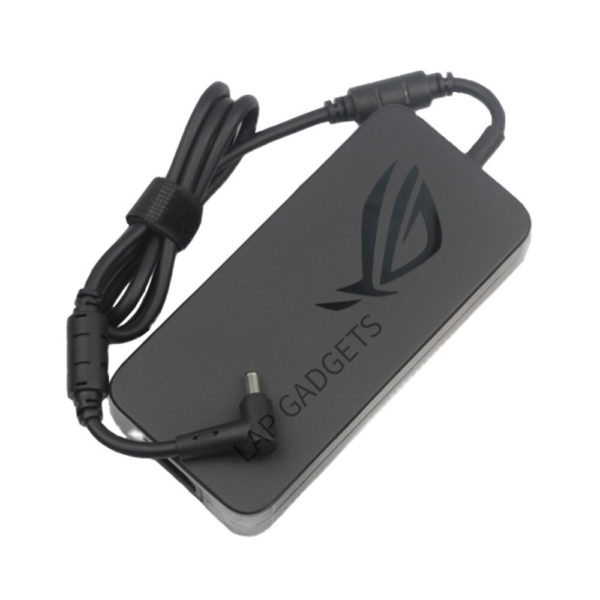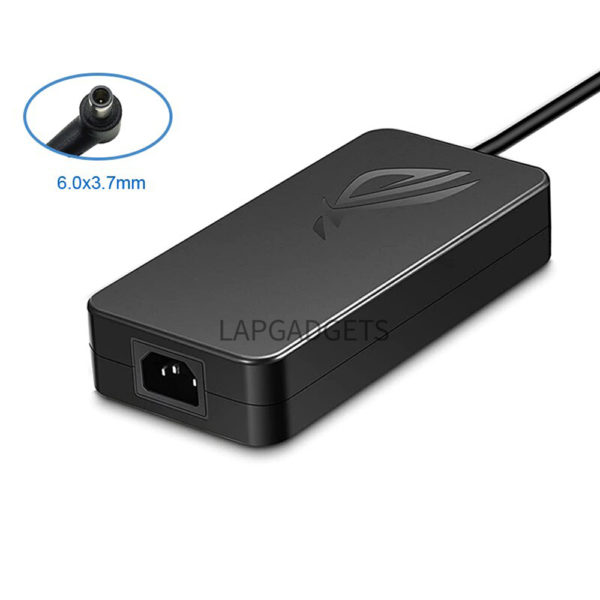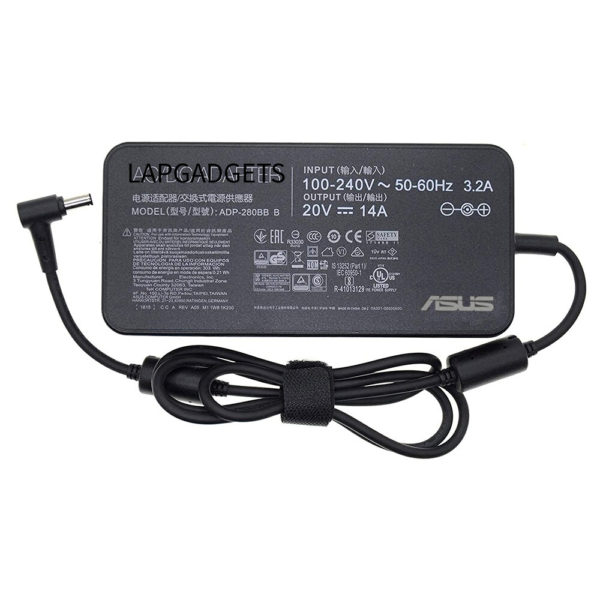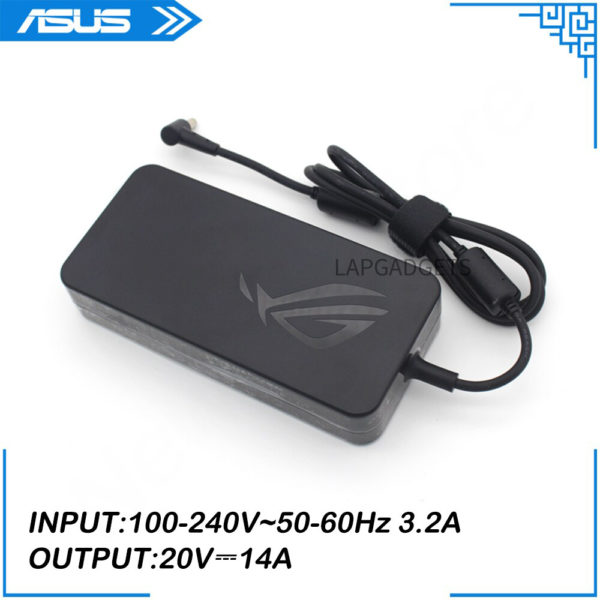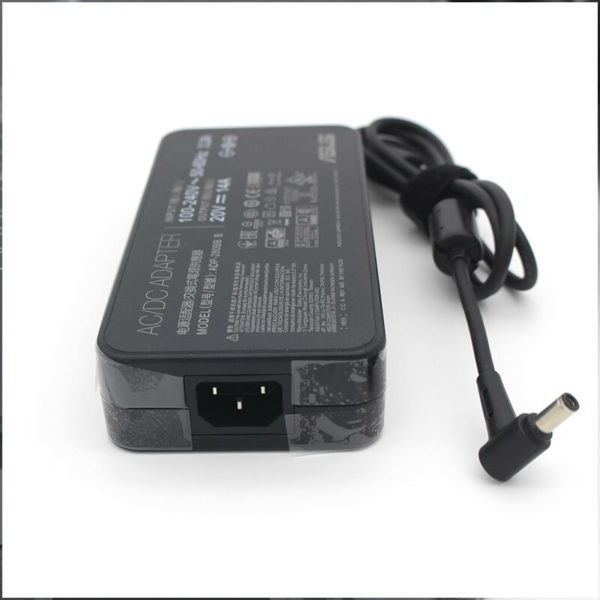 Compatible Asus Part Numbers:
ADP-280BB B
0A001-00610500
0A001-00800100
0A001-00800600
0A001-00801000
Compatible MSI / Asus Laptop Models:
G751JY
GE63
GE63 8SF
GE63 Raider RGB 8SE
GE63 Raider RGB 8SE 267SG
GE63 Raider RGB 8SE-005NL
GE63 Raider RGB 8SE-006BE
GE63 Raider RGB 8SE-022CZ
GE63 Raider RGB 8SE-032ES
GE63 Raider RGB 8SE-033XES
GE63 Raider RGB 8SE-043CN
GE63 Raider RGB 8SE-061PL
GE63 Raider RGB 8SE-083AU
GE63 Raider RGB 8SE-091UK
GE63 Raider RGB 8SE-217TW
GE63 Raider RGB 8SE-235RU
GE63 Raider RGB 8SE-428MY
GE63 Raider RGB 8SF
GE63 RAIDER RGB 8SF-004BE
GE63 RAIDER RGB 8SF-019CZ
GE63 RAIDER RGB 8SF-030ES
GE63 RAIDER RGB 8SF-031XES
GE63 RAIDER RGB 8SF-035PT
GE63 RAIDER RGB 8SF-041CN
GE63 RAIDER RGB 8SF-062PL
GE63 RAIDER RGB 8SF-064IT
GE63 RAIDER RGB 8SF-077FR
GE63 RAIDER RGB 8SF-082AU
GE63 RAIDER RGB 8SF-085ID
GE63 RAIDER RGB 8SF-090UK
GE63 RAIDER RGB 8SF-091CZ
GE63 RAIDER RGB 8SF-096MY
GE63 RAIDER RGB 8SF-221CA
GE63 RAIDER RGB 8SF-232RU
GE63 RAIDER RGB 8SF-233RU
GE63 RAIDER RGB 8SF-237ZA
GE63 RAIDER RGB 8SF-248IN
GE63 RAIDER RGB 8SF-249TR
GE63 RAIDER RGB 8SF-258TR
GE63 RAIDER RGB 8SF-258XTR
GE63 Raider RGB 8SG
GE63 Raider RGB 8SG-002BE
GE63 Raider RGB 8SG-020NE
GE63 RAIDER RGB 8SG-024IT
GE63 Raider RGB 8SG-029E
GE63 Raider RGB 8SG-029ES
GE63 Raider RGB 8SG-040CN
GE63 Raider RGB 8SG-076FR
GE63 Raider RGB 8SG-081AU
GE63 Raider RGB 8SG-200MY
GE63 Raider RGB 8SG-215TW
GE63 Raider RGB 8SG-238ZA
GE75 8SF
GE75 8SG
GE75 8SG Raider
Ge75 9SG
GE75 Raider
GE75 RAIDER 8RE
GE75 RAIDER 8RE-002IT
GE75 RAIDER 8RE-003NL
GE75 RAIDER 8RE-005BE
GE75 RAIDER 8RE-013ES
GE75 RAIDER 8RE-014XES
GE75 RAIDER 8RE-015FR
GE75 RAIDER 8RE-018AU
GE75 RAIDER 8RE-021
GE75 RAIDER 8RE-031PL
GE75 RAIDER 8RE-053TW
GE75 RAIDER 8RE-062XPL
GE75 RAIDER 8RE-18AU
GE75 Raider 8SE-028CN
GE75 RAIDER 8SF-005NL
GE75 RAIDER 8SF-019CZ
GE75 Raider 8SF-026CN
GE75 Raider 8SF-027CN
GE75 RAIDER 8SF-033XES
GE75 RAIDER 8SF-053PL
GE75 RAIDER 8SF-060FR
GE75 RAIDER 8SF-074UK
GE75 RAIDER 8SF-091TW
GE75 RAIDER 8SF-212ZA
GE75 RAIDER 8SF-220FR
GE75 RAIDER 8SF-229TR
GE75 RAIDER 8SF-240XTR
GE75 RAIDER 8SG-011JP
GE75 Raider 8SG-024CN
GE75 Raider 8SG-025CN
GE75 RAIDER 8SG-030ES
GE75 RAIDER 8SG-036PT
GE75 RAIDER 8SG-054PL
GE75 RAIDER 8SG-064AU
GE75 RAIDER 8SG-070ID
GE75 RAIDER 8SG-076MY
GE75 RAIDER 8SG-088UK
GE75 RAIDER 8SG-089TW
GE75 RAIDER 8SG-096CA
GE75 RAIDER 8SG-206RU
GE75 RAIDER 8SG-213ZA
GE75 RAIDER 8SG-227IN
GE75 RAIDER 8SG-274TR
GE75 Raider 9SG
GE75 RAIDER 9SG-637CN
GE75 RAIDER 9SG-638CN
G703GI
G703GI-73500T
G703GI-78D08CB1
G703GI-E5005R
G703GI-E5006T
G703GI-E5019T
G703GI-E5024R
G703GI-E5028T
G703GI-E5032R
G703GI-E5032T
G703GI-E5036T
G703GI-E5048T
G703GI-E5057T
G703GI-E5070T
G703GI-E5075T
G703GI-E5077T
G703GI-E5088R
G703GI-E5094T
G703GI-E5096R
G703GI-E5097R
G703GI-E5119T
G703GI-E5132T
G703GI-E5144T
G703GI-E5148T
G703GI-E5157T
G703GI-E5174T
G703GI-E5179T
G703GI-E5185
G703GI-E5206R
G703GI-I9G1080
G703GI-WS91K
G703GI-XS71
G703GI-XS74
G703GI-XS78K
G703GI-XS98K
G703GI-XS99K
G703GS-78D07CB1
G703GS-78D07CB2
G703GS-DS74
G703GS-E5001R
G703GS-E5005R
G703GS-E5006T
G703GS-E5007T
G703GS-E5011T
G703GS-E5014R
G703GS-E5019T
G703GS-E5024T
G703GS-E5028T
G703GS-E5036T
G703GS-E5042T
G703GS-E5045T
G703GS-E5049T
G703GS-E5051T
G703GS-E5052T
G703GS-E5058
G703GS-WS71
G703GS-WS74
G703GXR
G731GT
G731GV
ProArt StudioBook 17 W700G2T
ProArt StudioBook 17 W700G2T-AV004R
ProArt StudioBook Pro W700
ProArt StudioBook Pro W700G2T
ProArt StudioBook Pro X W730G5T
ROG G703GI
ROG G703GI-E5005R
ROG G703GI-E5025T
ROG G703GI-E5042T
ROG G703GI-E5043T
ROG G703GI-E5077T
ROG G703GI-E5089T
ROG G703GI-E5094T
ROG G703GI-E5099T
ROG G703GI-WS91K
ROG G703GI-XS71
ROG G703GI-XS74
ROG G703GI-XS98K
ROG G703GI-XS99K
ROG G703GS
ROG G703GS-1A
ROG G703GS-78D07CB2
ROG G703GS-E5001R
ROG G703GS-E5002T
ROG G703GS-E5011T
ROG G703GS-E5016T
ROG G703GS-E5019T
ROG G703GS-E5028T
ROG G703GS-E5036T
ROG G703GS-E5042T
ROG G703GS-E5057T
ROG G703GS-WS71
ROG G703GX
ROG G703GX-E5001T
ROG G703GX-E5003T
ROG G703GX-E5006T
ROG G703GX-E5008R
ROG G703GX-E5009T
ROG G703GX-E5016T
ROG G703GX-E5025R
ROG G703GX-E5039T
ROG G703GX-E5041R
ROG G703GX-E5041T
Q & A
There are no questions yet