Save
₹

1,300.00
Roll over image to zoom in
Click to open expanded view
Replacement Keyboard for Apple MacBook Air 13″ A1369 (2011) A1466 (2012-2015) MJVE2LL/A MD760LL/A MC965LL/A MD231LL/A MJVG2LL/A Series Laptop Keyboard
₹2,999.00 GST Included (-43%)
🎁 Get 12% Off : use code "12XNAVRATRI"
Limited Time Offer ends in 01 hrs 38 mins 32 secs. For prepaid orders & selected products only.
🚚 Same Day Shipping
Same Day Delivery available in Pune, Bengaluru, Mumbai, Surat & Ahmedabad . Want it tomorrow, October 4? Order within 21 hrs 38 mins 32 secs. (know more)
🛡️ 30 days Buyer Protection
You are fully protected by our 30 days Money Back Guarantee. If you don't like our products over the next 30 days, then we will gladly refund your money. (know more)
Layout:- US & UK Layout available, please choose Layout from the given option Menu

Compatible models:- A1369 2011 A1466 2012 2013 2014 2015 2017
Compatible with: – MJVE2LL/A MD760LL/A MC965LL/A MD231LL/A MJVG2LL/A
6 Months Replacement warranty by Lap Gadgets.
👨‍👨‍👦‍👦-
PRADEEP from Chandauli, Prasanth from Enathu & 7 others
bought this item recently.
Buy with confidence you get 10 days free returns and 30 days moneyback guarantee in our products
know more
Easy Returns
Buying on lapgadgets.in is very simple and safe, you are protected by Razorpay - India's leading payment gateway
Secured Transaction
We are much confident in our products hence we take atmost care and responsibility to satisfy you.
know more
Our Promise
Our customer support experts are available for your new purchase query or any technical query of any product
Excellent Support
Consult our experts, avoid the risk of laptop failure and other damage du to wrong part purchase.
know more
Expert's Advice
Description
Replacement Keyboard for Apple MacBook Air 13″ A1369 (2011) A1466 (2012-2015) MJVE2LL/A MD760LL/A MC965LL/A MD231LL/A MJVG2LL/A Series Laptop Keyboard
APPLE A1466 Keyboard is a high quality replacement keyboard which is perfect for replacing your old and broken laptop keyboard. US & UK Layout and brand new, 100% compatible with your laptop, with 6 months replacement warranty for manufacturer's defects and 30-days money-back guarantee.
How to choose the correct APPLE A1466 Keyboard?
Before you order, Please firstly compare the picture with your keyboard, especially the ribbon cable (position, length and width). Make sure that the model of laptop and part number of keyboard is the right one you need as well as the layout version.
If you dont have the Keyboard, then you just need to search for your MacBook model number/ Part Number, Compatible Part Numbers and Model Numbers are given below.
If you are still not sure after a comparation, please Contact us at 0261 3150304.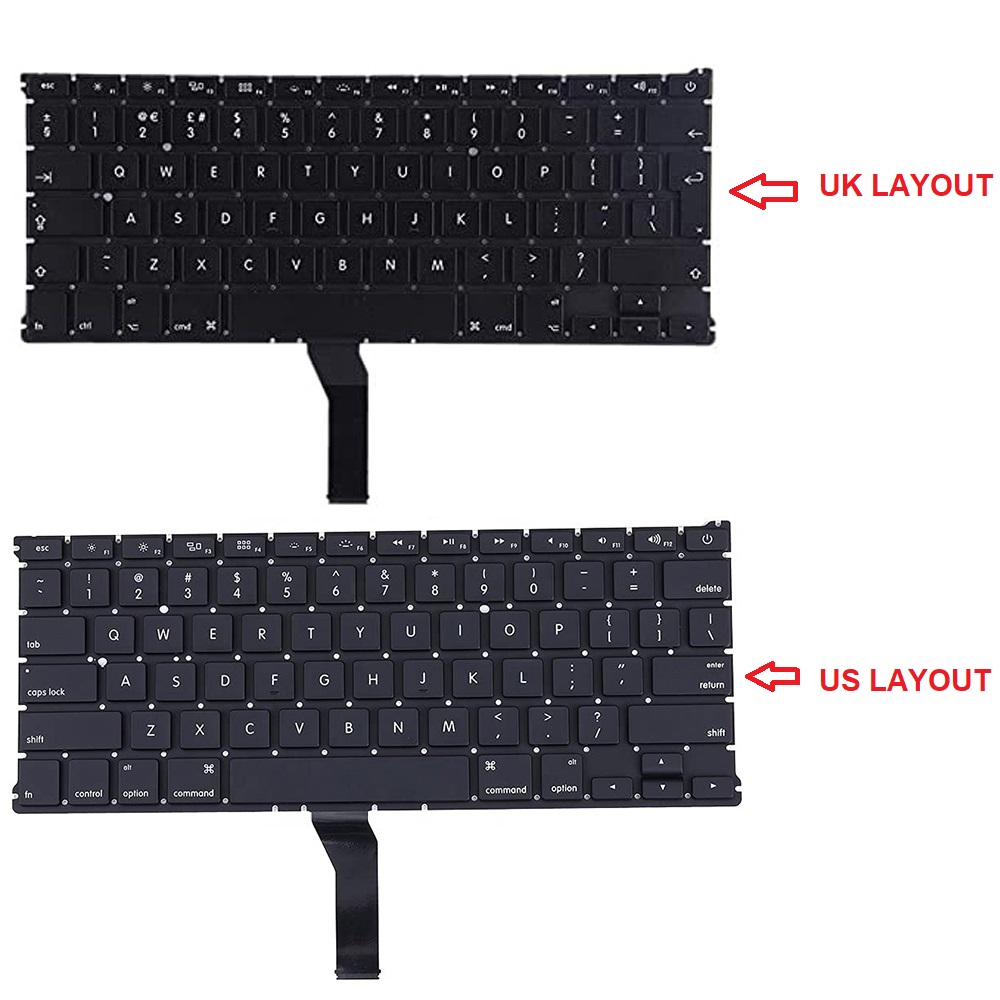 Apple A1369
Apple A1466
Apple MC503
Apple MC503LL/A
Apple MC504
Apple MC504LL/A
Apple MC965
Apple MC965LL/A
Apple MC966
Apple MC966LL/A
Apple MD231
Apple MD231LL/A
Apple MD232
Apple MD232LL/A
Apple MD760
Apple MD760LL/A
Apple MD761
Apple MD761LL/A
How to Install / Replace your APPLE A1466 Keyboard?
Turn off your laptop. Disconnect the AC adapter and any cables, then remove the battery. Turn the laptop over and let it cool off for a few minutes before you begin.
On the underside of the notebook, you'll find screws holding the keyboard and palm rest in place. Set the screws aside, and be sure to keep track of them all.
Turn it over and open the Lid. Slide your fingers under the top of the palm rest and gently pull it up, moving from the center to the outer left and right edges. Leaving the fingerprint reader attached, place the palm rest down in front of the unit.
Lift the damaged APPLE A1466 Keyboard up from the front, then pull it toward you to release it from the notebook's frame. Pull up on the connector to detach.
Attach the new APPLE A1466 Keyboard replacement's connector. Position it over the space vacated by the old connector, and press down firmly until it snaps into place. Slide the top of the keyboard under the lip of the frame (near the display). Ensure that the top edges are just under the frame. Tilt the keyboard down until it lays flat and sits flush with the top, left, and right edges of the frame.
Align the bottom edge of the palm rest along the base of the frame, then press down until the top is also in place. Press firmly on the left and right edges to snap the palm rest into place again.
Close the Lid, and turn the notebook over. Replace all the screws, making sure to tighten them securely. Insert the battery, plug in your AC adapter, and enjoy your new keyboard.
Why buy from Lap Gadgets ?
Q & A (1)
Q & A
Does this keyboard has Backlit keys?
no it does not have backlite