Save
₹

1,200.00
Roll over image to zoom in
Click to open expanded view
Acer AP16J8K Laptop Battery compatible with Acer C731 3ICP6/55/90 AP16J8K Series Tablet
You Save:
₹

1,200.00 (20%)
₹5,999.00 GST Invoice (-20%)
🎁Offer:
Get 10% Instant Discount, Apply code: RAAM9ME in checkout page - Offer expires in 07 hrs 20 mins 34 secs Order Now, Offer Valid only for limited products
Voltage: 11.4V – Capacity: 45Wh , 4050mAh
Number of Cells: 3 cells
Cell Type: Li-polymer – Color: Black
6 months Replacement warranty By Lap Gadgets (10 days money back guarantee)
Reach our product expert at +91-261-3150304 for more information.
🛡️ 30 days Buyer Protection
You are fully protected by our 30 days Money Back Guarantee. If you don't like our products over the next 30 days, then we will gladly refund your money. (know more)
Description
The Perfect Companion for Your Acer AP16J8K Battery
The 3-cell Acer AP16J8K battery is a replacement/spare battery for Acer Chromebook 11 N7 C731 series system. The Acer AP16J8K battery is rechargeable and can be used as replacement or as a convenient spare for Acer Chromebook systems. This Acer AP16J8K battery is powered by Lithium-Polymer technology and has a safeguard chip prevents power surge. The Acer AP16J8K battery lasts on average 48 watt hours and utilizes over-discharge protection to ensure a secure flow of power. Many factors affect battery life. These include: screen brightness, battery conditioning, features, applications, power management and other customer preferences.
Compatibility
Genuine quality-branded parts undergo rigorous testing by qualified engineers to ensure compatibility and reliability in your Acer system.
Our sustaining qualification process allows for testing and certification of the newest technology on your Acer system.
Quality
We uses only OEM grade quality components.
Technical Support
Our experienced technical support staff is available to answer any questions regarding your Acer -branded parts upgrade.
Parts purchased from other sources will not be supported by our support experts
Warranty
6 Months Replacement Warranty By Lap Gadgets only
Premium Quality Acer AP16J8K battery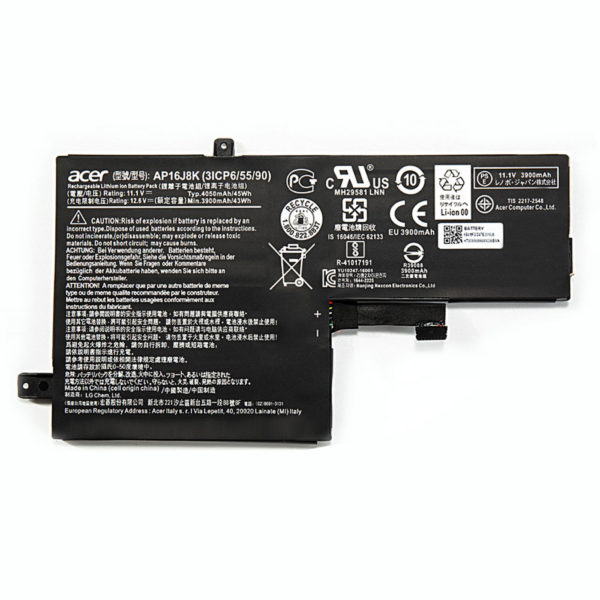 Guides for a Healthy Acer Laptop Battery
3ICP6/55/90
AP16J5K
AP16J8K
Compatible Laptop models:
CHROMEBOOK 11 N7 C731-C65D
Chromebook 11 N7 C731T-C5B8
Chromebook 11 C731-C5H7
CHROMEBOOK 11 N7 C731-C7UZ
CHROMEBOOK 11 N7 C731-C118
CHROMEBOOK 11 N7 C731T-C96J
CHROMEBOOK 11 N7 C731-C28L
CHROMEBOOK 11 N7 C731T-COX8
Chromebook 11 N7 C731-C9J0
CHROMEBOOK 11 N7 C731-FC8VE
CHROMEBOOK 11 N7 C731-C5YX
Chromebook 11 N7 C731T-C0X8
CHROMEBOOK 11 N7 C731T-C0YL
CHROMEBOOK 11 N7 C731-C78G
CHROMEBOOK 11 N7 C731-C1QG
CHROMEBOOK 11 N7 C731T-C6FY
Chromebook 11 C731-N14N
CHROMEBOOK 11 N7 C731-C8LF
CHROMEBOOK 11 N7 C731-C11A
CHROMEBOOK 11 N7 C731T-C9M4
CHROMEBOOK 11 N7 C731-F12M
CHROMEBOOK 11 N7 C731-C388
CHROMEBOOK 11 N7 C732T-C8VY
Chromebook 11 N7 C731t-C02H
CHROMEBOOK 11 N7 C731T-C42N
CHROMEBOOK 11 N7 C731-C8VE
CHROMEBOOK 11 N7 C731T
CHROMEBOOK 11 C731T
CHROMEBOOK 11 N7 C731
CHROMEBOOK 11 C731
Chromebook 11 CB311-7H
Chromebook 11 CB311-7HT
C731
Specification
Additional information
| | |
| --- | --- |
| Weight | 0.5 kg |
| Dimensions | 25 × 18 × 3 cm |
Q & A
Q & A
There are no questions yet
Why buy from

Lap Gadgets

?
Buy with confidence you get 10 days free returns and 30 days moneyback guarantee in our products
know more
Buying on lapgadgets.in is very simple and safe, you are protected by Razorpay - India's leading payment gateway
We are much confident in our products hence we take atmost care and responsibility to satisfy you.
know more
Our customer support experts are available for your new purchase query or any technical query of any product
Consult our experts, avoid the risk of laptop failure and other damage due to wrong part purchase.